Ilhan Omar's City Paper Endorses Her Challenger, Rebukes Her Israel Remarks and 'Campaign-Finance Issues'
The editorial board of Minnesota's largest newspaper announced this week it would endorse Representative Ilhan Omar's challenger, citing Omar's past remarks on Israel and her campaign finance issues as part of its reasoning.
"Omar's 2018 victory launched her into the national spotlight as the first Muslim woman and first refugee elected to Congress," the Star Tribune's editorial board wrote Wednesday. "But her time has been marred by missteps, including remarks on Israel widely regarded as anti-Semitic, an outsized number of missed votes, and campaign-finance issues."
These are the kinds of "ethical distractions" that Minnesota's 5th District could do without, the editorial said, choosing to instead recommend the other Democratic-Farmer-Labor (DFL) Party candidate, Antone Melton-Meaux, for the district's seat in the U.S. House.
The Star Tribune's editorial board, which operates independently of its newsroom, announced its endorsement of Melton-Meaux just six days ahead of the state's primary election, which will select the candidates who will represent the DFL and Republican parties in November's election.
The 5th District, which includes Minneapolis, will see incumbent Omar face off against political newcomer Melton-Meaux for the DFL nomination. The Star Tribune favors Melton-Meaux, a mediation lawyer and former fellow with the Congressional Black Caucus, for his "strong progressive values that align well with the district, as well as consensus-building skills honed as a professional mediator."
Melton-Meaux told Newsweek he is "very proud" of the Star Tribune's endorsement and is grateful for its support.
"It truly is the flagship newspaper of our state and has the roots and respect from the community," he said. "I think it's a reflection of a campaign that, from day one, has been focused on the 5th Congressional District."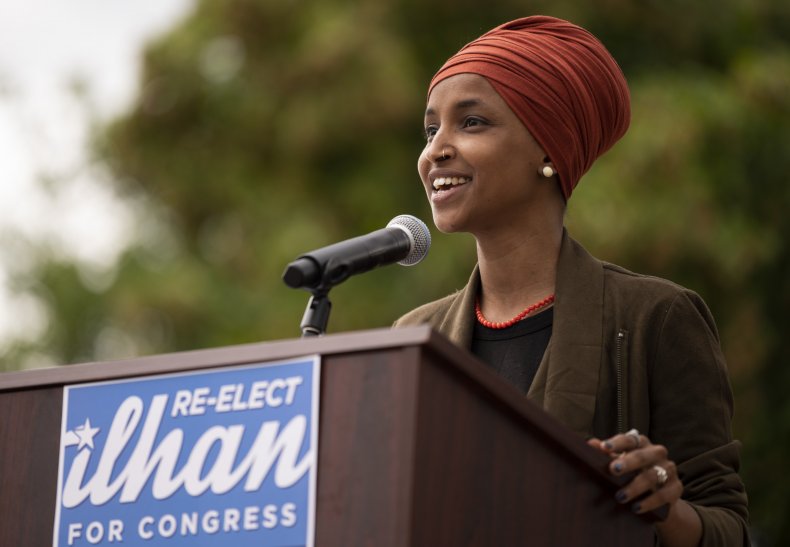 After conducting interviews with the two candidates, the Star Tribune wrote that Omar wants to "lead a movement" while Melton-Meaux "seeks to serve the Fifth District." As an example of their differences in policies, the board asserted that Omar wants to "defund and even dismantle" the police whereas Melton-Meaux hopes to reform the law enforcement system.
Omar, a Somali-American, was elected to Congress in 2018 and has been a member of the "Squad," a group of freshmen congresswomen, including Representatives Alexandria Ocasio-Cortez, Ayanna Pressley and Rashida Tlaib, who are some of the House's most liberal members.
Omar faced criticism last year for repeated remarks deemed anti-Semitic by many, and she's recently come under fire over campaign finance issues. Her campaign has reportedly directed more than $1.6 million to a D.C. political consulting company where her husband is employed and is the subject of a Federal Election Commission (FEC) complaint alleging she misused travel expenses.
Jeremy Slevin, a spokesman for Omar's campaign, directed Newsweek to a statement he wrote on his Twitter account following the Star Tribune's endorsement.
"The Star Tribune has endorsed @IlhanMN's opponent every single time she's run for public office. And every single time, she's won," Slevin wrote Wednesday.
Melton-Meaux's campaign is also under FEC scrutiny. A complaint filed Tuesday by the state's DFL Party alleges that he deliberately hid the identity of some of his political consultants as limited liability corporations.
Lee Hayes, a spokesman for Melton-Meaux's campaign, called the FEC complaint baseless and an attempt to distract voters from Omar's financial concerns, the Star Tribune reported.
Melton-Meaux told Newsweek the allegations in the FEC complaint are "frivolous and false" and an attempt by the DFL Party "to resurrect Congresswoman Omar's campaign, which is falling apart." Omar won the party's endorsement in May.
"We are a campaign that's always done everything above board, transparently, and this is an unfortunate consequence of the [Democratic Congressional Campaign Committee] and a DFL Minnesota party that's lost its way," he said.
Minnesota's primary election will take place August 11.
This article has been updated to include a statement from Ilhan Omar's campaign and comments from Antone Melton-Meaux.