'Ill-Prepared' Capitol Police Prompts Swift Change as Lawmakers Investigate Trump Riot Blunder
As the dust settled in the wake of the deadly pro-Trump insurrection against the U.S. Capitol, members of Congress—as did much of the world—struggled to wrap their heads around how such a violent breach of one of the most secure federal facilities in the country could have occurred.
There was bipartisan consensus that while U.S. Capitol Police officers were instrumental in preventing further bloodshed from ensuing, the agency whose sole task is to protect the first branch of government failed in epic proportions. Four civilians died, dozens of law enforcement officials were injured and one was killed, and guns, Molotov cocktails and pipe bombs were seized on or nearby the complex grounds.
It boggled the mind—given the normal security features in place, weeks of forewarning and police presence at racial justice protests last summer—how Congress could have fallen to adversaries for the first time in more than 200 years since battling the British in August 1814.
"The primary responsibility for yesterday's insurrection, yesterday's breach of the Capitol lies with the perpetrators: Donald Trump and his enablers in Congress," said Sen. Chris Murphy (D-Conn.), who sits on a congressional panel that oversees the Capitol Police.
"But we do have to ask questions as to how that breach occurred, what changes in Capitol security we need to make in order to assure it doesn't happen again and why it took so long for the United States military to come to the aid of the Legislative Branch," he said.
To add to the sense of urgency, officials have just 13 days to fortify the area before Joe Biden will be sworn in as president on the very stage that rioters stormed with ease.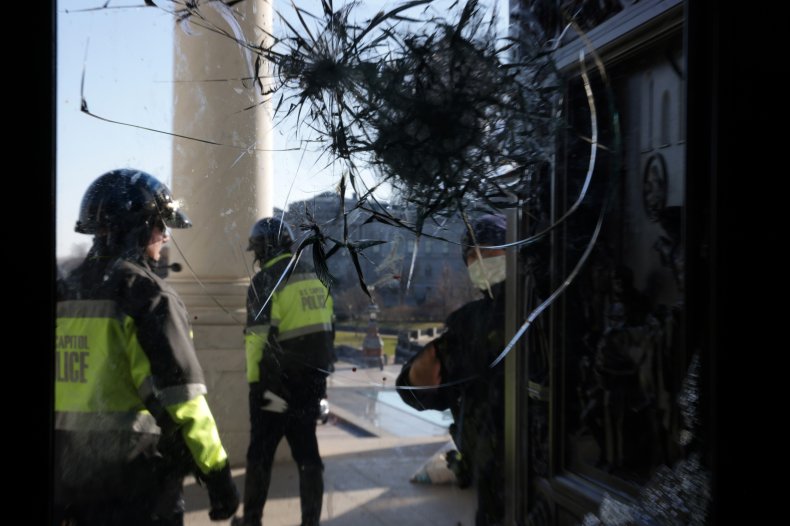 "That was a strategic blunder, and it put a lot of lives in danger and a lot of members of Congress in danger," said Rep. Tim Ryan (D-Ohio), who oversees a congressional subpanel with jurisdiction over the Capitol Police. "We're going to dig deep and find out exactly what happened."
Within just 24 hours of the mob ransacking Congress, major shakeups at the top of the chain for the Capitol Complex's security had already taken place. In addition, a non-scalable fence around the perimeter was constructed ahead of Biden's inauguration.
House Speaker Nancy Pelosi (D-Calif.) requested and received House Sergeant-at-Arms Paul Irving's resignation. His Senate counterpart, Michael Stenger, later resigned at the request of Senate Majority Leader Mitch McConnell (R-Ky.) after a public ultimatum was offered by Minority Leader Chuck Schumer (D-N.Y.), who will become the majority leader once Kamala Harris becomes vice president on Jan. 20, to either resign or be fired once he takes over.
In addition, Pelosi called upon Capitol Police Chief Steven Sund to resign following a "failure of leadership." Appearing at a press conference that afternoon—more than 24 hours after the Capitol was seized—Pelosi said Sund "hasn't even called us since this happened."
The union of the Washington, D.C., police department described the Capitol Police's leadership as "ill-prepared for this attack." The head of the Capitol Police Union called for Sund to step aside, the Associated Press reported.
Sund will resign effective January 16.
A major factor to the security blunder, lawmakers said, is that top law enforcement officials offered false assurances that they were adequately prepared for such a possible attack.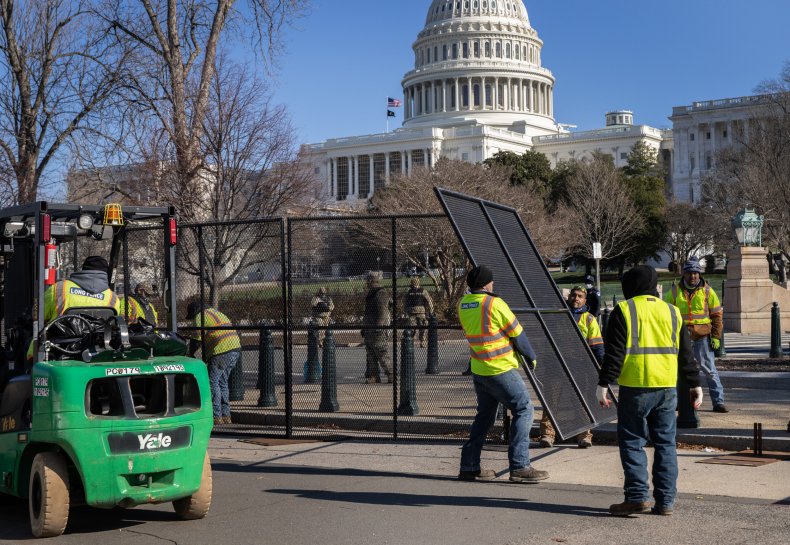 Sund told members of Congress that the D.C. National Guard was at the ready and law enforcement was ready, according to Rep. Zoe Lofgren (D-Calif.), who chairs the Administration Committee with jurisdiction over the Capitol Police.
"What I was told is that they had everything under control," Lofgren told reporters. "Not only were they not prepared, what they told me about the National Guard was not true."
The top Democrat on the Senate Intelligence Committee, Sen. Mark Warner (D-Va.), aired similar grievances about the FBI. He told reporters that before the riot, top FBI leaders "on a regular basis reassured" him that they were prepared.
"They were flat wrong," Warner said. "Yesterday was an embarrassment to their response."
Congressional leadership and committees planned to launch immediate probes into what allowed the violent rioters to reach the halls of Congress, much less how they did so at such a rapid pace. Democrats have demanded a briefing from FBI Director Christopher Wray.
McConnell said that the insurrection represented a "shocking" and "massive failure of institutions, protocols and planning that are supposed to protect the first branch of our federal government."
"A painstaking investigation and thorough review must now take place and significant changes must follow," he said in a statement. "Initial bipartisan discussions have already begun among committees of oversight and Congressional Leadership."
Not only did lawmakers strive to comprehend the sheer lack of preparation and number of officers, but viral videos on social media called into question the motive of a few select officers.
In one instance, a Capitol policeman posed for a selfie with a rioter who, along with dozens of others, was just feet away from the Senate chamber door. In a separate video, police appeared to move aside barricades that were part of an outer perimeter on the complex grounds.
Another video showed a Capitol Police officer holding the hand of a female rioter as he walked her down the front steps of the building while law enforcement sought to retake control of the building.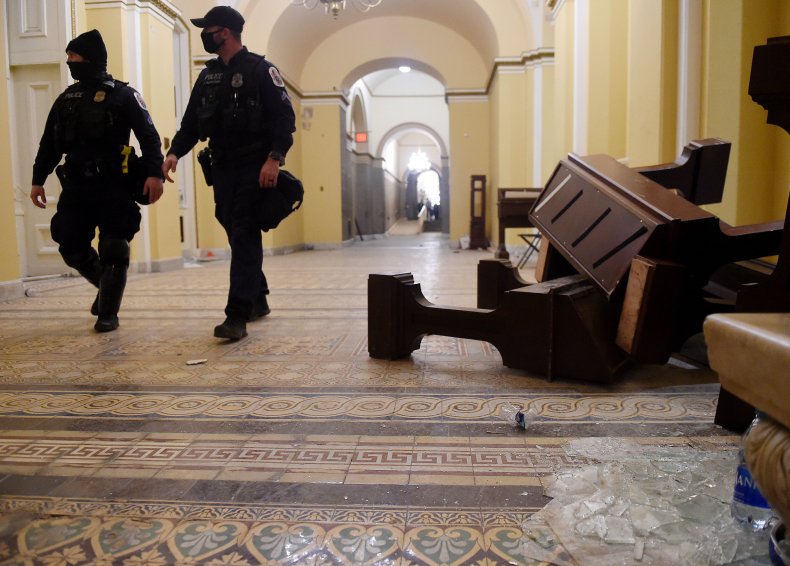 The instances left many wondering why there was not the same show of force that was deployed against Black Lives Matter protesters last year. On Wednesday, a few dozens arrests were made—most of which were for curfew violations—as law enforcement was overrun and forced to focus its limited resources on protecting those inside rather than focusing on arrests.
On June 1, 2020, amid the height of racial justice demonstrations in the nation's capital, that number was more than five times as large with nearly 300 taken into custody.
"That's unacceptable," Ryan said, "because I think if—just being candid—they were Black people out there, I think there would have been a much different response."
Among the pitfalls was the inability for federal forces to quickly reach the complex to reinforce Capitol Police officers as they struggled inside to rush lawmakers, staff and reporters to safety in undisclosed locations. An armed standoff even took place on the House floor, with Capitol Police acting as the last line of defense between the room's petrified occupants and pro-Trump mobsters deemed domestic terrorists by many.
"Why are we spending $700 billion on the military every year if the military can't effectively defend the United States Capitol from attack?" Murphy said, who noted that the protocols and laws around how the military can be summoned to federal land in the District must be altered.
"Taxpayers deserve to know why we were unable to defend the Capitol from attack," he continued, "why it took only an hour for a handful of ragamuffin, half-armed protesters to enter the building and pose a grave threat to the continuity of democracy."
Update 1/7/21, 8:30 p.m.: This story was updated to include further information from McConnell and Sen. Warner.