'Illegal' ATV Rider Blows Past Cop, Slams Into Cyclist in Crowded Street
Police in New York City, New York, said that an ATV driver that an officer attempted to stop on Sunday ignored commands and then slammed into a cyclist before fleeing the scene.
The Sunday incident was caught on video and has been viewed more than 220,000 times on TikTok in a post by user @dancerkid1010.
The video, at first, captures an unrelated traffic stop between a driver on a motorbike and a police officer at an intersection. The officer then sees the ATV driver coming toward the intersection, approaches the motorist, takes out a baton in an attempt to stop him. The driver passes the police officer and a woman can then be seen on the ground in the middle of the street.
In a statement to Newsweek, police said that when the driver blew past the police officer, he also ran a red light before hitting a cyclist.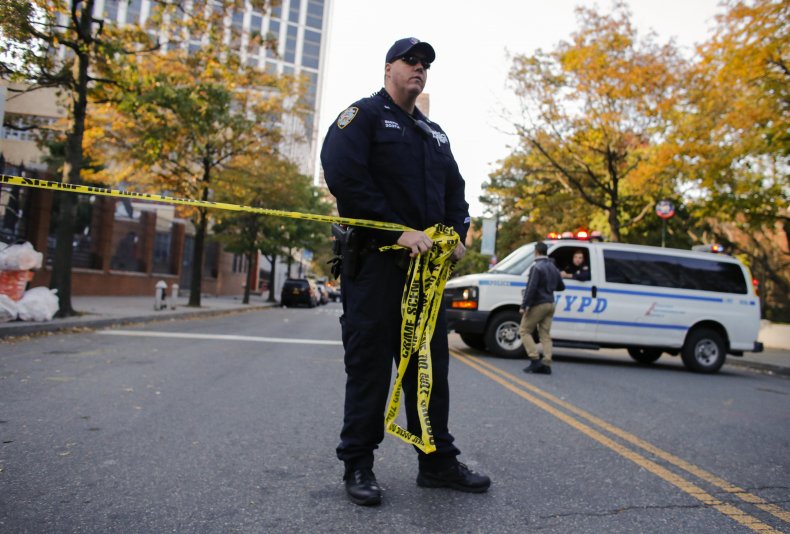 Police said that the officer "attempted to stop an illegal ATV operator traveling eastbound on East 149th Street by issuing verbal commands."
"The ATV operator did not comply and proceeded to disobey a steady red light, recklessly entering the intersection of East 149th Street and 3rd Avenue, at which point the ATV struck an uninvolved 44-year-old female bicyclist, who was traveling southbound on 3rd Avenue and had a steady green signal. The ATV operator fled the scene," a spokesperson for the New York Police Department said.
Police said that the woman was taken to the hospital and is in stable condition. No arrests have been made in connection with the incident, and the department's investigation is ongoing. The department said officers "were conducting an enforcement initiative targeting illegal e-bikes, dirt bikes and ATVs," at the time that the incident occurred.
In a separate incident in New York City last weekend, police said they arrested a man at McDonald's who allegedly went on a rampage inside a McDonald's restaurant while wielding an axe.
Police said the suspect took out an axe after getting into a physical dispute with three other people, and in a video, he can be seen smashing property in the restaurant and approaching patrons with the weapon.
On September 12, in Kansas, police said that a man died in an off-roading crash after he was pinned under his own car. The Kansas Highway Patrol said that it appeared the driver lost control of his vehicle while driving a drop-off.
In August in Illinois, a mother and five children died in a wrong-way crash in after two vehicles collided on an interstate.