Woman 'Mauled by Police Dog at Illegal Rave' Suffers Life-Changing Injuries
A woman says she has been left with life-changing injuries after being mauled by a police dog at an illegal rave.
Jessica Mae Andrew, 28, says she was left screaming in pain and now requires skin and muscle grafts to her leg after being attacked by the dog at an illegal rave in Yate, Gloucestershire, on Halloween. She told the Independent that she had been dancing when she was attacked by the dog without any warning at all.
Andrew said: "After biting through my thigh, it let go then and started to maul me again - this time biting my calf and foot where it did the most damage. It bit through right to bone. I had a gaping hole in my calf bigger than my fist – with the bone exposed.
"The dog was totally out of control. It was traumatizing. It tore through my boots – it felt like it was on me for around three to four minutes." She also says she has had to leave her home on a boat as she can no longer access it due to the injuries she suffered.
Police had arrived at the illegal rave which took place in a disused warehouse on Stover Trading Estate at 10.30 GMT on Saturday, October 31. The officers prevented hundreds of people from getting into the venue, however they said hundreds were already present.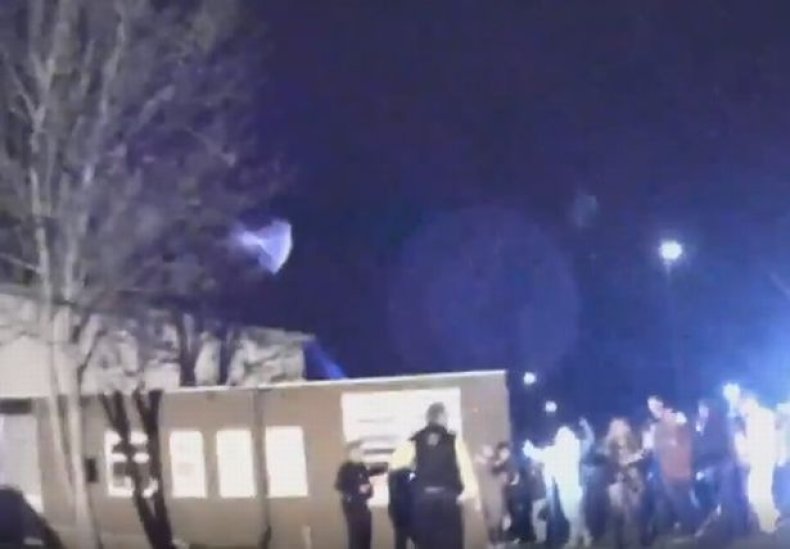 Following the event, Avon and Somerset chief constable, Andy Marsh, said officers had faced "significant violence" and had bottles and fireworks launched at them. During a Facebook Live video, he said: "We attended the unlicensed music event in Yate within 12 minutes of being called. There were already 250 to 300 people there.
"We have many hours of body-worn video footage of the violence, threats and intimidation used towards police officers. There were missiles thrown, bottles, punches, kicks, fireworks fired at officers. All sorts of really significant violence."
Andrew is planning on taking action against the police following her injuries. An Avon and Somerset Police spokesperson told Newsweek: "We referred a dog bite incident involving a member of the public that occurred in Yate on Sunday 1 November to the Independent Office for Police Conduct (IOPC). The IOPC adjudged the matter was suitable to be investigated locally by Avon and Somerset Police. That process is ongoing and will include reviewing body-worn footage. Our final report will be provided to the IOPC."