Illiniois to Hold 4th Lottery for Cannabis Shop Licenses as Officials Seek to Remedy Errors
Illinois will hold another lottery for cannabis shop licenses after a clerical mistake left some groups with a lesser chance to win.
The state's Department of Financial and Professional Regulation announced Friday that a fourth drawing will be held to amend the process. Six applicants didn't receive the correct number of entries.
"In order to remedy limited administrative errors that led to certain applicants receiving fewer entries in the July 29th lottery than they were entitled to, an additional lottery will be held to provide those applicants with the correct number of entries," the agency said.
It also made clear that the additional drawing won't affect those who were selected for the opportunity to be issued a conditional pot shop license in the lotteries that were held on July 29, August 5 and August 19.
"This additional step reaffirms our commitment to getting this right and places the state another step closer to establishing a legal cannabis industry that is reflective of our diverse population," Toi Hutchinson, a senior adviser to the governor on cannabis control, said in a statement.
The state's cannabis licensing rollout finally moved forward this summer after being delayed by lawsuits and other challenges. Governor J.B. Pritzker's office announced in mid-July that 185 new cannabis dispensary permits would be given out in the lottery process.
Illinois was the 11th state to legalize recreational marijuana. The drug became available for adult use on the first day of 2020. Medical cannabis has been legal in the state since 2019.
Residents can legally possess 30 grams, or about an ounce, of cannabis flower. The legal limit for cannabis concentrate is 5 grams. And the limit for cannabis-infused products, such as edibles or tinctures, is 500 milligrams of THC.
Visitors to the state are allowed to possess half of those amounts.
Preliminary numbers from the Illinois Department of Financial and Professional Regulation show statewide adult use cannabis sales in July totaled $127.8 million—the best month of 2021 so far. The record-breaking amount was driven in part by the music festival Lollapalooza.
In August, the state saw nearly $123 million in recreational marijuana sales. Roughly $81 million of those sales were to Illinois residents, while $40 million was from out-of-state visitors.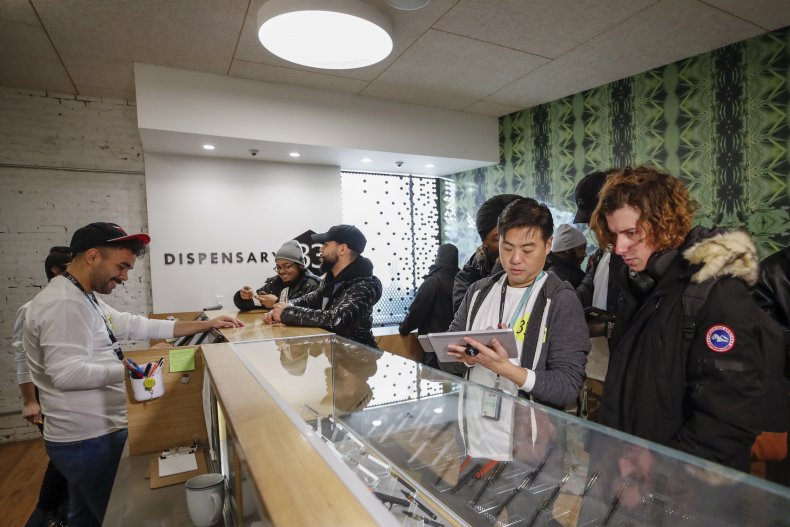 Eighteen states and the District of Columbia have legalized marijuana for adult use in the past decade. This year alone, four states—Connecticut, New Mexico, New York and Virginia—authorized legislation decriminalizing the drug for recreational use.
Democrats at the federal level have introduced several bills this year to decriminalize marijuana.
The latest bill from Senate Majority Leader Chuck Schumer would remove cannabis from the Controlled Substances Act and expunge prior cannabis-related convictions.
But if passed, the legislation wouldn't make marijuana legal in every state. States would still be allowed to set their own policies when it comes to the drug and can maintain prohibition even if the drug is decriminalized at the federal level.