Illinois Bar Opening Leads to 46 Infections, 1 School Closure After Dozens Forced to Quarantine
A new report released Monday by the Centers for Disease Control and Prevention (CDC) said 46 coronavirus cases can be linked to a bar-opening event that took place in rural Illinois in February.
Some of the people who attended the bar opening later tested positive for the virus, as did some of the individuals within their households, the report said.
One long-term-care facility resident whose infection was linked to the event was hospitalized, according to the report. An estimated 650 students were also affected by a school closure with ties to the outbreak, CDC officials wrote.
The Illinois Department of Public Health (IDPH) first learned on February 17 of an outbreak connected to the indoor opening, which the CDC report said took place about two weeks earlier. The name and specific location of the bar were not mentioned in the report, but it has a capacity of 100 people and CDC officials said the exact attendance was unclear.
Of the 46 cases linked to the event, 26 were identified among event attendees and three among the bar's staff members, who were also in attendance. The other 17 individuals who contracted the virus did not attend the opening and were labeled by health officials as secondary cases.
"These findings demonstrate that opening up settings such as bars, where mask wearing and physical distancing are challenging, can increase the risk for community transmission of SARS-CoV-2, the virus that causes COVID-19," the report said.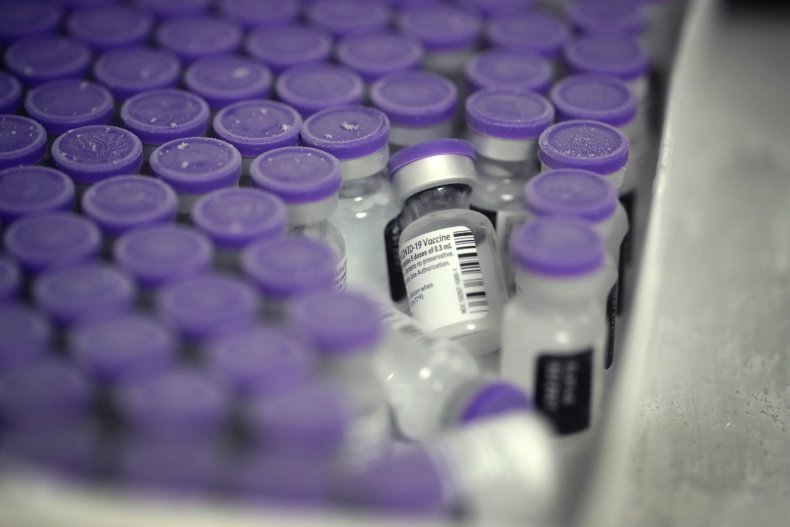 The CDC's report went on to say it was likely more cases were connected to the event than had been officially identified and encouraged continued efforts to prevent virus transmission, even as mass vaccinations continue across the U.S.
Event attendees who were interviewed by local health officials said signs were in place inside the bar to recommend mask usage, and tables were spaced apart to encourage social distancing. Even so, the attendees said masks were not worn consistently, and the recommended 6 feet of distance between individuals was not uniformly practiced.
Speaking to the press during a Monday news conference with the White House COVID-19 Response Team, CDC Director Rochelle Walensky warned about the impact a single public event can have when those who attend it have not all been vaccinated.
"As we work to get more people vaccinated and as community businesses begin to reopen, these findings underscore the vast impact of a single event affecting communities, schools, families and fragile elderly," Walensky said of Monday's report.
"It emphasizes the impressive transmissibility of this virus and the continued need for layer prevention strategies, including reducing the number of people indoors, improving building ventilation and utilizing outdoor spaces as the weather allows," she said.
According to the CDC, more than 62 million Americans have been fully vaccinated against COVID-19 so far. President Joe Biden said last month that all Americans ages 18 and older would be eligible by May 1 to receive a vaccine.
Though more Americans are getting vaccinated against COVID-19 by the day, Walensky warned the American public that the virus remains a threat and encouraged people to continue practicing caution.
"I understand that people are tired and that they are ready for this pandemic to be over, as am I," Walensky said. "Please continue to hang in there and to continue to do the things that we know prevent the spread of the virus. If we all continue to wear a well-fitting mask, physically distance and get vaccinated, America can and will get out of this pandemic. We can meet this moment if we keep doing our part."
An official with the IDPH told Newsweek the virus outbreak that the CDC report focused on occurred in Douglas County. The official said additional information could not be shared publicly because of concerns about protecting individuals' private information.
This story was updated on April 5 to include a response from the Illinois Department of Public Health.
Newsweek, in partnership with NewsGuard, is dedicated to providing accurate and verifiable vaccine and health information. With NewsGuard's HealthGuard browser extension, users can verify if a website is a trustworthy source of health information. Visit the Newsweek VaxFacts website to learn more and to download the HealthGuard browser extension.