Illinois Democrats Split With Woman Who Said Waukesha Tragedy Was 'Karma' for Rittenhouse
The Democratic Party of DuPage County has cut ties with a social media director who publicly tweeted that the tragedy in Waukesha, Wisconsin, was "karma" for a jury finding Kyle Rittenhouse not guilty.
Mary Lemanski, the Illinois county Democratic Party's social media director, penned a sarcastic Twitter thread, in which she wrote the driver who plowed into a Christmas parade, killing five people, was probably acting in "self-defense." It appeared to be a reference to Rittenhouse, whose attorney argued he was acting in self-defense when he fatally shot two people and injured a third during last year's protests in Kenosha, Wisconsin.
"I'm sad anytime anyone dies. I just believe in Karma and this came around quick on the citizens of Wisconsin," another tweet said. "You reap what you sow. It's sad people died, but when you open the door to vigilante justice, everyone seems threatening."
Lemanski faced criticism for the tweets and on Monday afternoon, the DuPage County Democratic Party announced they "severed all ties" with her. They said in a statement that her tweets were "callous" and "reprehensible," adding that "she does not speak for us" and they "unequivocally reject her statements about the tragic events that occurred yesterday in Waukesha."
"We as a party denounce violence of any kind. Our thoughts and prayers are with the families impacted by this heinous act, which shocked and saddened us all," the statement concluded.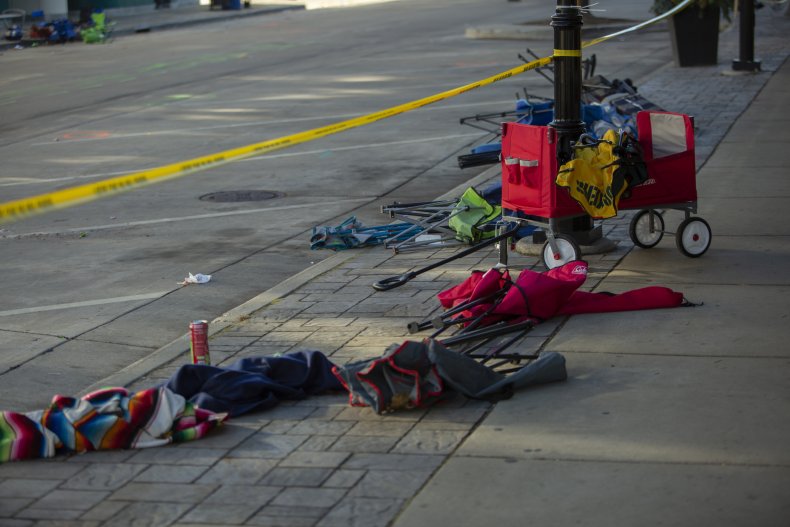 On Sunday, Waukesha residents gathered for an annual Christmas parade that included people ranging in ages from young children to the Milwaukee Dancing Grannies. During the parade, a man, who was later identified as Darrell Brooks, drove a red SUV through the crowd, killing five people and injuring dozens of others.
The Milwaukee Dancing Grannies confirmed some of their members were among the victims, which also included a Catholic priest and Waukesha Catholic school children. Police identified those who were killed as Virginia Sorenson, 79, LeAnna Owen, 71, Tamara Durand, 52, Jane Kulich, 52, and Wilhelm Hospel, 82.
The tragedy came just days after a jury found Rittenhouse to be not guilty of every charge he faced. It prompted widespread outrage as being a miscarriage of justice, although, many others who backed Rittenhouse celebrated the jury's verdict for being a deliverance of truth.
Ken Mejia-Beal, the chair of the DuPage Democratic Party, told the Chicago Tribune Lemanski worked for the party since 2017 or 2018. She tweeted that she resigned, but Mejia-Beal said she was "let go."
"We don't applaud or celebrate tragedy," Meija-Beal said. "This was a tragedy. These were folks that were out at a joyous occasion having a great time at a beautiful and festive time of the year. We, as a party, disavow Mary's Twitter comments, the sentiment behind them. We are with the victims of this tragedy."
After she posted the tweets, Lemanski said she received threatening messages, including from one person who claimed to be outside her home. In announcing her resignation, she said as a believer in free speech, you have to be willing to accept responsibility and consequences for exercising that right. She said the remarks were made "not in good taste" and Mejia-Beal told the Chicago Tribune she expressed remorse in private conversations.