Illinois Girl Dies After Snow Fort She Built Collapses On Top of Her
A young girl was killed in a Chicago suburb on Sunday after the snow fort she had built fell on top of her.
The 12-year-old girl had built the snow fort with another girl, aged nine, near a snowbank in Arlington Heights, in Cook County, Illinois.
Read more: Illinois man, 19, accused of beating 4-year-old girl to death after she spilled juice on his Xbox
ABC7 reported that the snow fort, which was located just outside a church collapsed on both girls. The 12-year old suffered a heart attack because of the collapse and was taken to hospital. She was pronounced dead at 4:30 p.m.
The nine-year-old girl was kept overnight in hospital as she was treated for hypothermia at Northwest Community Hospital, police in Arlington said.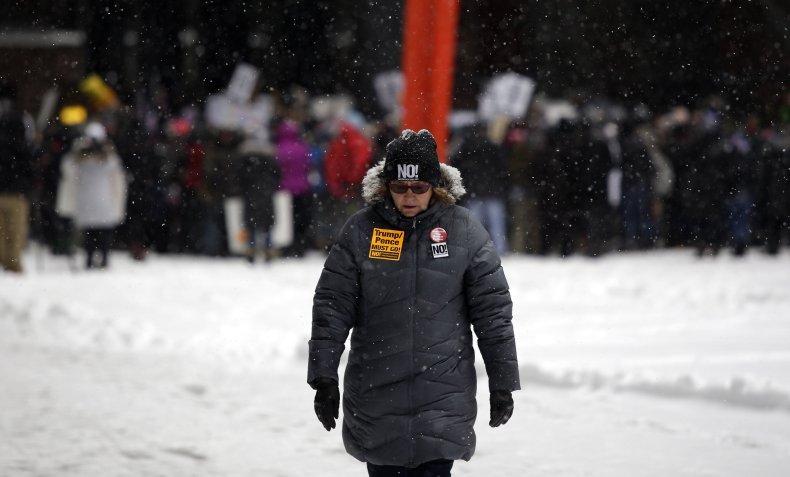 The girls, whose identities have not been made known to the public, were attending church with their families when they went outside to play in the snow.
About an hour after they left the church their families went looking for them and found them beneath the snow. At the scene on Sunday Afternoon police tape could be seen surrounding a huge mound of snow.
The Cook County Medical Examiner's office is due to carry out a post-mortem on Monday. Police have said the incident was an accident and is not carrying out an investigation over any foul play.
According to WLS Chicago, temperatures in the Chicago area dropped to single digits on Saturday night into Sunday with between four to nine inches of snow falling in a snowstorm that led to more than 1,000 flights being cancelled and traffic backing-up along highways.
On Saturday afternoon, as snow continued to fall because of the lake effect, a United Airlies plane skidded off the runway at O'Hare Airport. None of the 129 individuals aboard the plane was injured as a result.