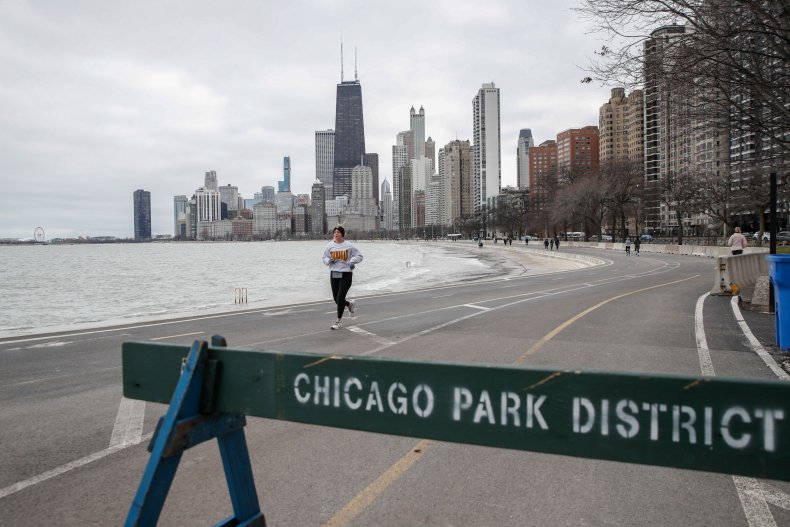 Illinois Governor J.B. Pritzker said Thursday that people who are ignoring the guidelines for slowing the spread of the novel coronavirus are "spitting in the face" of health care workers.
"For the sake of everyone's health follow the social distancing guidelines that we talk about here every single day. Stay six feet apart and don't gather in groups of ten or more," the governor said during a coronavirus update to the state. "Right now hosting a party, crowding down by the lake, playing a pickup basketball game in a public park – if you're doing these things you are spitting in the face of the doctors and nurses and first responders who are risking everything so that you can survive."
Pritzker was referring to those "throwing caution to the wind" when they took the rising temperatures across Illinois as an opportunity to go outside at a time that officials are "quite literally in the middle of a battle to save" their lives. He thanked those who were following social distancing guidelines and begged state residents to remain inside or to go somewhere that is not crowded if they were to go out.
"To be very clear, this virus doesn't care that you're bored and that you want to hang out with your friends. It doesn't care that you don't believe that it's dangerous. The virus could care less if you think that I'm overreacting. It has infected infants. It has killed people in their 20s and 30s and 40s. It has forced doctors around the world to make terrible decisions about who will live and who will die," Pritzker said.
As of this publication, Illinois has 2,538 cases of COVID-19 and 26 deaths, according to the state's Coronavirus Response website. Pritzker issued a stay at home order and closed all non-essential business on March 20. He said at the press briefing that state officials are currently trying to figure out hospital capacities, the availability of personal protective equipment and ventilators, and increasing the intensive care unit beds in the state for those who will be infected in the future.
Pritzker ended his impassioned plea by appealing to the conscience of his citizens. "Ultimately you'll be judged by what you do in this moment. And I have one job and one job only: to save as many lives as possible, to keep as many people healthy as possible until we can develop a treatment and a vaccine. Please, please, follow instructions and stay at home."