Illinois High School Officials Investigating After Students Posted 'Slave for Sale' Ad On Craigslist
Students at an Illinois high school posted a racist ad online featuring a photo of a black student, prompting an investigation by school officials.
The ad—showing a black student in class with the title "Slave for sale (Naperville)"—was first posted on Craigslist, but quickly circulated among students at Naperville Central High School in Naperville, Illinois, on social media, ABC7 reported.
The post sparked outrage among African American students at the school and their parents and prompted an investigation by school officials.
Veronica Lewis told ABC7 she wasn't surprised by the post because her own son had experienced racial bullying from other students at the school.
"This is not surprising because if they had a handle on it, these things would not be happening," she told the station. "I think they need to keep talking about the real issues, how it's important we not have these situations because in 2019 we are still dealing with this and that is absolutely unacceptable."
Her son, Jason Johnson, said he sees it as "part of life," but added: "It's got to be dealt with it can't be slapped on the wrist."
A spokesman for the Naperville School District 203 told Newsweek that school administrators took "swift and appropriate action steps" to address the situation after becoming aware of a "racially insensitive electronic post."
In a statement to Newsweek, the school district said: "Naperville 203 and Naperville Central High School are committed to providing a safe and welcoming environment for all students."
The statement added: "As educators, we have a responsibility to ensure the safety and well-being of all students, especially those from marginalized and vulnerable student groups. Racial discrimination and hateful acts are never acceptable."
No specific details were given about what action was taken against the students, but the statement said officials needed to consider factors that might not be apparent to the public and that the school district believes "restorative practice is more effective for all parties."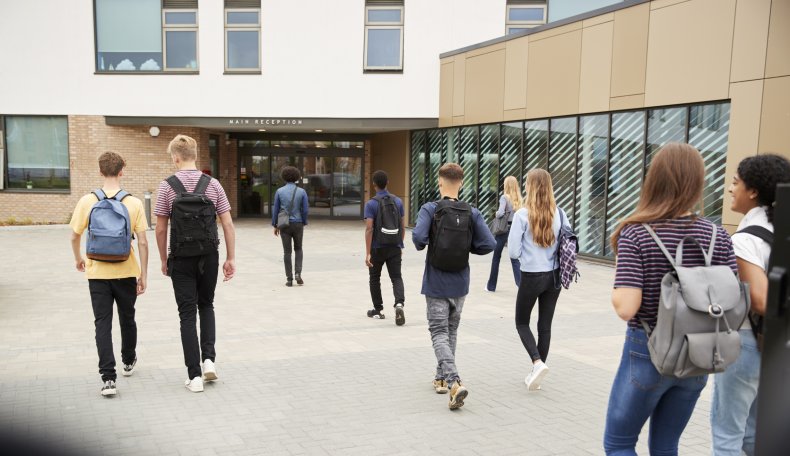 The statement said that school administrators and social workers identified follow-up supports for the students involved and "provided a space to promote healing for the larger student community."
It added: "These steps are critical to the process and we firmly believe that this incident does not reflect the climate and culture of Naperville Central."
In an email to parents, Principal Bill Wiebrook said administrators worked to quickly investigate the matter and address it with the students involved, The Chicago Tribune reported. Newsweek has contacted Wiebrook for further comment.
Naperville Police said an investigation into the post is ongoing, ABC7 reported. Newsweek has contacted the school district and police department for further comment.
Update: This article has been updated to include a statement from the school district.