Illinois Judge Says Governor Pritzker's Stay-at-Home Order Extension 'Shredded the Constitution'
On Monday, an Illinois county judge granted a temporary restraining order against Democratic Governor J.B. Pritzker's 30-day extension of his statewide stay-at-home order. The judge's decision said that Pritzker's extension effectively "shredded the Constitution," overstepping his power as governor.
The restraining order, granted by Clay County Circuit Court Judge Michael McHaney, only applies to a single citizen, Republican State Representative Darren Bailey, the plaintiff who had requested the court to issue the restraining order.
Bailey argued that while state law allows the governor to declare a disaster for 30 days, the law doesn't explicitly say whether a governor can extend such a declaration or issue a concurrent one when the original is set to expire.
While Pritzker asserts that precedent allows for governors to do this, McHaney agreed with Bailey, saying that Pritzker's extension was unconstitutional. The ruling now allows other Illinois residents to either join Bailey's lawsuit or file their own.
Pritzker will pursue an emergency stay of the ruling while asking the Illinois Appellate Court to review the case.
"What's going on is actually that our governor, JB Pritzker, is threatening the very constitutionality of the land that we live in by taking actions on himself," Bailey said. He added that the state's Pandemic Influenza Preparedness and Response Plan should've determined community responses for the coronavirus epidemic rather than the governor trying to issue concurrent emergency declarations."
"The legislators—the House and Senate—have also been asleep during this whole time in just allowing, I don't know, fear, panic—allowing this governor to do as he wishes," Bailey added, promising to pursue the issue legislatively if he ultimately suffers a legal defeat.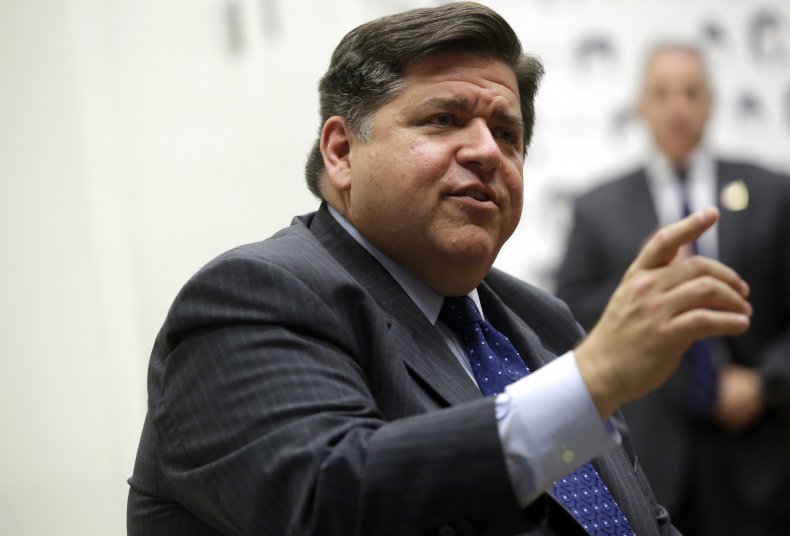 Pritzker and Chicago Mayor Lori Lightfoot both disagreed with Bailey's case and worried it might portend a possible coronavirus resurgence in the near future.
"Rep. Darren Bailey's decision to take to the courts to try and dismantle public health directives designed to keep people safe is an insult to all Illinoisans who have been lost during this Covid-19 crisis, and it's a danger to millions of people who may get ill because of his recklessness," Pritzker said on Monday.
"It's insulting, it's dangerous, and people's safety and health has now been put at risk; there may be people who contract coronavirus as a result of what Darren Bailey has done. At best, no one is better off because of this ruling, and at worst, people's health and safety will suffer tremendously," he added.
Newsweek has reached out to Governor Pritzker's office for comment. It had not responded by the time of publication.
Mayor Lori Lightfoot said she worries the ruling will encourage other state residents to disregard the stay-at-home order. She said city data shows a gradual "flattening of the curve"—that is, a reduction in coronavirus cases—has been linked to limited human interactions thanks to the stay-at-home order.
"One of the many problems with this ill-advised opinion is that it will destroy the collective progress we have made," Lightfoot said. "Contrary to what this ruling suggests, we must all be in this together, and only through cooperation and collaboration can we contain and limit the effects of the virus."
April 26 marked the third-highest day of newly confirmed coronavirus cases with 2,126 cases in Illinois. The second highest day was April 22 with 2,049 cases and the first highest was April 24 with 2,724 cases. Thus far, 1,983 Illinois resident have died due to coronavirus.