Illinois Man Faces Eviction for Putting Black Lives Matter Flag on Balcony
An Illinois man is facing eviction for displaying a Black Lives Matter flag on his balcony, after not complying with his landlord's request that he take it down.
Donavon Burton, aged 22, of Bloomington, Illinois, began hanging the flag on his balcony last month to protest police brutality, after seeing videos of Black people dying in police custody. He lives with his fiancée and son.
Burton told The Pantagraph: "It's for my first son. Thinking about him growing up in a world where there is so much injustice scares me. Also for myself, I don't think a big company can choose how I advocate for my own rights."
However, his building has a policy that prohibits residents from keeping personal belongings, including flags, on their balconies and patios.
But after Burton refused to take down the flag, his landlord, First Site Apartments, issued a 10-day eviction notice.
The eviction notice cited a rule that said: "Please keep your balcony/patio free of clutter at all times. Please do not store any personal belongings or furniture on your patio/balcony.
"Any balcony/patio found in an unsanitary condition or with personal belongings on it will be charged an initial fee of $75 plus the costs of clean up or repair."
According to Burton, other residents of the buildings store personal belongings like grills on their balconies.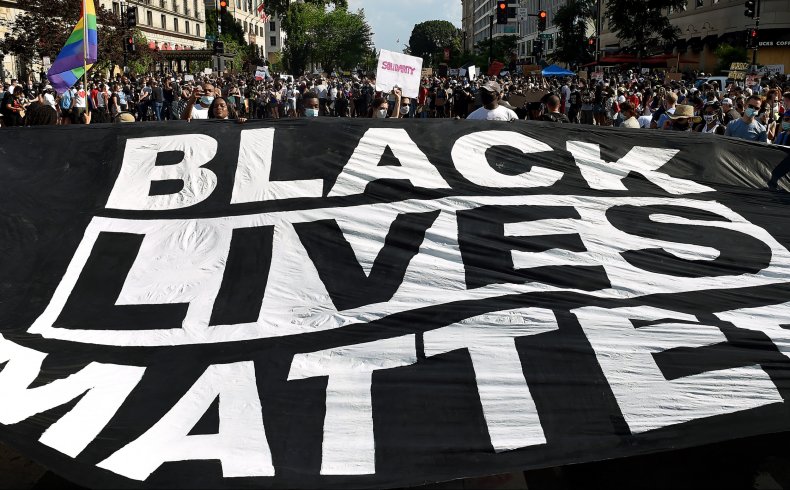 Ulises Napoles, vice president at First Site, told the Pantagraph: "First Site supports an individual's right to freedom of speech and expression. However, First Site has a policy restricting personal items, regardless of content, including banners and flags, from being located on, or hanging from, balconies. First Site has an obligation to residents to enforce these policies, for the benefit of all residents."
Napoles said that Burton was issued an eviction notice as he did not comply with being asked to remove the flag multiple times.
Although the 10-day eviction notice will end on Thursday, Burton told The Pantagraph he does not expect to have to move out of the building tomorrow, as Illinois state law requires a landlord to file a lawsuit in court in order to evict a resident.
Burton also cited the fact that Illinois Gov. J.B. Pritzker has extended the residential eviction moratorium until July 31.
According to the order issued on April 23: "A person or entity may not commence a residential eviction action pursuant to or arising under 735 ILCS 5/9-101 et seq., unless a tenant poses a direct threat to the health and safety of other tenants, an immediate and severe risk to property, or a violation of any applicable building code, health ordinance, or similar regulation.
"Nothing in this Executive Order shall be construed as relieving any individual of the obligation to pay rent or comply with any other obligation that an individual may have pursuant to a lease or rental agreement."
Newsweek has contacted Ulises Napoles of First Site Apartments for comment.