Illinois Is Only State to Meet All Federal Criteria for Reopening, Will Move to Phase 3 on Friday
Illinois has met all of the White House's criteria required to reopen for business, the only state in the U.S. to achieve that goal. Illinois will enter Phase 3 of its reopening plan on Friday.
Data from ProPublica shows that Illinois has hit the five main guidelines issued by the White House in order to safely reopen businesses and relax social distancing protocols. For two consecutive weeks, Illinois has shown a decrease in positive results per 100,000 people tested. Overall positive test results have also dropped. More than 100,000 individuals per day have received coronavirus tests. Illinois has also had more than 30 percent of ICU beds available while visits to hospitals for flu-like illnesses has decreased.
"We seem to have come off the peak," said Illinois Governor J.B. Pritzker during a Tuesday news briefing, noting that coronavirus-related hospitalizations had hit a six-week low.
Pritzker posted about his state's readiness to reopen on social media on Wednesday.
"I've always said that the data will tell us when we can reopen our state," Pritzker tweeted. "While the president ignores his own guidance and urges states to reopen prematurely, I'm proud that Illinois was the first state to hit all five @WhiteHouse metrics."
Most states have already met three or more of the criteria set forth by the Trump administration, but Alabama, Alaska and West Virginia have only attained passing grades in one out of the five criteria.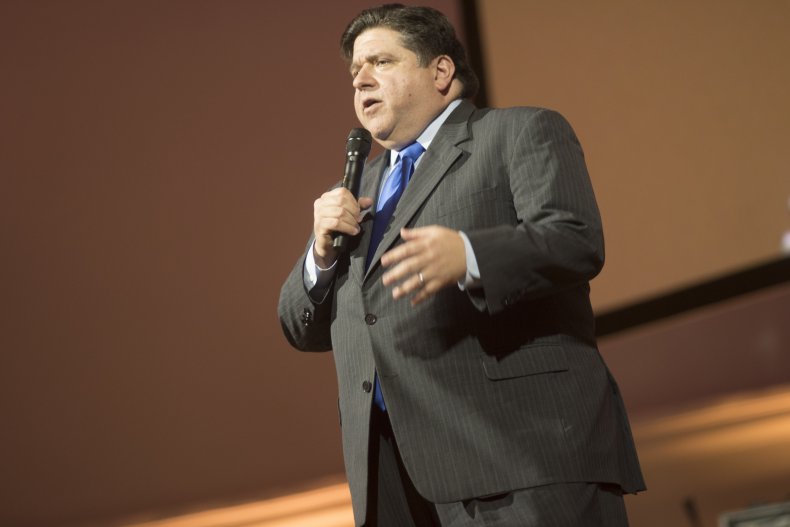 Under the third phase of Pritzker's plan, both essential and non-essential businesses can reopen although employers are still encouraged to allow working from home. Social gatherings of ten people or less are allowed. State parks will be open.
President Donald Trump has been critical of Pritzker's handling of coronavirus resources in Illinois. Trump said Pritzker wanted federal money for his state because Illinois was in bad financial shape.
"If they spend the money, it's one thing for COVID," Trump said on Fox Business in May, "but they want money for 25 years of bad management."
Pritzker has accused the federal government of not helping Illinois expand coronavirus testing. "I have not been counting on the White House because there have been too many situations in which they have made promises, not delivered," Pritzker told CNN in a May interview.
Chicago, the largest city in Illinois, has chosen to wait until early June before moving into Phase 3 despite Governor Pritzker's plan for the rest of the state. Mayor Lori Lightfoot said Tuesday that the city will remain in Phase 2 of its plan if coronavirus numbers "take a different turn."
Guidelines for Chicago's eventual transition to the second phase of reopening were released on Tuesday. In a statement, Mayor Lightfoot said the move into phase two "represents a major step for Chicago and our journey to a safe and successful recovery from the unprecedented COVID-19 crisis."
Newsweek reached out to Mayor Lightfoot's office and the White House for further comment. This story will be updated with any response.