Backed by a campaign war chest of $70 million, Illinois billionaire J.B. Pritzker easily secured the Democratic party's nomination in his state's gubernatorial primary race Tuesday.
Pritzker received 46 percent of the vote over state Sen. Daniel Biss who received 26 percent and Chris Kennedy who trailed with 24 percent. The race was called with 81 percent of the state's votes tallied. He beat a total of five other Democratic candidates.
Pritzker—who is heir to the Hyatt hotel chain—will now attempt to unseat Republican Gov. Bruce Rauner in the state's general election November 6.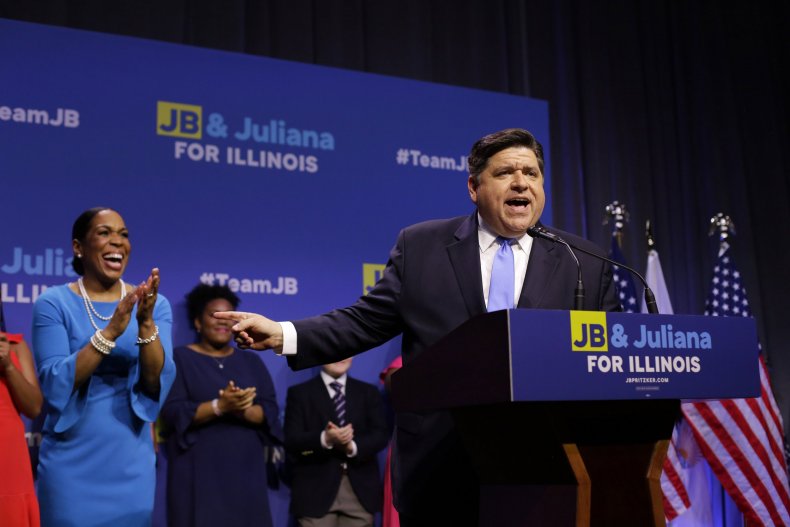 During his campaign Pritzker spent tens of millions of dollars on TV ads that covered the state and his money fuelled a get out the vote campaign.
Pritzker's rival Biss used the billionaire's fortune against him stating "it's time to make Illinois work for the rest of us, not the millionaires and billionaires" in his campaign literature.
Pritzker's win will pit him against Republican Gov. Bruce Rauner, who also has a vast fortune and spent more than $50 million in the primary. Rauner, however, beat his rivals by just 4 percentage points.
In his victory speech, Pritzker said he doesn't want to be a centrist, but fight for progressive values and "call BS" on the "same old" political playbook.
Read more: Democrat Turnout Surges 87 Percent in Texas Primary Since 2014
Pritzker said he wants to put "Illinois back on the side of working families" and fight for "unions ... dreamers and immigrants ... women ... and black and brown communities."
"Tonight we begin a general election campaign about issues that are as bold as they are big. This campaign is not just about the failed policies of a failed governor who thinks that lifting up the people of Illinois is a government expense rather than an investment in the future," he said.
Whether Pritzker can appeal to a wide number of people in Illinois remains to be seen after the Chicago Tribune published FBI audio tapes of his 2008 conversation with disgraced former Gov. Rod Blagojevich who was later imprisoned for corruption. In the tape Pritzker is heard calculating how to appeal to African-Americans.
Pritzker has apologized for his remarks, stating "I was not my best self. I can be better. I have been better and I can do better and I have."
Rauner courted controversy on similar issues when last month he drank a glass of chocolate milk to show that diversity is "really good."
On Tuesday Pritzker said "we should be honest about who we are as citizens and who we are as candidates. I'm not a perfect person. I'm not going to pretend to be."
"Frankly, I've had enough of people like Donald Trump and politicians like Bruce Rauner," he said, accusing them of never being able to "acknowledge a flaw, never offer an apology and never take responsibility for anything or anyone under their care."