Will Illinois Governor's Pro-Choice Stance Let Democrats Steal His Seat?
In Tuesday's Illinois primaries, two vulnerable incumbents face opposite problems: One is too pro-life for his own party; the other, too pro-choice.
In Illinois' 3rd congressional district, Democratic incumbent Dan Lipinski is toe-to-toe with newcomer Marie Newman, in part because of his conservative leanings on abortion. But perhaps more endangered yet is Republican Governor Bruce Rauner, who failed to pass a state budget in Illinois for years, and then later drew the ire of the state's GOP for signing pro-choice legislation to expand taxpayer-funded abortions.
"Rauner's failure is unique in that he didn't do the basics of his job correctly," Tom Bowen, an Illinois Democratic strategist and former political director to Chicago Mayor Rahm Emanuel, told Newsweek. "And then he further created discord in his own party and imperiled himself with the abortion legislation."
Rauner's primary opponent, Jeanne Ives, has tried to score political points with the party's right-wing base, running ads featuring a woman thanking the governor for "making all Illinois families pay for [her] abortions." To some extent, it's worked: Ives earned the endorsement of conservative magazine National Review, which dubbed Rauner "The Worst Republican Governor in America."
But though Ives has sneaked up on Rauner in the polls, the fiercest battle has been fought among Democrats, who see a clear opportunity to steal the governor's seat right out from under him.
J.B. Pritzker, a venture capitalist who has poured $70 million into his campaign out of pocket, has pulled ahead of state Senator Daniel Biss and Chris Kennedy, the son of former Senator Robert F. Kennedy, to become the Democratic primary's clear front-runner.
"What Bruce Rauner has done to this state is destroy it," a campaign spokesperson told Newsweek. "J.B. has put forward real plans and real solutions to take Illinois back from Rauner and get the state back on track."
Pritzker's campaign has also gotten a boost from Personal PAC, a pro-choice PAC that has backed winning candidates like Illinois Senator Tammy Duckworth and Representative Luis Gutierrez. His campaign says he's more than equipped to take down Rauner.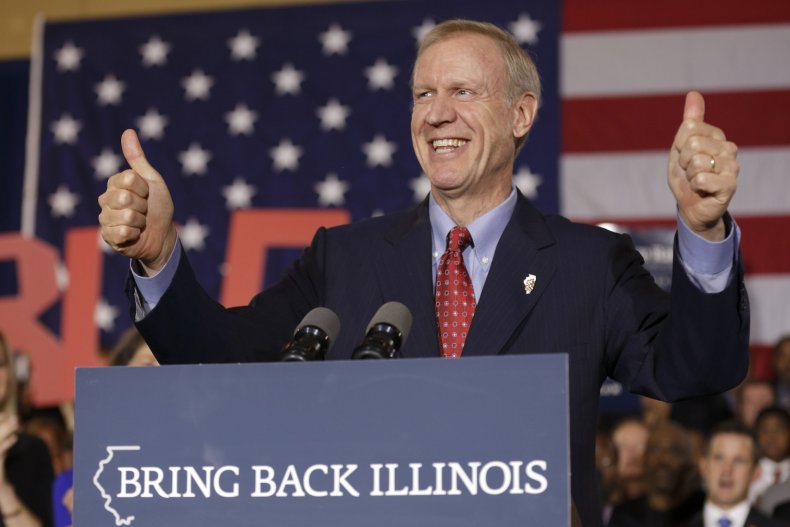 Bowen, the Democratic strategist, doesn't have a hard time seeing why. He said that Rauner's pro-choice track record is far less of an issue than what Bowen calls his general record of inaction during his time in the governor's mansion. Past governors in Illinois like James Thompson, who served for 14 years, and Jim Edgar, who was his predecessor, found success as pro-choice Republicans. The problem, Bowen says, isn't his party—it's Rauner.
"[Republicans] give you a pass if you're doing your job remotely well, because you're all on the same side," Bowen said. "He's just not doing anything right."
Rauner's office did not immediately respond to Newsweek's requests for comment.
Rauner's seat isn't the only one Democrats have their eye on in 2018. The party is targeting gubernatorial races in Maine, New Mexico, Nevada, Connecticut, Florida, Ohio, Maryland and Wisconsin. In some of these cases, the governors in question are term-limited, but in others, they just happen to be uniquely vulnerable.
Elsewhere, progressives are simply testing the potential of this year's much-anticipated blue wave, like in Georgia, where former Georgia Assembly House Minority Leader Stacey Abrams is vying to become the state's first black female governor.
If Rauner wins Tuesday's primaries, he'll have that blue wave to contend with at the ballot box in November. The Democratic Governors Association is feeling good about its prospects: "One of the challenges we've seen for Republicans in the Trump era is doing the high-wire act of appealing to both the Trumpian base and swing voters," Jared Leopold, communications director at the DGA, told Newsweek.
"If Rauner makes it out of the primary, it's going to be challenging for him to appeal to a fractured Republican base and win over moderate Democrats and the other voters he needs to succeed."