Illinois Republican Gets Kicked Out of State Legislature Special Session For Refusing to Wear a Mask
A Republican member of Illinois' state legislature was kicked out of a special session of the House on Wednesday for refusing to wear a mask.
Representative Darren Bailey, who has represented Illinois' 109th district since January 2019, took a stand against the proposed face mask requirement before it was called for a vote Wednesday, and again after it had passed. When asked if he would comply with the new rule, Bailey told his colleagues, "I will not."
The rule proposed in the House Wednesday required all members of the House, as well as their staff and others present, to wear a facial covering over the nose and mouth "to the extent medically able and except as reasonably necessary for eating or drinking" when convening for a special session. The measure also required members to practice social distancing and pass a temperature check before entering the shared meeting space, both of which House officials said were enforced before the Wednesday meeting began.
The rule received bipartisan support, with 97 voting to pass it and 12 voting against its approval. Bailey was the only member of the House who refused to don a mask after the rule passed.
Fellow House Rep. Emanuel Welch, a Democrat, proposed a motion to remove Bailey until he agreed to comply with the mask rule. Though legislators with both parties voiced support for Welch's motion, one Republican member of the House, Rep. Dan Caulkins, spoke against it before the vote was called.
"We are social distancing, we're maintaining our space, and if someone chooses to exercise their right, I don't think that we should take punitive action against them," Caulkins said. "I think this is a mistake."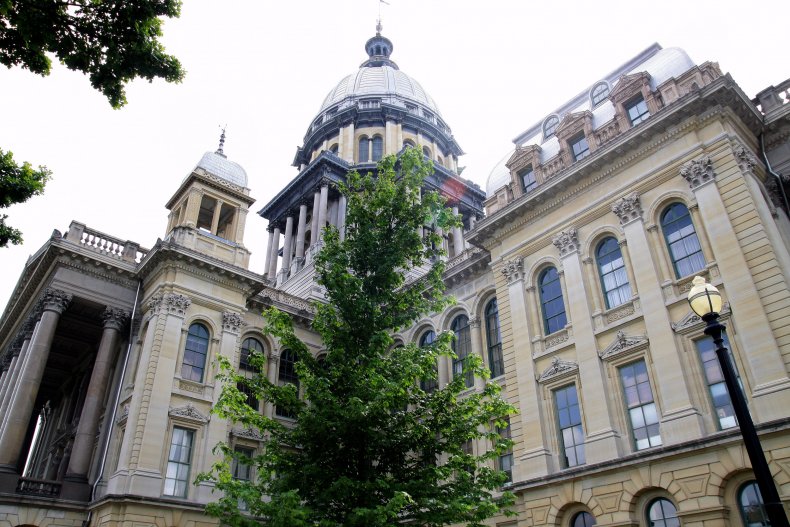 Others disagreed and called upon personal responsibility and the message that wearing masks sends to members of the public.
"For some, this is symbolic," Rep. Mark Batinick, a Republican, said while gesturing to his own mask. "I understand the symbolism of it, but I think there's more important things that we could be doing with our time right now."
"None of us can guarantee that we're COVID-negative over the course of the next three days, and none of us can guarantee that we're going to be safe when we leave," Rep. Michael Zalewski, a Democrat, said. "If you're not going to do it for yourself, if you're not going to do it for your colleagues—respectfully, as a matter of course, please do it for your staff and those that are working very hard to conduct the people's business."
In the vote that followed, 81 members voted in favor and 27 voted against Bailey's removal. The representative was then escorted out of the building.
Newsweek reached out to Bailey's office for comment and will update this article with any response.
Before the Illinois state House approved the mask requirement, Bailey spoke to his colleagues to explain why he did not support the rule. "Looking around this room, I see seats are spaced adequately at more than 6 feet apart," Bailey said near the beginning of Wednesday's special session, which was held at the Bank of Springfield Center instead of the Illinois State Capitol to provide members with more space in which to practice social distancing. "We've heard this message before: that if you cannot be 6 feet apart, then wear your mask. We're more than 6 feet apart."
In April, the Centers for Disease Control and Prevention issued guidelines for wearing masks and recommended all Americans do so "where other social distancing measures are difficult to maintain," adding that masks were important "especially in areas of significant community-based transmission." Illinois is currently the state with the third-highest number of COVID-19 cases in the U.S., with 102,686 cases and 4,607 deaths reported statewide by Thursday.
Despite federal guidelines recommending the use of face masks, Bailey is not the only one who has refused to comply. On Thursday, President Donald Trump was not wearing a mask when he toured a Ford plant in Michigan, though the state's attorney general had warned before his arrival that doing so would put future invitations to return to the state in doubt.
"I just don't want to wear one myself," Trump said last month.