Illinois To Require Insurance Companies to Cover Cost of EpiPen Injectors for Kids
Illinois Governor JB Pritzker has signed a law that would require insurance companies to cover costs for children in need of epinephrine injections for cases of severe allergic reactions.
House Bill 3435 will take effect January 1, 2020, and would require companies offering health insurance policies in Illinois to pay for medically necessary epinephrine injectors for minors.
Pritzker tweeted on Tuesday that the legislation "takes a big step forward in protecting our children and families."
When administered during an anaphylactic attack, an epinephrine injector, commonly known by the brand name EpiPen, delivers what can be a lifesaving dose of epinephrine, or adrenaline. The epinephrine helps open up the airways and minimize swelling.
Tonya Winders, who heads the Allergy and Asthma Network, apparently confirmed to CNN via email that Illinois is the first state to mandate EpiPen insurance coverage.
The Illinois bill comes after a decade of increased EpiPen prices.
"With steady increases in food allergies and other serious allergic conditions, families are relying on EpiPens more than ever before," Illinois State Senator Julie Morrison, who sponsored the bill, said in a statement. "We should be doing everything we can to expand access to affordable lifesaving drugs and medicines. No child with a serious allergy should be without an epinephrine injector because they cannot afford one."
A press release on Monday detailed that HB 3435 requires certain private insurance policies to cover medically necessary epinephrine injectors for individuals under 18 years of age.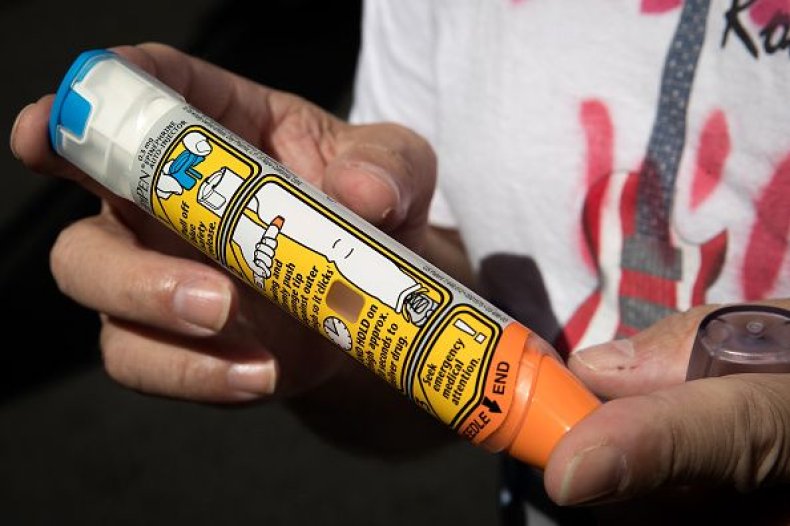 In 2009, two EpiPen injectors cost $100, but by 2016, the price had surged to $600, according to CNN and the Chicago Tribune. Public outrage prompted an investigation by lawmakers into the pricing policies of Mylan, the company that produces the EpiPen.
The maker reportedly blamed the landscape of the health care system for the price hikes and said that those with high deductibles on their insurance plans could be particularly affected as a result, CNN reported.
Last year, the U.S. Food and Drug Administration (FDA) approved the first generic competitor to EpiPen and EpiPen Jr. for the emergency treatment of allergic reactions in adults and in children. The product was billed to be a lower cost alternative.
Before the generic, the only other FDA-approved alternatives to EpiPen were the brand-name pharmaceutical products Auvi-Q and Adrenaclick, both of which are considered epinephrine injections.
In a second tweet on Tuesday, Pritzker assured that his administration is "making sure" to represent the interest of working families. "Lowering the cost of prescription drugs and expanding health care coverage is one important way to help lower costs and build a higher standard of living for all Illinoisans," Pritzker said.