Illinois State Lawmaker Wants History Classes Abolished, Says They've Led to 'White Privilege and Racist Society'
Illinois state Rep. LaShawn K. Ford is proposing that public schools do away with current history curriculums that allegedly drive white privilege and racism.
The democratic lawmaker spoke at a news conference in Evanston, near Chicago, on Sunday to urge the Illinois State Board of Education (ISBE) to rework its criteria history classes. He also compelled schools to stop teaching the subject until adequate course revisions are made. Ford argued the state's history curriculums do not sufficiently focus on contributions by women, members of Black, Jewish and LGBTQ communities, and other groups, according to a press release issued by his office and published by NBC Chicago.
"When it comes to teaching history in Illinois, we need to end the miseducation of Illinoisans," Ford said in a statement included in the press release. "I'm calling on the Illinois State Board of Education and local school districts to take immediate action by removing current history books and curriculum practices that unfairly communicate our history."
The release, titled "Rep. Ford Today in Evanston to Call for the Abolishment of History Classes in Illinois Schools," contended that current history instruction drives white privilege and "a racist society." While drafting more inclusive courses, Ford recommended schools teach students about government systems and their roles and rights within them.
"Until a suitable alternative is developed, we should instead devote greater attention toward civics and ensuring students understand our democratic processes and how they can be involved," Ford's statement continued. He went on to address the individuals seen sunbathing next to a Confederate flag at an Evanston beach late last week.
"I'm also alarmed that people continue to display symbols of hate," the representative's statement finished, in reference to the beachgoers.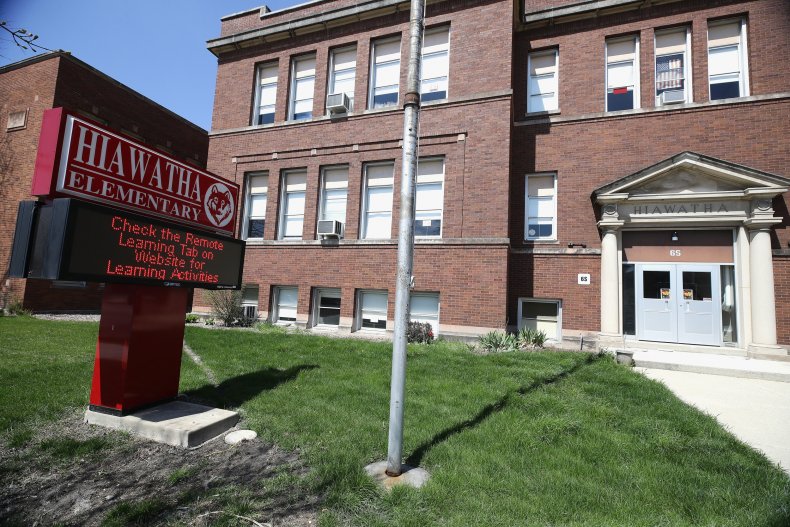 Ford told Newsweek the proposal to abolish Illinois' current history classes will be introduced in an upcoming House bill later this week. It follows another sponsored by Ford and seven other Democratic state lawmakers, which seeks to incorporate a range of practices related to human and civil rights in Illinois schools.
Ford said feedback from community members after the initial bill's introduction prompted him to expand the initiative to amend history curriculums in Illinois.
"We started out with a bill just to make sure that we taught Black history. And since then, we've had lots of people come to us asking to include their history [in legislative proposals]," he explained. "That's where the abolishment came in."
The ISBE said it has not taken a position on the first House bill, introduced in February, in comments to Newsweek on Monday.
The ISBE's curriculum mandate, updated in early 2017, says public school systems are required to offer social science classes that include teachings related to Black history, women's history and the period surrounding the Holocaust. It notes each elementary and high school must dedicate one unit of its respective curriculum to each subject. However, the ISBE's mandate does not specify a particular volume of material that constitutes one unit.
"Each school board shall determine the minimum amount of instructional time that shall qualify as a unit of instruction satisfying the requirements of this Section," it states.
Ford said curriculum mandates are not enough to prompt meaningful education reform.
"The mandates are there, but school districts don't have the standards or the books to teach accurate history. There's no book to do it," he noted, referencing an absence of history textbooks that focus on contributions by non-white, non-male figures.
Update: This story was updated to include comments from Ford and the ISBE.
Correction: This story was corrected to note Rep. Ford will introduce a bill to abolish current history curriculums in Illinois this week. A previous version said the proposal was included in Illinois House Bill 4954.