Illinois Wants to Make Influencers Pay Their Kids but Doesn't Know How
Illinois is poised to pass a state bill that would entitle children of social media influencers to a percentage of their parents' earnings, but the law would likely rely on an "honor system" for their families to create a trust for those kids.
Senate Bill 1782, which would be the first of its kind across the U.S., seeks to grant financial protections for children whose parents or guardians make money posting them online. The legislation has already passed the Senate and the House and is waiting for the former's final vote on a House amendment before it makes its way to Governor J.B. Pritzker's desk.
But though the bill sends a message about exploiting children for social media profits, it's unclear how the state would hold mommy bloggers and family influencers accountable in practice.
Asked how the state would enforce the requirements laid out in SB1782, Democratic Representative Sharon Chung, who sponsored the measure in the House, told Newsweek, it would likely be an "honor system" as the legislation is rolled out.
"I guess we'll see how it all works out," Chung said Tuesday. "We'll see how it's implemented, how it's working out and then we can adjust how we see fit."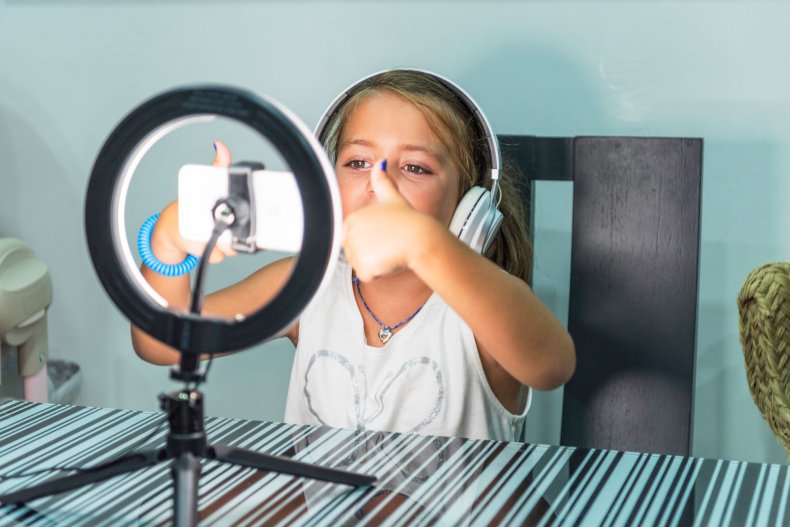 In the Legislature's upper chamber, Senator David Koehler put the legislation into motion after a teen constituent expressed concerns about protections for children who are used in paid social media promotions.
SB1728 entitles minors under 16 a portion of social media revenue if the child is featured in at least 30 percent of an influencer's content within a 30-day period. The parent or guardian, whom the legislation is aimed at, would be required to put aside the money in a trust that the minor could access upon turning 18.
Initially, legislators had planned to have family influencers register with Illinois' Department of Labor (DOL), but state officials hesitated about taking on the responsibility of surveillance with the measure, citing Freedom of Information Act-related concerns and a lack of personnel to enforce the law.
"[DOL] kind of didn't want to touch [the legislation]," Chung said. "It was the sort of thing that I took into consideration when the DOL came to me and said, 'Hey we have some concerns about this.'"
State legislators had also hoped to include other provisions in the bill, like allowing children of influencers to request the deletion of content after turning 18, but SB1728 underwent significant changes before it unanimously passed the Senate in March. Chung said lawmakers look forward to being able to pass legislation that would include those clauses in the future.
"I don't know that this bill is necessarily trying to prohibit people [from posting their children online for revenue]," she said. "But maybe it's just sort of raises these questions. And we do want to protect minors in our state, protect them from being exploited in a way and [say] they're entitled to whatever funds their guardians and parents make off their content."