The Illness Jada Pinkett Smith's Alleged Ex-Boyfriend August Alsina Battles
August Alsina is currently in the news for discussing an alleged and long-rumored romantic relationship with Jada Pinkett Smith. The musician claims that he did indeed have a relationship with Pinkett Smith after rumors swirled in 2019 about their possible involvement with each other.
Pinkett Smith is, of course, married to actor Will Smith, but Alsina said in a new interview that Smith actually didn't have any issue with his wife pursuing a relationship with Alsina.
"I actually sat down with Will and had a conversation ... He gave me his blessing," he explained to Angela Yee in a video posted to his own YouTube channel.
"And I totally gave myself to that relationship for years of my life, and I truly and really, really, deeply loved and have a ton of love for her. I devoted myself to it. I gave my full self to it. So much so that I can die right now, and be OK knowing that I fully gave myself to somebody ... Some people never get that in this lifetime."
(For her part, Pinkett Smith has denied Alsina's claims in a statement to Page Six, saying they're "absolutely not true." As of this article's time of publishing, Will Smith has not commented on the story publicly.)
There's much more to Alsina than just his alleged, secret relationship, though. The "No Love" musician is actually a chronic illness fighter. Alsina lives with an autoimmune disease which is hereditary and targets his liver, BET reported back in September.
In 2019, the singer was hospitalized after he lost the ability to walk. "As you can probably tell, I'm in the hospital. So, here's the stitch: I woke up one day and wasn't able to walk," he announced on Instagram in a July 2019 post, per People. "I couldn't feel my legs and my doctor ended up admitting me into the hospital."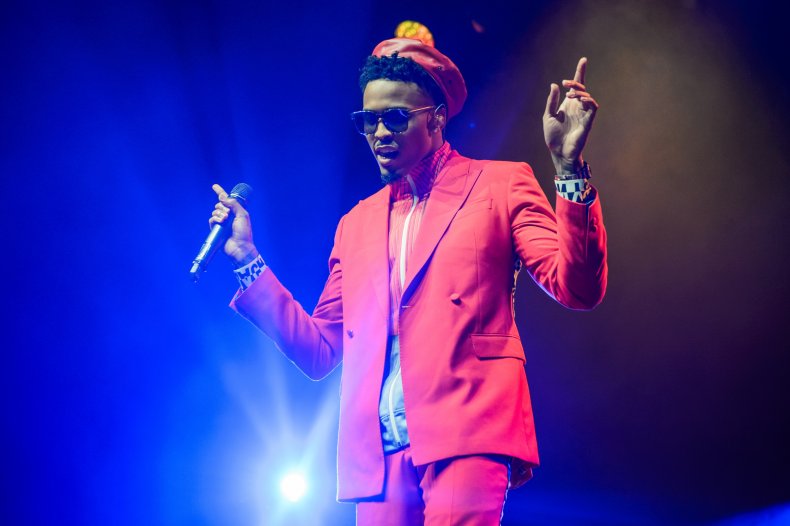 Alsina said in his Instagram clip that doctors were running tests and expected that he was experiencing some nerve damage. In the video's caption, he referred to his illness as an autoimmune disease.
"It's like my immune system went on vacation," he said in the video. "So, I'm just waiting on it to come back and we can get together and it can do what it do, man."
Alsina collapsed while performing all the way back in 2014, and didn't open up about the chronic condition until 2017. He actually revealed the disease in an interview with Pinkett Smith, according to Essence.
"I have a liver disease where my autoimmune system is fighting against itself," he told Pinkett Smith at the time. "Reality is I'm sick all the time. I'd really like to talk about it and I'm not looking for anybody's sympathy. Don't treat me like I'm a f**king cancer patient, because I'm not."
He captioned the now-deleted interview on his Instagram by explaining his harsh wording. "I'm sicker than ever and having a hard time accepting what I feel and what the Doctors are saying is most true," he wrote. "After sitting down and talking with my fathers mother and sister.. They explained to me that sickness and illness runs in my family. My father and grandfather both died of severe illness. But they were FIGHTERS and that's all that matters. Just ride with me is all I ask."
Newsweek has reached out to Alsina's label, Shake the World, for further clarity on his chronic illness, but has not yet heard back.
The statistics for how many Americans live with autoimmune diseases vary, depending on the source. The American Autoimmune Related Diseases Association reported around 50 million Americans likely live with one or more autoimmune diseases, while the National Institutes of Health claimed the number was somewhere between 14.7 million and 23.5 million in a 2005 report.
Tracking autoimmune diseases is fairly new, as the first official report was released in 1997. At the time, nine million Americans were identified as living with a chronic illness.