'I'm 10, I Was Homeless, Now I'm A Chess Master'
I started playing chess in Nigeria, my older brother Austin had made paper pieces that we could move around the board and he showed me some moves. But I didn't really care about chess at that point because I didn't know anything about it. I thought I would just play for fun.
When my family moved from Nigeria to America in 2017 as refugees I didn't even know where America was. But when we came here, I was really happy. There was a pastor here who got us situated in a homeless shelter in New York City.
I was sharing a room with my brother and my mom and dad were in a room upstairs, so we were kind of separate, but I didn't mind. The place was very nice and very clean, and the people were very kind. I really like New York, it's a good environment.
When we were living in the homeless shelter I became interested in chess through a chess coach named Shawn Martinez. When I was in second grade at school he used to come in and show chess moves and techniques during 20 or 30 minute lessons. My mom then signed me up for the school chess club, where Russel Makofsky was the chess club director at the time. I didn't really remember playing in Nigeria by then. It was like my memories from Nigeria had disappeared; it felt like I had just found chess again.
When I entered the chess club I was being coached and able to play against some of my friends because some of my classmates were actually in the chess club too. There was a girl called Hannah, I think she's graduated from my elementary school now, but she was the best at the time. I don't think I ever played her though.
In 2019, when I was 8, I played in the 52nd Annual New York State Scholastic Championships. I had to play six games and I won 5.5 out of six, because I drew one game. It was an age group championship so everybody there was in school. I hadn't played in any championships before that, but I won the K-3 group in the championships.
After winning the state championship I was really happy and proud of myself. At the same time, I knew it was just one tournament. So on the outside my attitude was, "ah, it's just a tournament." But inside I was very happy. After I won I wanted to go and see my mom and everyone who was downstairs. I was running so fast a moderator told me to stop. But when I got to the hallway, nobody could stop me!
My parents were very excited. My dad wasn't there as he was at work driving Uber, but my mom was very happy and immediately texted my dad that I had won. My dad was like, "wooooo!" in his reply. I felt him beaming from all the way across the state.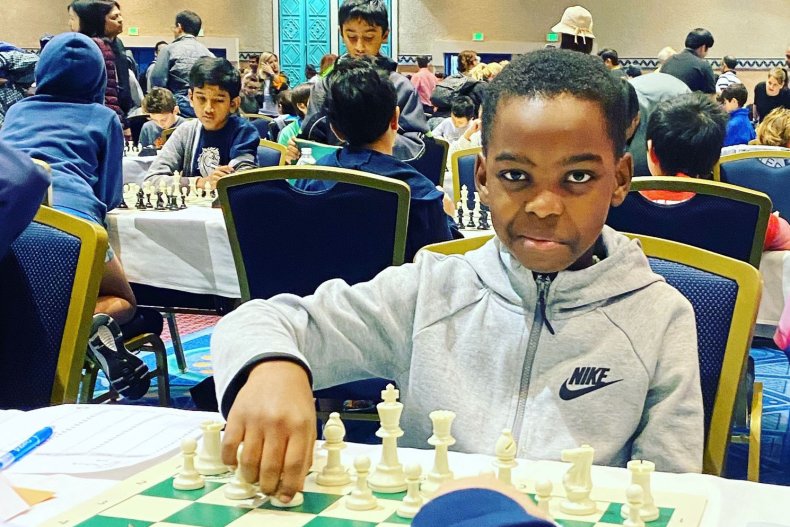 After the New York state championship, the news went all over the world and many people started calling us. I continued in the school club and at a weekend practice in Harlem, and when my rating got to around 1000 I started getting coached privately; my mom and dad hired the chess grandmaster Giorgi Kacheishvili to coach me.
I started playing more tournaments including a national championship when I was 8, held in Orlando, Florida in December 2019.There were kids from first grade up to 12th Grade age competing. I won six out of seven matches and I tied for second place in that tournament. I was in fourth grade, playing against kids in 12th grade, so I was proud of myself. But I don't feel pressured or nervous playing older kids, I just want to play my best chess and hopefully win. I would say my playing technique is aggressive, I like to attack. I am thinking about moves ahead but of course I can't predict the results.
I play a lot of chess. I would say on an average day I play eight or nine hours a day when I have school. On a day where there is no school, then I spend 10 or 11 hours practicing. I play a lot of games and puzzles and I take lessons on chess.com.
I've been playing chess regularly for two years and a couple of months, and I'm now 10 years and eight months old. To become a chess master you have to get a rating of 2200 and I got that rating on May 1 this year. I had to put in a lot of work and dedication. It feels wonderful to become a chess master. I have been trying to get it for some time, so it's a relief. When I got the title I was really happy.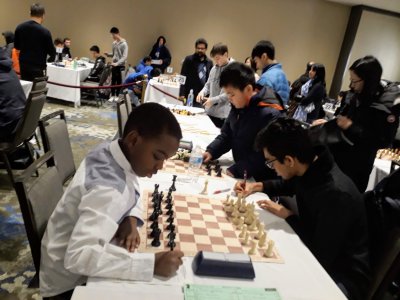 I really admire players like Hikaru Nakamura, Fabiano Caruana, Magnus Carlsen, Wesley So and my friend Maurice Ashley, but there are a lot of players I admire; listing them would take forever. If I could play anyone in the world I would play Magnus Carlsen. I would play him now, but he'd win. No, it would depend on what happens.
I want to become the youngest grandmaster and possibly a world champion. The current youngest ever chess grand master is Sergey Karjakin and he was 12 years and seven months old when he became a grandmaster. I don't have a particular age goal, my only goal is to at least be younger than that. If it's one nanosecond below that I'll still take it!
I'll still play chess too, but when I grow up I want to be a pilot. I like travelling and being in the air. I have a remote control plane that I can fly in the park. People look up and say, "Oh! What's that?"
If other kids see me and want to become good at chess, I would say that they will have to put a lot of work into it. I like the quote "Hard work beats talent when talent doesn't work hard." So keep working hard and have a lot of dedication.
Chess has changed the way I think and it's changed our situation financially; we have our own apartment now. It has changed my life completely.
Tanitoluwa "Tani" Adewumi is a national chess master and lives in New York with his family. Tani's book My Name Is Tani . . . and I Believe in Miracles is available here. You can find details of his GoFundMe here.
All views expressed in this article are the author's own.
As told to Jenny Haward.