I've lived in Texas all my life. I grew up just a normal boy in Houston and now I live in Texas City. I am 11-years-old and I'm a straight A student, I'm in the National Elementary Honor Society (NEHS) and I also received the Presidential Award for Educational Excellence in 2019.
When I was little I was more into candy and chocolate, but then, when I was eight I was at my aunt's house waiting for my mom to pick me up. My aunt was making some red velvet cupcakes and I decided I wanted to help out. That batch of cupcakes came out better than usual!
A year later when I was nine, I really wanted to buy an Xbox for myself but the one I wanted cost around $400. I remembered that I was good at baking and I decided I should start a baking business to make some money—so that's when I started LNC Sweets with Logan Cooper. The first item I was paid to bake was a batch of confetti cupcakes for a lady's engagement party.
My nickname has always been Bubba, and around my 10th birthday when I was already on my baking journey, my mom and aunt created the nickname of "Bubba Crocker". In the stores we would see the Betty Crocker baking brand and they would say, "move over, Betty Crocker, here comes Bubba Crocker!"
The word got out about my baking through Facebook and other social media, and people started telling each other about it. People now put orders in through Facebook or they call us. I get people in Texas city and orders from places like Channelview and Austin in Texas state. I also get orders from the state of Maryland! Before school started back, I was baking 10 to 12 cakes a week. But now I'm back at school for the fall semester, I have limited it to five to seven cakes a week.
The most popular cakes are the strawberry and chocolate cakes, although they are probably the most basic of the cakes I can make. However, I will make anything that my customers request and I have different prices depending on the size and type of cake. For cheesecakes I charge between $40-60 and for regular sponge cakes I charge between $30-40.
The ideas for cakes just come from my brain and then I make them. Once, I baked these weird chocolate cookies as an experiment, and I put divots in them for caramel! But I do have a method for each cake I make. With a chocolate and berry cake for example, once I have baked the sponge cake, I typically cover it with a thin layer of icing on top, between the layers and around the cake. Then I pop it into the fridge, bring it out a short while later and decorate it with berries, dark chocolate peelings and some chocolate ganache drip. It goes back in the fridge for a little longer and then, voila! It's ready.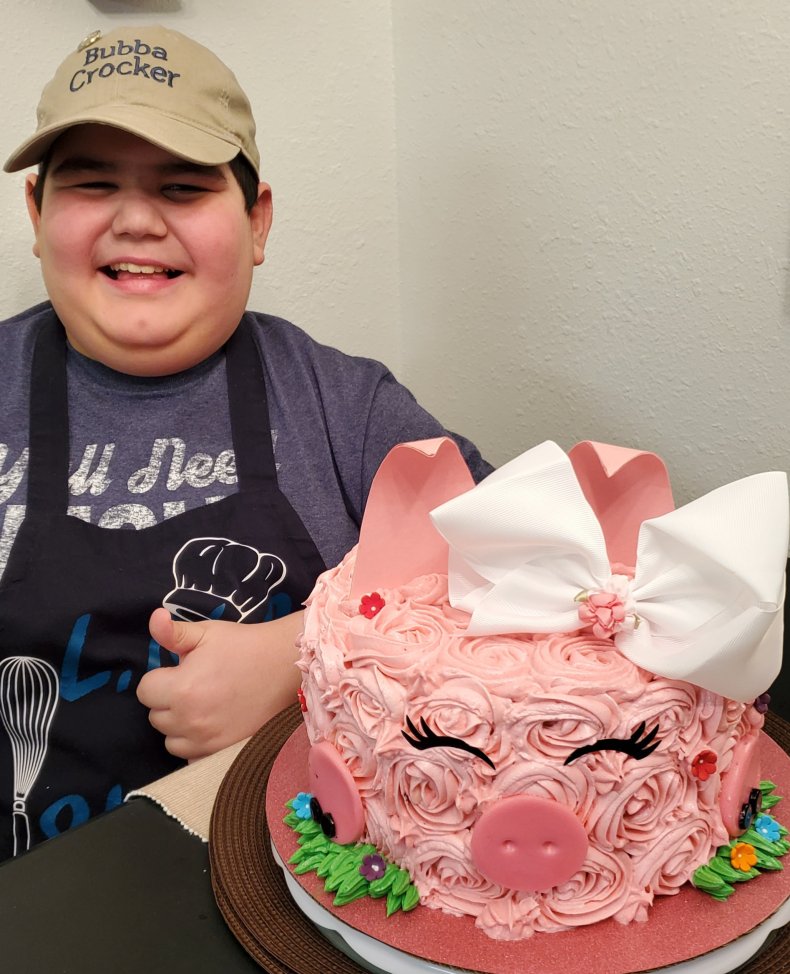 It is tough to decide, but I would say my "lava cake" is my favorite cake. It is the perfect combination of cinnamon and coffee mixed together in creamy melted goodness.
I'm actually a third generation baker. My grandfather and great-grandfather were both excellent chefs and bakers, they made great Mexican food. It means the world to my mom that her son is a third generation baker and following in the footsteps of her father and grandfather, she is very proud of me. I actually have my grandfather's old chef jacket and trousers. And my mom and I have LNC Sweets face masks we're wearing during the pandemic.
I am planning to go to college and culinary school at The Art Institute of Houston, and I have currently saved up $6,000 that I have made from my baking business to go towards my college fees. There are a lot of things I want to explore when I study, but I think I am mostly going to stick with baking. In the meantime, I want to go to places like Denmark, Italy, France and Russia and learn about their famous pastries and try to bake them myself. That will be when the COVID-19 pandemic is over and I'm a bit older, maybe 14 or 15.
When it is time for me to go to college I'm going to settle down on the orders and concentrate on my studies. But when I graduate college I'm planning to open a little bakery. In the morning it's going to be a cafe, because pancakes are also cakes, and I can make those for breakfast. Plus, I can make a delicious caramel macchiato coffee.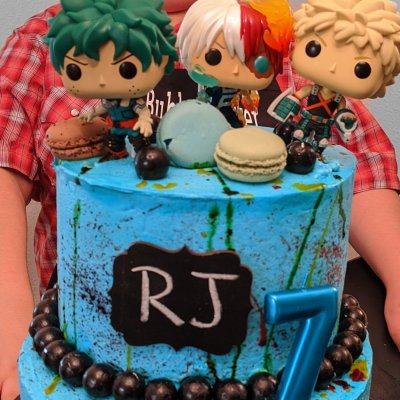 I love baking because I can use the blessings that were given to me by the Lord to help out others and make them happy. That's what I love about baking; I get to give back to the world.
I really love to help out my community. Last month I made goodie bags for our Texas City police officers and this month I have started "Helping Those in Need, One Cupcake at a Time" initiative. For the whole of September I am going to sell cupcakes I've made and donate 100 percent of the proceeds to helping those affected by COVID-19, like people who need help with groceries. So far I have saved $250 in this fund, ready to donate.
Every 9/11 and Christmas, I bake and deliver cakes to our local police department and fire department to honor their services and say thank you to them.
People say that my cakes are delicious and beautiful, and it makes me so happy to hear those words.
If there is one thing I want to share with others, it's that if you have a big goal, you don't have to wait. Anything is possible.
It's funny, I was actually born on National Donut Day, and my mom craved donuts when she was pregnant with me. It's like baking was my destiny!
Logan Nathanial Crocker is the founder of LNC Sweets with Logan Cooper. He is also known as "Bubba Crocker". Logan lives with his mom in Texas City, Texas. You can follow him on Instagram at @lnc_sweets .
All views expressed in this article are the writer's own.
As told to Jenny Haward.