'I'm 11, I've Raised $750,000 For Charity'
I live in Devon in England where there are a lot of beaches, so my family and I have always done a lot of surfing and sports. We had a neighbour called Rick who lived across the road and sadly his wife died in 2017. We wanted to make sure he was alright, so we started to take care of him a bit and after that we became really good friends with him. He would come round for dinner and my dad would go paddle boarding, cycling and surfing with him, they did so much together. Rick was one of the fittest people I knew and was the only 70-something I've met who had a climbing wall in his garage and did two finger pull ups.
Unfortunately, in 2018, Rick got cancer that started in his knees and it spread. My dad is in the military so he was in Plymouth at the time, but my mum and I would go over to Rick's house to help him. All of Rick's friends took care of him and I met some amazing people—they're so wonderful and were amazing to chat with. The North Devon Hospice also took such good care of Rick and helped him die peacefully at home in February 2020. They worked around him and what he wanted.
One of the last times I saw Rick he gave me a tent and said that he wanted me to have an adventure in it. I promised him I would. I took the tent to Exmoor and camped with my Dad. But I had said I would have an adventure, and going to Exmoor is fun but not adventurous enough.
I decided to start camping out in March 2020 when England was first in lockdown. At first, my parents said no when I asked. They didn't want me to camp outside because there was frost on the ground and it was really cold. I managed to persuade them and then I asked if I could start a fundraising page, I just wanted to say the biggest thank you I could to the North Devon Hospice for helping Rick. My mom actually laughed, she said it was a lovely idea but she didn't think anyone would sponsor me.
On the first night I raised £100. I was so amazed I could raise that much money in one night. I loved it so much. I did my first interview—it was a TV interview—and it terrified me so much. I look back on the interview and I look so scared!
But donations did spiral after that and I've now spent more than 500 nights in a row camping outside and raised more than $750,000 (£550,000) for the North Devon Hospice. I've camped with my family quite a bit; we've been to Exmoor and Dartmoor and we've done some wild camping. I also recently went to a sailing camp.
My tent has a sleeping bag, a roll mat, pillows, a torch, The Beano, a few rugby books and magazines, and lots of teddies. I reckon I have around eight teddies. I have a bean bag with the polystyrene balls taken out—instead it's stuffed with teddies.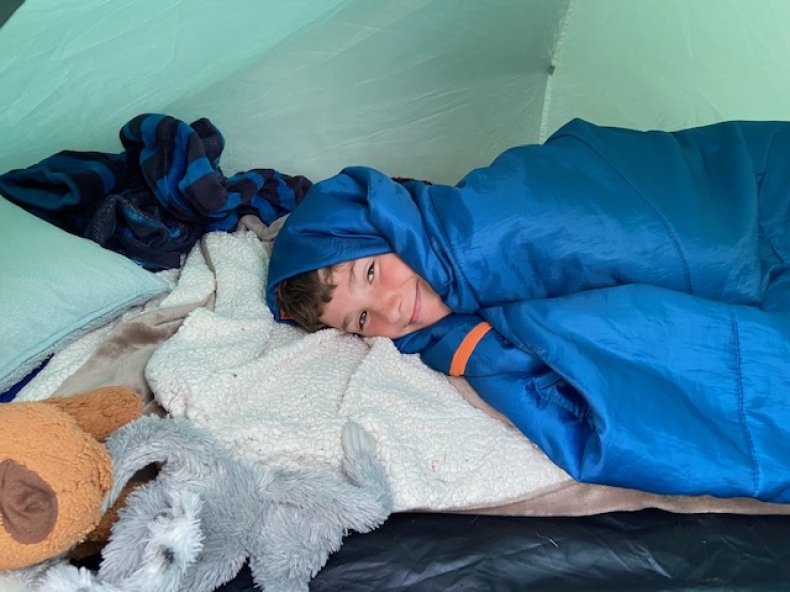 I've camped through lots of different weather conditions. There has been thunder and lightning, storms, times where it has snowed and even a mini heatwave in the summer of 2020. But the only times I've gone inside is to complain and only in the summer when it's too hot. I always go back to the tent. Now, I only use my bedroom for books and Lego so my parents said they would Airbnb my room as a joke. But I kind of want it to be on Airbnb. I could raise some money for myself!
Earlier this year, a charity called Action For Children got in touch with us because they had heard what I had done fundraising for the hospice. I thought it would be quite nice to get involved with other charities and help them too. My family and I camped at London Zoo with them in July, that was a whale of a time! Then the charity asked 10 Downing Street if we could camp there, so I pitched my tent up at 10 Downing Street and I had a one-to-one chat with Prime Minister Boris Johnson. It was great fun. We spoke about camping, Action For Children and the history of 10 Downing Street.
Camping out is so much fun for me, I wanted to help other kids do it too. To celebrate camping out for a year in March, I did a "big camp out" where kids all over the world could camp outside on the same night and raise money. We got in touch with Just Giving and they created this big page where kids could raise money for whichever charity they wanted. It was brilliant fun. In the end, everyone involved raised more than $800,000 (£600,000) for their different charities. It was absolutely incredible that we could achieve that.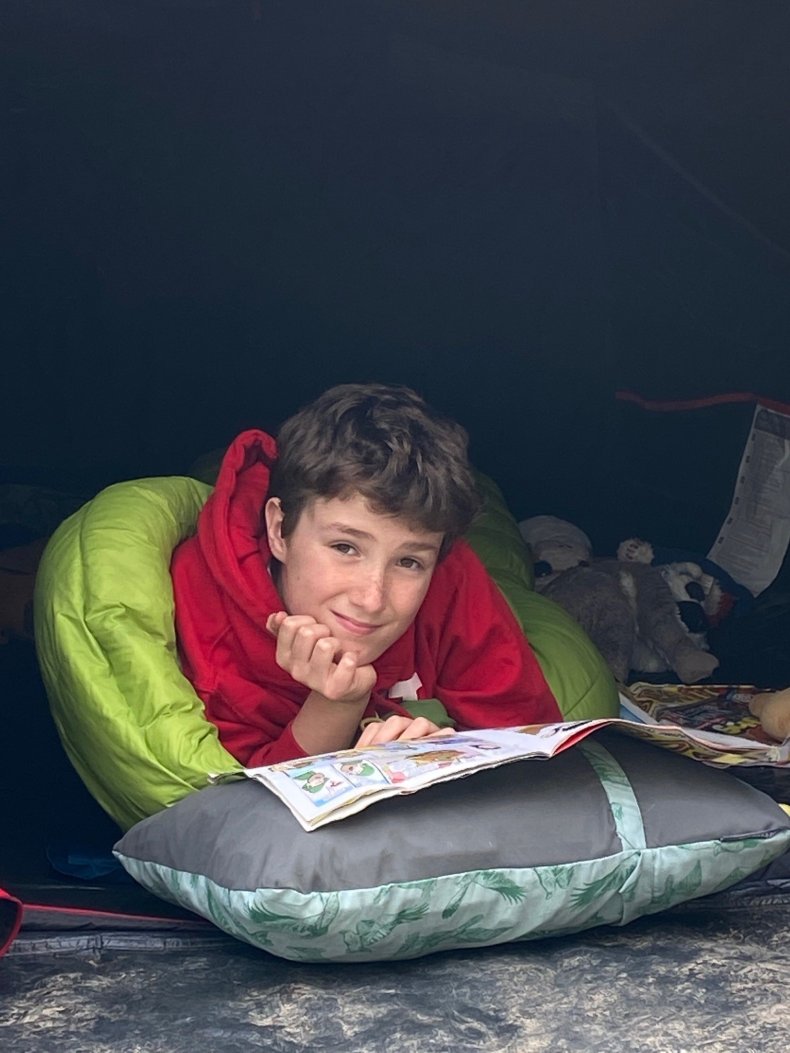 The North Devon Hospice love what I'm doing and they have been so supportive. They've given me a lot of sweets to sneak into the tent. It's absolutely incredible to be able to raise so much money. I only ever thought I would be raising around $135 (£100). My parents even thought they would have to add to the donations to tip the money over to $135 (£100). They also said they would double what I raised, I'm still waiting for them to do that!
I've had friends camp with me, but my dad's excuse is that part of his job in the military is camping out and he's camped out during wars. He says he has his bed at home! My parents have been 100 percent supportive though. They have been there when the tent has collapsed and have put a lot of time into all of this. Half my friends think I'm mad, and you know what, I don't disagree with them to be honest. The other half think it's pretty cool and exciting. I'll definitely keep camping, I'd like to go on an airplane and camp in a forest somewhere. I'd absolutely love to go to Australia.
I think other kids should absolutely go for it if they want to have an adventure like mine. It will be hard to start off with but it will definitely be worth it. If Rick was still alive I reckon he'd be in the tent right beside me, camping with me.
Max Woosey lives in Devon, England. You can follow him on Instagram @the_boy_in_the_tent and check out his fundraising page here.
All views expressed in this article are the author's own.
As told to Jenny Haward.