'I'm 12, I've Raised $50,000 for a Homeless Man Who Returned My Grandma's Wallet'
I was planning to have a drive by party for my 12th birthday on December 22, 2020, because of the pandemic. But I realized I didn't want any gifts—I didn't need more skincare products or nail polish. Instead, I wanted to give to somebody who really needed it. I had wanted to give to an organization, a food bank or a homeless shelter, but they all seemed too big—I wanted to be able to see the person I was giving my donation to.
We live in Tiburon, California and my grandmother lives close by in Mill Valley so we see her three or four times a week. She goes to the same cafe every day and in early December she was there getting me a bubble tea and a decaf chai latte for herself. Unfortunately, she didn't zip up the zipper on her pocket properly and her wallet fell out somewhere. As well as my bubble tea, she had actually dropped off some Christmas presents for my mom and dad in a closet at my house, so afterwards she was asking me if her wallet was in the closet, which unfortunately it wasn't.
The following day she gave us a call at around 8pm at night and said that she had her wallet because a homeless man called Sean Currey called her and said he'd found it. She'd had to go to him to get it and had given him some money to say thank you.
She also told us that Sean was living in his car, so when I was thinking again about who I should raise money for on my birthday, I thought of Sean. I felt like I would then be donating to someone where I could look them in the eye and say: "Here you go!"
I called Sean and asked him if it was OK if I created my birthday fundraiser for him. I think he wasn't really sure who I was at first, so I had to explain that I was the granddaughter of the person whose wallet he had found. He said yes, and then called my grandmother to check I wasn't just some random person!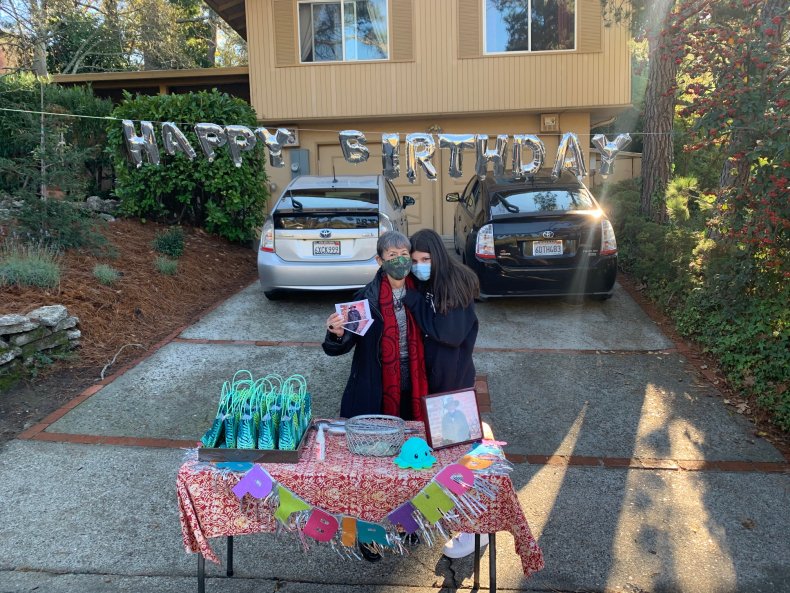 On December 22, we had a table and a happy birthday sign set out in the driveway for my drive by party. On the table we had a picture of Sean, a basket with some money in—I had already donated $40 and my grandparents had put in some money too, and some goodie bags with hanukkah gelt and candy canes. People started driving by for my party and a couple of people dropped cash into the basket, but most people were sending my mom money through PayPal; we were receiving donations of $40, $50 and even $100. At one point, a police officer came by, I think he'd seen the big sign, and he started waving at us. That was really funny.
That day we raised $479 and my grandma's friends also raised another $179—I don't know what it is about the number 79! Because Sean lives in his car, we went to the St Vincent De Paul dining hall and met him there on December 23. I had an envelope with a card—I had put a little note in with the money—and when I gave it to him he started crying which was very sweet. I wanted to hug him but I couldn't because of COVID-19. I didn't ask him directly, but Sean told us he was going to use the money for his car insurance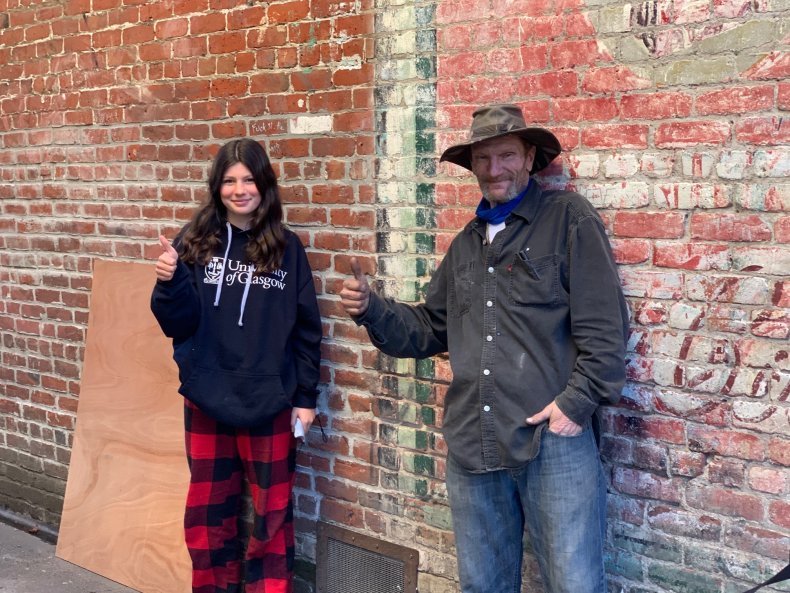 People began hearing about what we'd done as more people shared a local news story on my donation to Sean, and soon another reporter asked if we had a GoFundMe page. My mom and I had been thinking about starting a GoFundMe page and although we didn't want to impose on Sean, we decided to set one up. On the first day it was set up, January 6, we raised $25,000. Our goal at the beginning was to raise $5,000 and then we kept raising it that day up to $25,000. The goal is now to raise $75,000 and we have currently reached almost $50,000. My grandma has only met Sean a couple of times besides when he gave her the wallet, but she's super excited.
We see Sean almost every other day now, as he is staying in a hotel. He actually brought another friend who is homeless, called Judy, with him to the hotel. So it was really nice to see people help us to help Sean, and then for him to help somebody else.
Sean wants to get a trailer to live in because it's easy to move around and he can drive it with his car, but he also wants to create a community for homeless people. He would ideally like to create a community of tiny houses for homeless people with the support of the housing choice voucher program. Sean was immediately talking about helping other people. He needs money, but he also wants to give some to others. That's why we're raising the bar with the amount we're trying to raise to $75,000.
I just want to hug all the people who have donated so far, it's great. My mom told me that another mom saw our GoFundMe and showed her eight year old son. He then donated half of the money in his piggy bank to Sean—I thought that was so sweet.
We want to help Sean for as long as we can. But our goal is to help him and help other homeless people too. In the future, I'd like to do what Sean wants to do, create affordable housing, because my dad is a carpenter. I'd love to actually do that in the future. This fundraising can keep going if people keep wanting to give.
Mikayla Gounard is in sixth grade at Del Mar Middle School and lives in Tiburon, California with her family. You can donate to support Sean and his community through her GoFundMe here.
All views expressed in this article are the author's own.
As told to Jenny Haward.