'I'm 13. I've Raised Thousands To Help Homeless Kids This Christmas'
I'm 13 and I was born and raised in Plano, Texas and I go to Renner Middle School here in town. When I was about to turn 11, my mom kept asking me over and over what I wanted to do for my birthday and I finally decided I wanted to help feed the homeless. I remember mom asked me if I wanted to serve sandwiches and chips and I explained that I would like to give people an Easter dinner. From there, we contacted many homeless shelters and Dallas Life Homeless Shelter responded. They let us know that they had around 250 people we could help.
At first we didn't know what we were doing, we just started a GoFundMe and we shared it on Facebook. But we ended up raising $12,500 and providing dinner for 350 people at the shelter. For that first Easter event we were at the shelter for two or three hours and we were able to have 20 volunteers helping us. We served chicken, turkey ham and all the sides; everything you'd have at an Easter dinner type meal. On that day I was so excited, getting to see those people's smiles made my heart warm. I felt like I was making God proud.
A few months later, lawyers were calling my mom asking if I had created a non-profit yet. We didn't even know what that was, so my mom was confused. I didn't know anything about them either. But, we did all the paperwork and had someone help us and set up my non-profit, Never Too Young To Care. I think I am one of very few 11-year-olds to have a non-profit organization.
When we were at the homeless shelter over that first Easter we met two women who said they were there because of domestic violence and that they had come there with nothing but the clothes on their back and their children. So, I made my next project about domestic violence awareness. Each May I run my domestic violence awareness fundraiser, and during the month I sit in Taco Delite in Plano to fundraise—it's my favorite taco place. We take monetary donations and we also try to get donations of items like clothes; including coats and socks, as well as towels, laundry detergent and toilet paper. All the needs these women have. I don't know how many women we help exactly each year since 2018 but we take all the donations to the shelter.
Over the summer I run a "back to school" project where I raise money to get backpacks and school supplies for underserved kids. I get to sell lemonade, which is my favorite part. I do make my own lemonade but I can't share the recipe! We sell it each Saturday over the summer for perhaps five to seven weeks. As well as raising money for items, we were able to give haircuts to more than 100 children one year.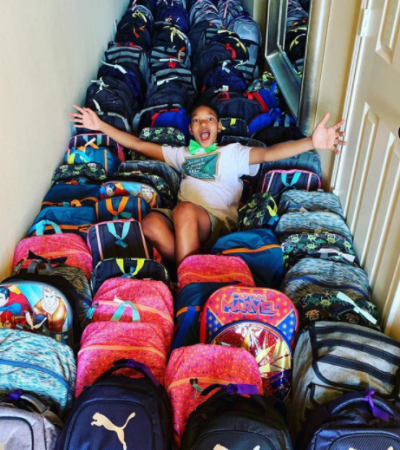 That first year, in 2018, I also decided to raise money at Christmas. For my Christmas project I really just want to help, because I know that not every parent can afford Christmas presents for their children, some can't even afford shoes. So I wanted to help. In 2018 I set a goal on GoFundMe and we raised money to give homeless children brand new shoes, coats and socks and toys for Christmas. We promote our fundraising campaign on social media and that first year I raised $4,000 and was able to help 65 children.
This year was my third year raising money for homeless kids at Christmas and I was able to raise $5,900 and help 61 homeless children at The Samaritans Inn, a homeless shelter in McKinney, Texas. At first we were helping 54 children, then the shelter added four new families with seven more kids in total, so we went back and shopped for more shoes, coats and socks.
On December 12, we went to the shelter, and with the help of volunteers from the community, called out names and gave out the presents and bags of clothes to the kids. It was really heart warming. The Mayor of McKinney, George Fuller even came to help with his wife, Maylee, that was so amazing. Everyone getting to see them and the people receiving the gifts knew that their community was there for them. The kids were saying thank you. There were even little babies who were just so cute; there was one little baby who introduced himself to me and told me his name.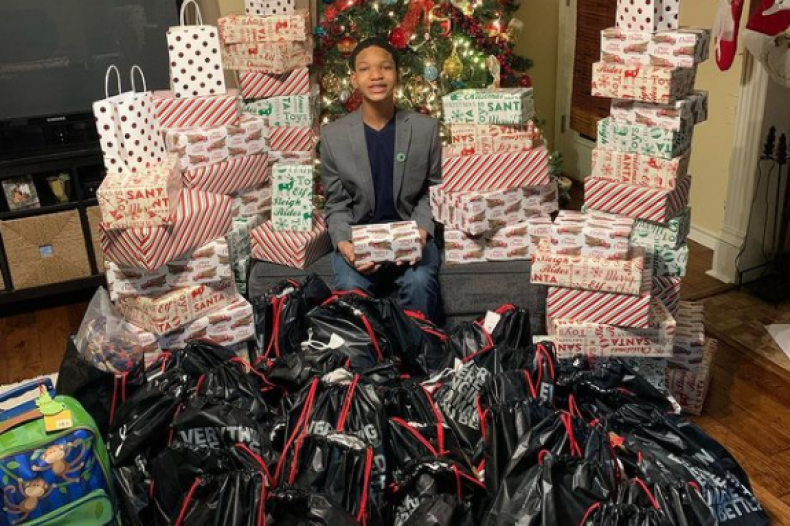 There was a news reporter there on the day and I believe the Mayor told her that I am doing amazing work and that we need more people like me. He also said to me that he was there to help out the next President of the United States—he meant me.
My plan is to try and keep my non-profit going as long as I can and help as many people as possible in my community—until I'm President. I want to go to Harvard for law school and run for President in 2042!
I feel that this was all God's work—being able to have non-profit has helped so much because we're able to get tax deductions on donations and buy more stuff for the people we want to help. If other kids are seeing this, I would tell them to do whatever is in their heart and just try to make God proud.
Jaxson Turner lives in Plano, Texas and attends Rainier Middle School in Plano. He founded his non-profit Never Too Young To Care in 2018. You can follow him on Instagram @n2y2c and Facebook at Jaxson Turner's Never 2 Young 2 Care Charity.
All views expressed in this article are the author's own.
As told to Jenny Haward.