'I'm 13, I Have an IQ To Rival Einstein'
Although I don't remember myself, my mom tells me I began reading at the age of one and started writing when I was 3 years old. She actually has a book I wrote and illustrated when I was 3. Apparently I brought it in to my nursery class to show my teacher at the time. My mom still loves showing it to people, which is embarrassing.
Now, I'm 13 and I attend Aberdare Community School in Wales. I've always been quite a bright student and at the top, or close to the top, of my class in most subjects. I'm an all-rounder. I also really enjoy having discussions with my teachers because it helps me engage more with my learning. But it's quite difficult for me to pick my favorite subjects. If I was pushed, I'd say my top three choices would be art, music and English. But I like everything.
My motivation for taking the Mensa IQ test this year was to see how I would score compared to my brother, Harrison. He took the test in 2018 when he was 12, so I was curious to see how I would do. Because we wanted to make sure any comparison between us was fair, I also took the test when I was 12. But, I had been thinking about it for a couple of years.
The test I took is intended for adults, so on April 17, I was the only child in the examining room. I didn't interact much with the other examinees, but I did get a few glances, probably because I seemed so young. But I didn't feel any pressure from being surrounded by adults. Overall, I felt good about it.
The test was split into two parts. Mensa describes the first part as diagrammatical and the second part as a test of verbal reasoning ability. I didn't feel there was any real way I could revise or prepare for it so I just continued with my normal schooling in the weeks prior.
I had to wait ten days for the results and if I'm honest, I was nervous. We hadn't told my brother that I had taken the test because I wanted to see what my results were first. They actually arrived one day while I was at school and my mom opened the email so she could see how I had scored. She opened the results at 1pm and had to wait until I finished school at 3pm. She told me afterwards that 3pm couldn't come soon enough that day!
When I saw the actual email that said my IQ is 162, I was ecstatic. Firstly, because I knew my brother—who also scored 162—couldn't tease me for getting a lower mark. But also because I can feel a little out of place at school, and I realized that I'm now part of a community of people who think like I do.
I have read that Albert Einstein has an estimated IQ of 160+, although he didn't take an IQ test. Some scientists suggest it could be higher. It is hard to wrap my head around the idea of potentially getting a higher IQ score than Einstein, or at least having a similar IQ to him, but I'm fine with it. I don't really feel different. I may have a really high IQ but that doesn't change who I am.
I guess my friends and family think my IQ score is cool. I've never really been very social and although I have a lot of friends, there are only a couple of close friends that I completely trust. My best friend, who is also called Jess, congratulated me when I told her. She didn't really know what a Mensa score was, but once I had explained it to her she congratulated me again. I'm glad that I have such a supportive best friend.
Not many other people in my school know about it, unless they have read about it in local news. Most of my teachers congratulated me once they found out. There have been a couple who haven't congratulated me—yet!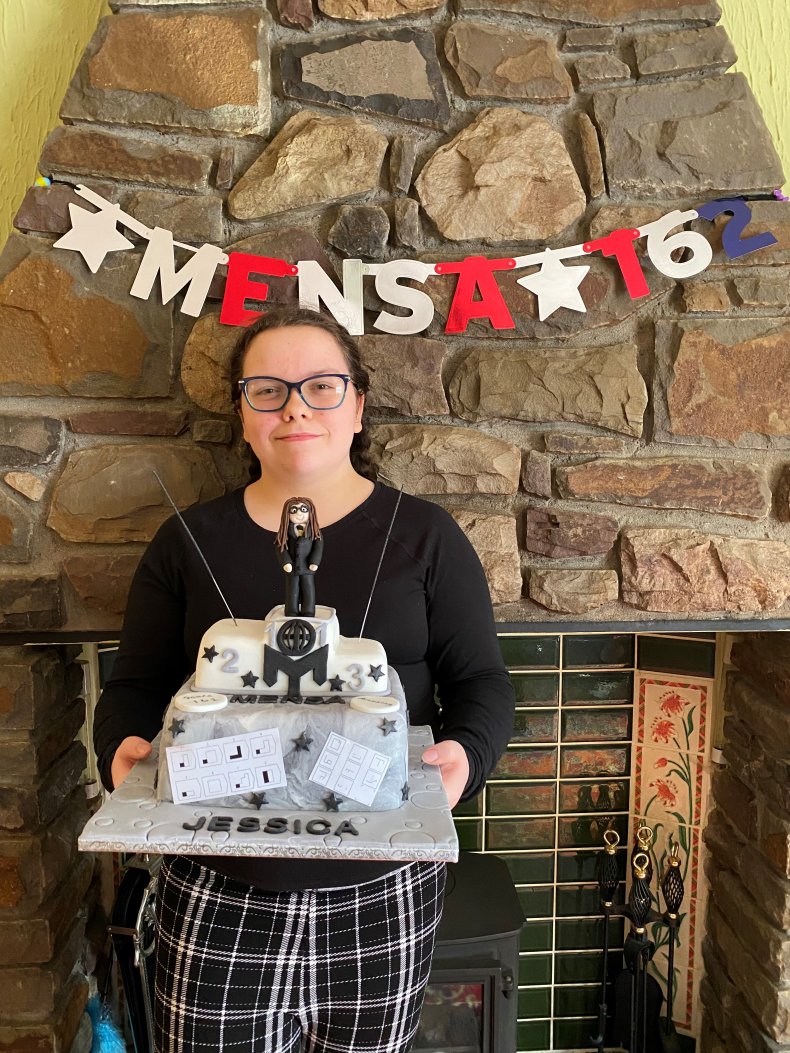 My mom and my English teacher have said I could be a journalist or an author in the future. I'll soon start preparing to take 14 G.C.S.Es—the U.K. exams we take at 16 years old—and with the COVID-19 pandemic holding up schooling over the past year I will be taking them at the usual time. My English teacher Mr. Heath is keen to get me through the English exams early though.
If I'm honest, I'm not actually that sure what I want to do in the future. I know there are a lot of options open to me, but I try to be modest. At the moment, I love education and going to school. My mom loves to show people a trophy I received for being the first child in my elementary school's history to never, ever miss a day of school. My headteacher awarded me the "star attendance" prize, which is now an award given out annually. I still haven't missed a day of school even now. Education is important after all.
If other kids are interested in taking the Mensa test, I think they should. It doesn't matter if you score highly or not, it's just quite interesting to see the results. My advice to others is just to do what you love. If you're happy with what you're doing, you'll be fine.
Jessica Casey lives in Wales with her mom, dad and brother, Harrison. She attends Aberdare Community School.
All views expressed in this article are the author's own.
Jessica's mom, Amy Casey, contributed details to this story.
As told to Jenny Haward.