I was seven years old when I first started playing chess. My parents didn't know too much about the game because chess doesn't have a long history in China. Most people got to know more about it because of the 1991 Women's Chess World Championships when China's Xie Jun defeated Georgia's Maia Chiburdanidze. That just happened to be the year I was born.
When I was in elementary school there were various options for interesting after school lessons and I chose chess. At first I found I played well against students in my area of the same age, and then went on to achieve excellent results in under-8s and under-10s national competitions. At that stage I began to think I could become a professional chess player. My home in Shanghai at the time was very close to where I studied chess, so I'd play chess almost every day for a few hours. Chess was perhaps the most significant aspect of my childhood.
Then, in 2004 at the age of 13, I travelled to Beijing for professional chess training at the National Chess Center there. Sometimes you're going to a tournament or event but the average time we trained was about six hours a day.
Becoming a grandmaster is the highest title in chess, and to achieve it you have to reach a rating of 2500 and three "norms"—in general, a norm is a strong performance with a rating of 2600 in select international chess events. When I received the title of grandmaster in 2014 I was 23 and had six norms. It's still fairly rare for a woman to become a grandmaster, but I believed I was good enough. So I was happy, but it wasn't necessarily surprising!
I first realized I could become Women's Chess World Champion in 2016. That year, I competed in the International Chess Federation (FIDE) Women's Grand Prix 2015-16; a series of five chess tournaments where the winning player qualifies as a challenger to play in the next FIDE Women's World Chess Championships. I won that Grand Prix.
Chess is a male-dominated sport, so keeping the championships separate gives a chance for more female players to join and achieve. They've also been separated since the women's championships started in 1927, and there are open tournaments where male and female players can play against one another.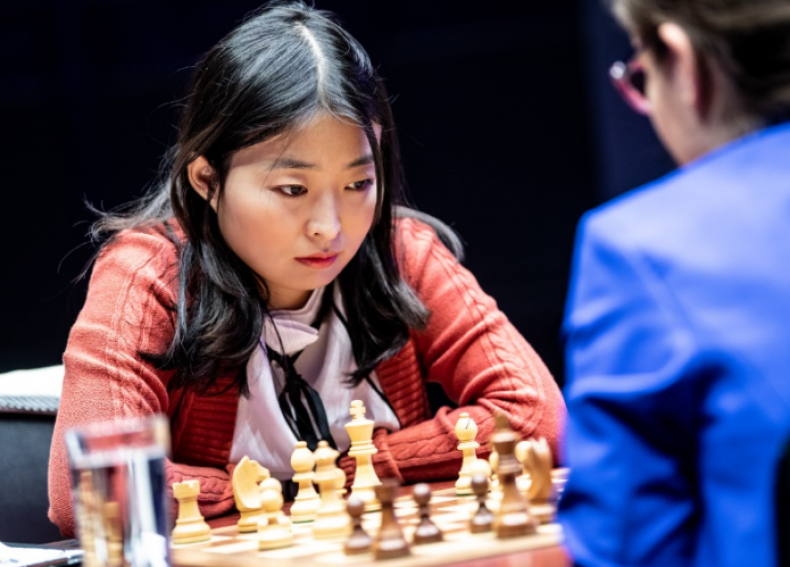 The Women's World Chess Championship Match in May of 2018 was a 10 match tournament between myself and another Chinese player, Tan Zhongyi. We've known each other since childhood, and I knew for at least a year she would be my opponent, so I had plenty of time to prepare. I won three matches, drew five and lost two. So although it wasn't easy, I was leading throughout. Winning was a dream come true. I was the 17th female world champion, the sixth Chinese woman to win and the first woman from my home city of Shanghai.
I also won the Women's World Chess Championship Tournament of November 2018, but the Women's Chess World Championships 2020 in January this year was the toughest chess championship I've played. My opponent Aleksandra Goryachkina was from Russia, and she was only 21 at the time—seven years younger than I was. Russia is traditionally a chess playing country and Goryachkina is very talented.
We played first in Shanghai and then in Vladivostok and during the time we were in Vladivostok for the second half of the tournament in 2020, my coach, Ni Hua's grandmother passed away. He was supposed to go back for the funeral, but instead he stayed with me in Vladivostok until the final, and didn't tell me about his loss so that I could concentrate on playing and winning.
During a tournament it's often late in the evening when we finish games, so my priority is to rest well and have energy for the next day, rather than socialising or partying. But also, while playing chess isn't a physical game, it takes up a lot of mental energy. So for me, it's better not to go out afterwards.
In the tournament against Goryachkina, we drew the first three matches and then it was very up and down with both of us winning matches. The tournament was actually very unclear until the final, when we played four rounds of rapid tie-break games and I won.
I know how popular the Netflix show The Queen's Gambit is and it's great to see a show about chess, especially female players. I've watched a few episodes and I think the character of Beth Harmon is smart and an intelligent player. She's charming to watch when she's on the board.
I believe many chess players have actually watched the show and I personally like how the name of the show speaks to the famous chess opening and the fact that it's about a female player. Beth and I both studied chess when we were very young and playing was our own choice—we played because we wanted to. And, of course, we both want to win. There is a sense from the show that Beth is a passionate woman, with a passion for chess.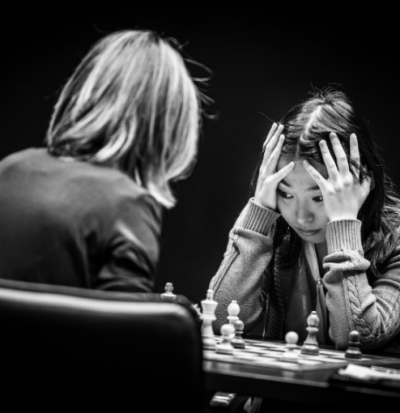 Right now, there are many more male chess players than females, so it's good to have something that can encourage women into playing chess—Beth could be a good idol for women. But whether you're male or female, young or old, you can play chess—it's not limiting.
I would love to think that I could encourage even more young female chess players, and I hope that many more young people begin to play and love the game.
In the future, I'd just like to play better. I prefer to play strong chess players, because after the game no matter whether you win or lose you learn something. Like Beth, I read many books by chess world champions, I tend to admire playing styles more than the individual. And of course, my coach Ni Hua has really helped me over the years, I truly appreciate him.
Although the date is not yet confirmed, I will certainly try to do my best in the next Women's Chess World Championship match.
I really enjoyed playing chess when I first started and now I love it even more.
Ju Wenjun is the FIDE 2020 Women's Chess World Champion. She also won the FIDE Women's World Chess Championship Match 2018 and the Women's World Chess Championship Tournament of November 2018. In 2014 she became a grandmaster at the age of 23. She currently lives in Shanghai, China.
All views expressed in this piece are the writer's own.
As told to Jenny Haward.