'I'm 6, I Taught Myself Dance Online and Now I'm in The Nutcracker'
I'm 6 now, but I first started to do the splits and back flips when I was 4. I have my own phone that my grandfather, who I call Pop Pop, gave to me and I was watching YouTube videos of dancing. I saw a video of a girl named Sofie Dossi, she's a self-taught contortionist who was on America's Got Talent when she was 14. I'm flexible but she's bendier than me!
After that, I watched more videos on YouTube and practiced dancing, splits and flips a lot at our old house. I was so excited when I was able to do it. My mommy and Pop Pop talked about trying to get me into a class, because I always said I wanted to do gymnastics.
We moved to Maryland last year but we are from Wilmington, Delaware originally. Pop Pop still lives in the Southbridge area of Wilmington, and we were at an event for a community garden he created there in September. Sophie Phillips, who is Miss Delaware 2021, came to check out the garden and she saw me dancing and flipping. She said, "Oh my gosh, have you had dance classes?" I said no and then she recorded me dancing and shared videos on her social media. She told me that she was going to help get me a ballet teacher. She was really nice and now we are friends.
A dancer called Akua Noni Parker saw the video of me and shared it with Wilmington Ballet. Benjamin Sterling Cannon and Christopher Davis who are the artistic directors there said that I could have a year scholarship, so I practice Thursday, Friday, Saturday and Sunday at the ballet school. I'm busy! The ballet school collects me for classes and brings me home, they have been amazing.
I thought the girls at ballet school were going to make fun of me, but they didn't. My first class turned out to be good! There are two other boys in the class and five girls there too. But I didn't know it was going to be a boy teacher, I thought it was going to be a girl. I can do more cartwheels than Mr. Christopher though; I can do a lot of cartwheels.
I have learned how to do a demi plie in class, and when I was dancing Mr. Benjamin said that my demi plie was great. After I finished, all the girls were clapping. But my favorite part of class is still when I get to flip.
The Wilmington Ballet is putting on a performance of The Nutcracker in December and I am going to be on stage, performing all the parts I'm supposed to do. I haven't performed yet but I've been practicing for about a month. Mommy says she is still proud of me because I'm getting the practice that I need. My whole family is going to watch me, Mommy said she is going to be there every night.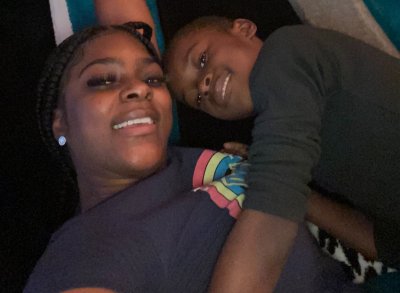 After that, I want to learn to stand on my tippy toes. The other dancers do it really well, so I want to learn, because it looks amazing.
When I grow up, I want to be an artist, a ballet dancer and a veterinarian, and then I want to be a contortionist and a gymnast. When I get even better I would like to be on America's Got Talent like Sofie Dossi was. I would love to perform for her too. The perfect place to perform for her would be at a ballet studio with glitter walls.
I tried to teach my friends my dance moves, but they can't really do them. One friend said that he should probably go to my dance school. Mommy is glad I am an inspiration to my friends.
Doors have opened for me and Mommy and Pop Pop are excited and happy for this opportunity. On the news, they said that my proud grandfather can't stop recording me! Mommy said that everything with my dance is falling into place, and that it's really exciting.
Lamar 'LJ' Marshall lives in Maryland with his mom, Ramona. He is performing in The Nutcracker by Wilmington Ballet in December 2021. For more information and tickets, visit wilmingtonballet.org/thenutcracker.
All views expressed in this article are the author's own.
As told to Jenny Haward.
Additional information in this essay provided by Lamar's mom, Ramona Grayson and Sophie Phillips.