'I'm 75, I Graduated College at the Same Time As My Granddaughter'
In 1978, I was living in Kennesaw, Georgia and working in Atlanta. I decided to take classes in accounting for an accounting degree as I'd worked for certified public accounting (CPA) firms for around five years. But I then met my second husband in Kennesaw, we subsequently married and moved to Chattanooga, Tennessee where I worked another 20 or so years in accounting.
It took me a while to get settled; starting a new life with two children and trying to find a new job wasn't easy. But I did start to take a class here and there at the University of Tennessee at Chattanooga (UTC) and although I didn't graduate, over the years I managed to complete 33 credit hours.
I lost my job due to corporate restructuring in my late 60s but as a lifelong girl scout who had worked as a leader and a sort of "mama leader" over four troops, I continued the girl scouts until it became hard for me to do some of the activities. I'm definitely type A, so when I retired I crocheted and knitted everything I could and then I got into genealogy to take up my time.
My son had previously moved home with his two children in the early 2000s and I had been helping him with raising them, but by that point they were at the age where they wanted their independence and they didn't need Nana to do everything for them anymore. I didn't have enough to occupy me and I was kind of untethered. And, if I'm not busy I sit and eat. I had gained weight so I was 215 lbs with a 5'2'' frame.
My granddaughter Melody had been going to college in a small town in Kentucky and after a year she decided to move back to Chattanooga and enter UTC as a sophomore. She then suggested that I go back to school. I'd always wanted to finish college but there wasn't that much money when I was raising my kids and then being a doting grandmother. But I needed something for myself, so I said I would look into it.
I discovered that for Tennessee residents over 65, who wanted to go to a Tennessee state university, then the tuition is a maximum of $70 per semester. So, because I already had my 33 credit hours, Melody and I entered UTC as sophomores in fall of 2017. When
I first came back to college I was afraid I would need to take a few extra classes because some of my accounting courses wouldn't count for my new major of anthropology. At times I was taking five courses and a lab, and my classes met two or three times a week.
There were a fair amount of people between 25 and 50 who were trying to finish their education at UTC too, though there weren't many students my age. But I have a lot of friends I've made in college. I have been in classes during the past three years with freshmen, juniors, sophomores and seniors. I would say that 99.9 percent of the kids in the college were great. I think I ran across two during the whole time I was there who kind of acted like I didn't need to be there taking up space—the rest of them were terrific.
In fact, I had some problems with my knees from surgery years ago, so the students would often help me. If we were walking and I needed an extra little push, a student would often put their hand on my back and give me support climbing up a hill. I also went on an archaeological field trip to Georgia and when you go on a field trip you build a bond. I still message back and forth with those students and we update each other.
After we decided to go college at UTC, Melody mentioned that it would be cool to graduate together. Since we were both sophomores I started working hard to make sure I had earned enough credits to graduate. Then I got ahead of Melody, so I had to slow down so my graduation in 2020 would correspond with hers!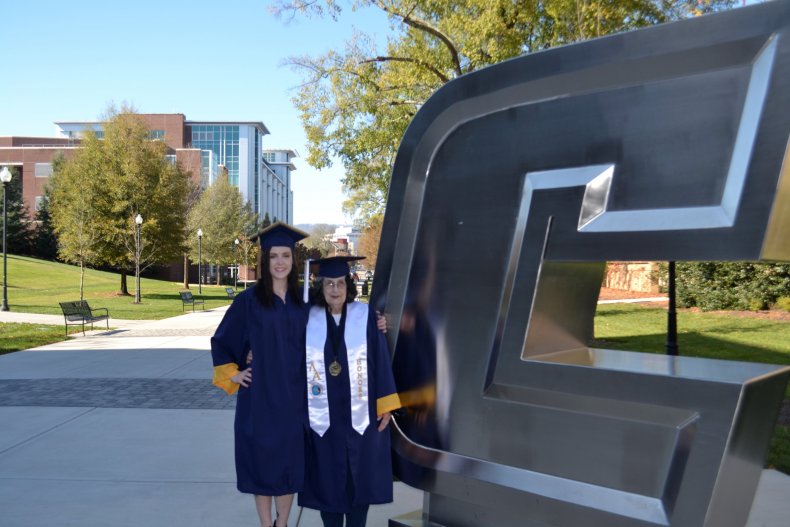 When I first heard about COVID-19 in February I was working on my senior project—it included field work, written work and interviews. I had a feeling this virus was going to be worse than what people were saying, so I hurried up my schedule and had all my field work done before the university shut down in March and went to mostly online learning. Melody and I were both doing online classes but all I really had to do was the analysis and writing for my project and one other class while Melody was taking four (one with a lab) which made it harder on her. I had a slight jump on the others because I did do my work ahead of time.
The graduation ceremony that was meant to take place in December was split up into five or six ceremonies so there were only around 100 students in each and they were able to space people out on the field and stay within COVID regulations. Our graduation ceremony was on November 20, 2020. It was just unreal.
Normally Melody, a psychology major and myself, an anthropology major, would be graduating by discipline. Because of the smaller groups the university actually ordered the ceremony alphabetically so Melody walked up in front of me and we were right next to each other. That made it easier for the family who watched the ceremony online!
I'm now working on a second degree; a history degree. I think history and anthropology work well together, so why not? But I've slowed down because it's a lot harder for me doing the classes online than it is in person—I'm only taking a couple of courses a semester.
It's possible I might graduate in 2022, but my current degree is Bachelor of arts so I have to take four classes in languages and I'm not sure how well my 75-year-old brain will cope with learning a new language.
When I started back at college, Melody was so proud and she felt like I was an inspiration to other people. Many of our classmates had parents who had never finished college and they would ask me whether it was that much harder to do when older. This time it was easier for me because I did not have to work, whereas Melody had to work a job during all of her college years. I would tell them that I try to do the best I can, just as I did in high school. It is always best to try to reach your full potential as a student.
Whether you go for a degree or just audit a class, those of my age group should remember, being active both mentally and physically can actually help extend your life. I believe this is what Melody did by encouraging me.
Accounting is what I did for a living, but now that I'm retired, I get to study whatever subjects I want. It's never too late to learn.
Pat Ormond graduated with a degree in anthropology from University of Tennessee at Chattanooga in November 2020. She is currently studying for a history degree and lives in Chattanooga with her family.
All views expressed in this article are the author's own.
As told to Jenny Haward.