I'm an Asian Woman and I'm Not OK | Opinion
I'm an Asian American millennial woman.
For a long time, I prided myself on being a trauma thriver. I've worked through so much intergenerational healing, bicultural tension and the depression-anxiety high-lows of the pandemic. This week, I feel like I was struck by a lightning bolt.
What is it about the latest string of Asian American hate crimes and violence that is especially triggering? First, it was attacks against the elderly. Now, massage parlor workers. The elderly are vulnerable but so are the workers, who probably have little to no choice of being there. They most likely were trying to make a life here, just like everyone else. Their murders reminds me of Asian fetishization and othering—the divide I've felt for longer than I've wanted.
Growing up on the U.S. territory of Guam, diversity was a given. Filipinos, Taiwanese, Korean—we all celebrated each other. When I landed on the mainland at the University of Pennsylvania in the crisp, exciting fall of 2004, I didn't realize how race was so politicized in America.
In my extracurricular on-campus activities, I became an active leader in Asian Pacific American groups. I soon learned about Vincent Chin in my Asian American psychology class and the model minority myth that painted Asian Americans in a quiet, abiding, almost mouthless group.
Professionally, I became involved in the Asian American Journalists Association where we tried to break the glass ceiling and fight tokenism (I was a TV reporter in Maryland, Washington, D.C., and nationally). I eventually burnt out as one does when volunteering and advocating. It's hard to keep going when not much seems to change significantly or even subtlety. I was even wary of how President Joe Biden's condemnation of violence against Asian American or Pacific Islanders (AAPIs) might not have an impact on potential perpetrators.
We all react differently to trauma. Friends have been verbally assaulted in the past few days. I have to mentally prepare myself when I walk outside. I'm hyper vigilant, wondering if wearing a baseball cap and mask helps, or worsens my situation. I can't stand in front of a house and look at trees without rehearsing my mental script so that I'm ready to fight, instead of ready to flee or freeze. I grip my fists even when it's light outside.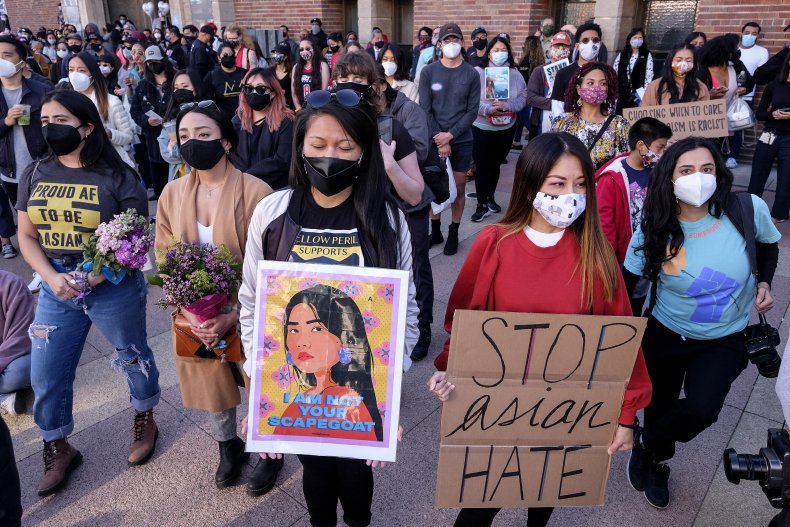 As an editor, I help publish stories of color. As a yoga and meditation teacher, I help heal all kinds of people. As a human, I try to go on with my life and take daily mental health walks. But I've finally broken, like a winter spell. Wednesday morning, waking up to a few thoughtful messages, I spent an hour crying and praying. I'm overwhelmed, and my heart is broken.
Over the decades, I have been asked: "Where are you from?" I've answered, "Guam," just to confuse people and try to put them back in their ignorant place.
Sometimes I give up. And I don't have the energy to explain every time, but I'd rather say: "Yes, my parents are from Korea. But do you know how hard they fought to give me a life? Do you know what my grandpa went through in the aftermath of the Korean War? Do you know all the childhood pain I've gone through? Do you know what that question represents to me? Why don't you just ask me how I'm doing? Or rather, what you can do for me?"
I don't want to tell my parents in Guam about what's happening here. I don't want to worry them. There's enough to be sad and angry about. Thankfully, I see messages and notes from people outside of our direct community that signal solidarity.
Is the killing of those Asian women the incident that turns the tide against anti-Asian racism? My normally optimistic self deeply hopes so, but considering the history of racism in America, I also have major doubts.
Send a friend coffee. Have tough conversations. Learn one story at a time. Hire us but also promote us. Volunteer where you can so we don't have to always step up. Offer us healing opportunities. Do better.
Help me get rid of those doubts.
Ko Im is an award-winning storyteller and 1.5-generation immigrant.
The views expressed in this article are the writer's own.