I'm a Black Conservative. I Was Dismayed by the Right's Response to Buffalo | Opinion
When I received word of the Buffalo massacre, my first thought was just one word: Again.
Again, I have to hear about Black people being killed. Again, my community is in anguish. As a Pentecostal minister, my life is rooted in faith and hope in God, but as a Black man, I'm reminded—again—that I'm at risk anywhere, the racial terror my community lives with a constant sign that we exist at the cultural crossroads of faith and Black identity.
But when I looked around me for comfort, as a conservative Black man, what I saw on my side of the political aisle in response to the mass shooting dismayed me. From my fellow conservatives, the primary response I saw was defensiveness.
Some lamented that the shooting would provide another opportunity for the liberal media to scream white supremacy. Others said the Left would use the shooting in divisive ways, or deflected from the shooter's racist views and gun control to focus on his mental illness instead.
I agree that blaming white supremacy is too often a convenient way to obscure the facts and the choices that people make. But not this time. This was an undeniable act of white supremacy. And that's what the conversation should have been about, full stop.
We cannot allow this truth to escape us: The shooter was motivated by racism, amply expressed in a 180-page manifesto dripping with white supremacy.
Conservatives must call out white supremacy when that's what it clearly is. That's what the conversation should have been about—and that alone. Because when we unashamedly and unequivocally name the enemy, we open the space both to heal and to finally seek meaningful solutions to violence.
Here's what we know about the shooter in the Buffalo massacre: He believed that white people were being replaced by Black and Latino people. He spent months planning the attack, including visiting the site of the shooting. He threatened to go forth with a shooting at his high school last year that ended up with him receiving a day-and-a-half mental evaluation.
What was this young man exposed to in his early years that contributed to his racist views?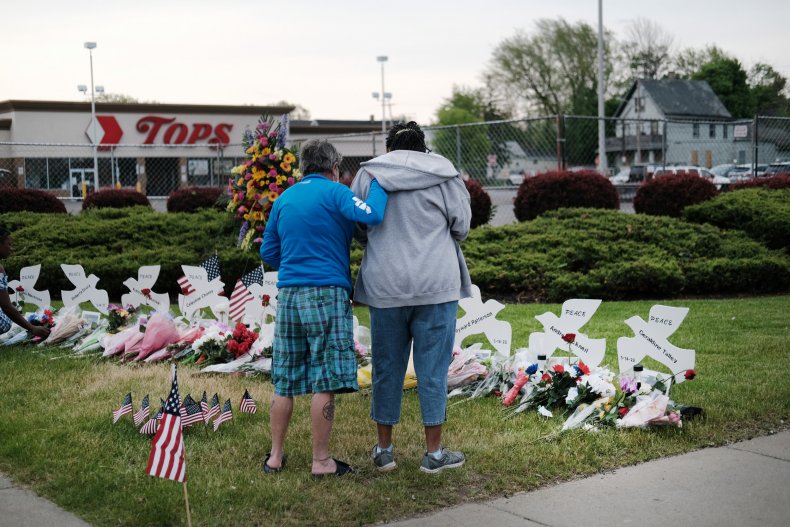 Conservatives have some key choices to make. And they start in our homes, which set the standard for what is manifested outside. The conversations that we are having with our spouses and children matter. Are we casually using racial slurs in our conversations? Are we lamenting the diversity that is present in our communities and schools? Are we encouraging our children to have a diverse circle of friends and peers? Is the company that we invite to our homes diverse in not just race and ethnicity, but also in culture?
The Buffalo shooter may have been an extremist, but sadly white supremacist racism is still present in too many American homes, and conservatives must be proactive in countering it.
Your conservative Black friends and neighbors are counting on you to take these steps. There are more of us than you might think, but when we see how the Right responds to tragedies like Buffalo, it makes it difficult for us to see ourselves as part of your coalition.
The time to make these changes is now.
Learn about Buffalo. Ask what Black people in Buffalo need right now. Find out who's meeting those needs and support them. Together, we can look for ways to offer and amplify services and resources for those who are struggling with trauma. We can search together for answers that include safety and healing.
The fact that we are even in this position is overwhelming, but as fellow Americans, we must bear each other's burdens and lift each one up when they're down. Let's do it for Buffalo—and for all of us.
Demetrius Minor is a preacher, advocate, relationship builder, and a writer. He has been the director of coalitions in Florida for Americans for Prosperity, where he worked in partnership with the NAACP. He is the National Manager of Conservatives Concerned About the Death Penalty.
The views in this article are the writer's own.