'I'm A Black Father With White Kids. I've Been Accused Of Kidnapping Them'
I grew up in Uganda, in the same way as any other kid in my village. We didn't have shoes and had to walk hours to fetch water. It was tough, but everyone lived that way. However, when you grow up poor and you don't see anyone who has gone on to be successful, you believe the world ends where you are. You don't have people to inspire you to dream bigger.
I didn't have a great childhood or a father who was there for me, so I decided I wanted a better life. I left my village when I was 10 and ended up homeless as a kid in Kampala, Uganda's capital. Fortunately, during that time I met an incredible man who put me through school, and I even lived with him and his family for a while. I did well, and went on to university in Uganda, and I received scholarships to university in the U.K. and then in the U.S.
But there is an element of guilt that exists when you come from the poorest of backgrounds and you end up very wealthy in comparison. So I have always tried to be an advocate for kids, even in Uganda, and I worked for Compassion International and World Vision in the U.S.
But when I bought my first home, a three-bedroom house, I wondered how I could really call it a blessing if I wasn't also helping others. That's when I had the idea to become a mentor. There are many children in the U.S. who are older and in foster care, and it's very unlikely that they will be adopted, and I thought I could mentor them.
When I went into my local foster care agency, they asked if I had thought of being a foster dad, and I explained that I couldn't because I was single. When they told me that single men could foster, I signed up that day to become a foster parent. I think I was the only male in my state, as it's normally families or single females who foster.
I had to do four months of classes, and then I had to prepare my house to make sure it was child-friendly before my first foster child, a four-and-a-half-year-old boy, arrived in 2017. It was a very emotional moment, because you're single and then, all of sudden, you have a child who you know very little about. I didn't know his favorite food or favorite games. So, when he arrived, of course I was panicking a little. But many foster kids have already been through a second home and I might be the third home. So sadly, they are sort of used to it.
In some ways, it took me back to when I was little, I think it helped me understand where the kids were at and how they felt not having someone to protect them.
I first fostered in 2017 and I have now fostered 13 children in total, nine of those have been Caucasian. Being a Black, male foster parent to white kids has certainly added to the challenges of fostering. But the foster care system is overloaded, so every time I felt like I needed a break, I was also aware that there were thousands of kids looking for a home.
Although fostering for six month periods helped me learn, no one can prepare you for getting attached—saying goodbye is the hardest thing. My tenth placement in 2018 was two brothers. I had really bonded with those particular siblings and I think I had reached my breaking point when they had to leave, I just loved them so much. I decided to take three months off from fostering so I could heal emotionally and physically. And that's when Anthony came to me.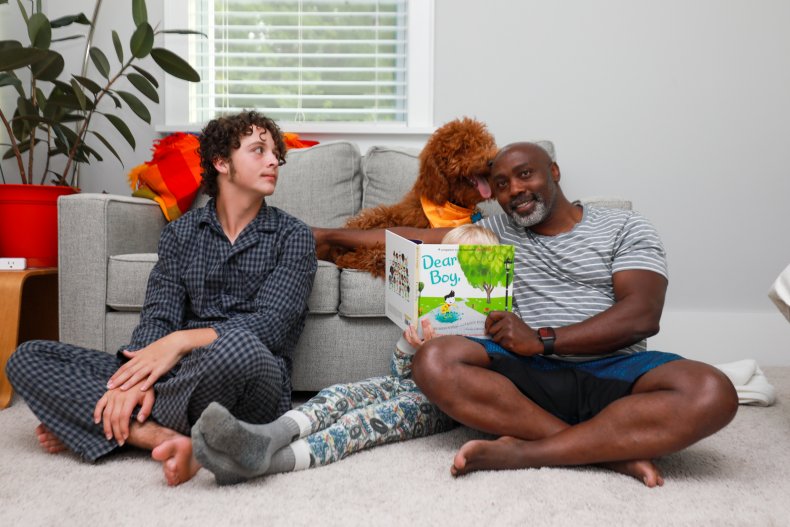 I had said goodbye to the two siblings on Monday, and then on Friday I got a call from the social worker asking me to look after Anthony for the weekend as he was in hospital. Anthony came in late on Friday night and I received very basic information about him. I told him that he could call me Mr. Peter, but he asked if he could call me Dad and sadly, I had to say no. I didn't want to get attached.
Then, the following Monday when the social worker came to pick him up, I heard his story and it just broke me. Anthony was adopted by a family when he was four, and they had dropped him at the hospital without saying goodbye and signed off their parental rights. So his birth parents had given him up and he had been adopted, and then when he was 11 his adoptive parents had given him up, too.
I was told he would probably be sent to a group home, and I realized then that I couldn't let him go. I think Anthony also saw a dad in me and right away saw me as a person he wanted to live with. So I officially adopted Anthony in November of 2019, and I am honored and delighted to be his father.
Anthony loves to read and so do I, so we hang out in bookstores together. He's calm, and can sit for two hours reading, but he also likes running, wrestling and biking. We have silly debates and he loves movies—he'll often explain to me afterwards what the movie was all about, and I have to remind him that I was watching it with him.
But as a Black father to white kids, you are treated differently and accused of things. I feel people often look at me as if to say, "you are a Black man, what do you know about being a parent and what are you doing with a child?"
If we're in a grocery store and there are food samples, usually someone is giving them out. And if a kid asks for samples, the parent typically has to be present. Usually I am standing there with my child and they will ask to try the food. The server will say, "can you go and ask your parents?" when I am standing right there.
We get that so often that I think if I was to react, I would go bananas. How do you react? I can't spend my life explaining myself. It's sad, but it's our everyday life.
One time, I took one of my foster sons to a restaurant, and I knew he was not happy. He was screaming and crying, so to diffuse I took him outside. As I was carrying him to my car, a woman in her car stopped and asked where his parents were. In order to explain it to people, I say that I am his mom and his dad.
But I could see she didn't believe me and was calling the police. She was telling them that a strange person, a Black man, was with a white child who was crying and that she suspected I was kidnapping him.
In some states, foster parents will have the details of children we are fostering registered with our license plate. I could see the police circling close by, and when the woman gave them the details of my license plate, the police realized that I was his foster dad. But that woman did not apologize to me.
I have had the same sort of experiences with Anthony at the airport. In one case, we were boarding a plane and I had scanned both of our passes, as I had them on my phone. The staff asked Anthony where his boarding pass was and asked us to come to one side. She doubted us and wanted to talk to security.
I knew they were going to ask for proof I was Anthony's father, and I have learned to travel with a copy of adoption papers, or a placement letter to show I am the legal guardian for the child I am fostering. They let us go, but she was waiting for security in case I could not prove I was his father.
Anthony was agitated, and I had to explain that people who look like me are not always treated well, but that I am his dad, I love him so much, and that's all that matters. I have also had to gently explain to Anthony and all of my foster kids that their behavior could put me in danger.
For example, we never have toy guns in the car. If someone reported that the kids were holding a gun and the police came, I could be the suspect. I have had to tell Anthony to record what is happening on his phone if we are stopped by the police, as he is my witness and I may only have a few seconds to save my life.
They also know that if the police come, they call me dad or their "foster dad." Kids don't want to be attached to the word "foster" and foster parents try not to use it because we want them to feel they belong. But in this case, it is the quickest way to diffuse what could happen. And it's happened four times. We have been to the store and as soon as we leave people call the police, tell them that I am a Black man in the car with white kids and give them my license plate. And then the police pull me over to check I have not kidnapped Anthony or my other foster children.
So I always carry my documents everywhere I go, and I have trained myself not to take it personally. I will walk away in a graceful, respectful way. I want these people who judge me to see that I didn't respond in the way they expected, that I was kind and gentle.
And that is also who I try to be as a parent. I think some men assume they cannot fulfil the emotional role in parenting, that that is a gendered thing. But I can be tender to my kids. Of course, I have females in my life who can help if there are problems I need help with, but men can be fully invested and there for kids. My kids have never, ever said they wish they had a mom, because I have tried to be there in every way I can.
I have come to realize that you can be a single, Black parent. Although I have had one relationship during the time I have been a foster parent, I came to understand just how much the kids need you. Being a foster or adoptive dad, it's a calling.
Some people don't want to be foster parents because they don't want to get attached. I would say that being attached is the right thing. Don't be scared of that, think about the needs of the child. When each and every child I fostered left, I cried for days. But it was a healthy cry and a healthy attachment. These are kids who have no options and didn't choose to be born into this situation. If foster parents don't help them, how will it impact the rest of their lives?
Peter Mutabazi is an advocate for vulnerable communities and children and the founder of Now I Am Known. He believes every child and young person, especially the forgotten, neglected, or abused, deserves to be celebrated; seen, heard, and known. For more information, contact hello@nowiamknown.com or follow Peter on Instagram @fosterdadflipper
All views expressed in this article are the author's own.
As told to Jenny Haward.