'I Am a Body Builder With Cerebral Palsy'
I grew up in Suffolk and Franklin, both in Virginia, and graduated high school like anyone else, but because I was born with cerebral palsy, my fine and gross motor skills have been affected which also causes my speech to be hard to understand at times. My speech differences are mainly because its difficult to relax at times and that's frustrating. My movements are different and so I have trouble with certain every day things.
According to doctors my parents saw when I was younger, I wouldn't be able to walk or do a lot at all. They also told my parents that the best thing they could do would be to put me in a home with other people who had disabilities. But this was more than 40 years ago, and doctors didn't know what they know now. I can walk, just a little differently to able bodied people and I have lived longer than expected.
Cerebral palsy affects me physically but some people automatically assume that I have a mental disability, too. I'm nearly 48 years old now and you'd think that I'd be kind of used to it now I'm older. It doesn't bother me like it used to but it still affects me. Because when people look at me they often judge me before they even know me.
I actually started working out a long time before I began bodybuilding, probably in around 2001. I was going to my local YMCA and I spent 10 years working out there, before I started getting kind of bored.
That was when I began working with my trainer, Chris Lovelette, who became a personal trainer after spending time in the military. About three years into our training, in 2014, Chris asked me if I'd ever thought about bodybuilding. Because I have cerebral palsy it wasn't something I'd ever considered.
Chris then asked me whether I'd be interested in trying it and I decided that I would give it a go. I didn't do it with any kind of goal, but no matter what training you were doing before, you really have to be much more aggressive.
I would normally work out for an hour a day, but I went up to working out for two to three hours a day, working with heavier weights and doing a lot more reps. Each day Chris and I would concentrate on a different area of the body. Believe it or not, I actually like working on my legs and back. Most people hate leg day, but for whatever reason I enjoy it. In terms of results, I'd say my back and my arms are my best features.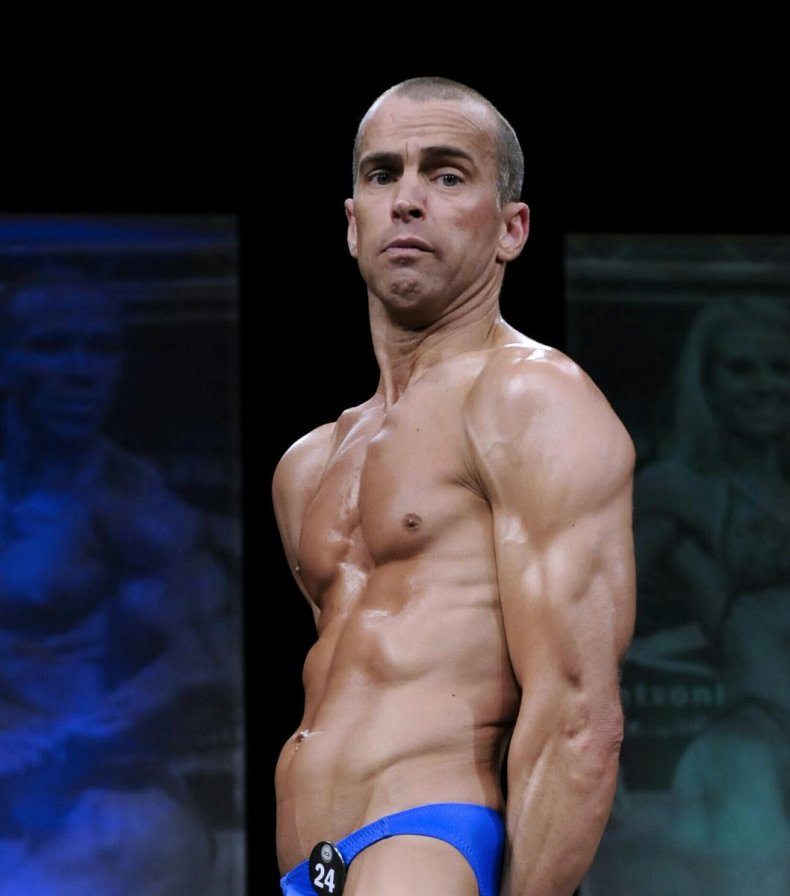 I did have to change my diet, and I still do, particularly when I'm training for competitions. Having cerebral palsy doesn't affect my diet. I eat the same as what a "normal" person would. Whatever "normal" is. I'm just not person that has to change their diet for as long as someone who is physically bigger. I start altering my diet about three weeks ahead of a competition, increasing my calories and eating a lot of foods like chicken and broccoli. It's a high protein diet.
That's the hardest part for me; eating all the extra calories, protein shakes and whatever else. I enjoy going to the gym and working out; for me that's the easy part.
My first bodybuilding competition was on September 28, 2014 in Norfolk, Virginia. I didn't really feel nervous even though I don't really like standing up in front of big groups of people, mainly because sometimes people don't understand exactly what I say. But when I got up on stage I was more concerned about my poses than anything else, because I was doing them in front of 400 to 500 people and I was almost naked!
In the end I took the attitude that I would just go ahead and do it. The reaction was really amazing, it was hard to hear the judge at times because the crowd was so loud and after I finished I got a standing ovation. At every show I've done since people have been awesome and so supportive.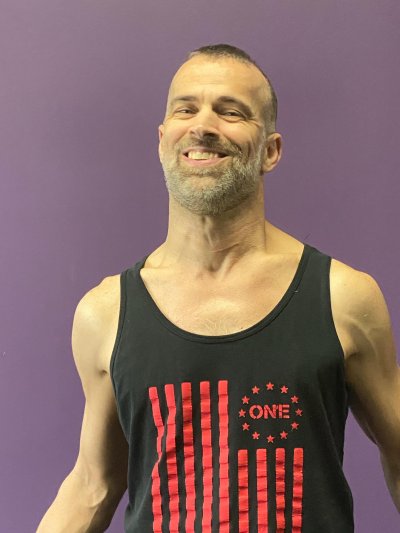 I believe I have now participated in 14 body building competitions between that first one in 2014 and the last one I competed in towards the end of 2019. My last competition was actually in Washington D.C. and that was the first time we'd travelled to do a competition and it was the biggest show that I had competed in.
The division I usually compete in is called "physically challenged." It wasn't a division that was started for me specifically but it wasn't widely offered so getting any other competitors has been hard. I have also competed in the 40 plus division against able bodied people a few times and once in an open division. It wasn't about winning at that point but I felt it was important to show that I wasn't scared to compete against the "normal" guys.
All this wouldn't have happened if it wasn't for Chris. I want people to know how much he has supported me. It's not just me, it's him as well. Chris treats me like anyone else he trains. He pushed me and wasn't afraid to try anything, he was willing to see if I could handle it. He believed in me and I trusted him.
We've been training together for nine years. Our friendship has lasted longer than some people's marriages! I talk to him about a lot of stuff and he talks to me about a lot of stuff too. We've started our own gym which opened last February, so we're now business partners too. Our relationship has grown; we're not just two guys who workout together at the gym.
I don't plan on doing anymore competitions. It just got tiring since, like any other bodybuilder, I have gotten older. If I get intrigued by somebody or something I'd think about it, but I'm retired now. Now, I'd like to become a certified personal trainer. I would work with anybody but I'm particularly interested in working with people like me with disabilities. I know what they are going through and I can relate. Hopefully I can encourage people to get to the gym and not give up.
I don't think there's really many people out there doing what Chris and I are doing with my bodybuilding. Chris had a call recently from a woman who works with people who have cerebral palsy and she was asking him for training tips and how he works with me. I'm not saying I'm the first one to do it, but it wasn't anything I had seen before: a trainer working with someone with cerebral palsy and helping them to become a bodybuilder.
In that first competition in 2014, I didn't set out to get to where I am now, but all the support I've received has definitely encouraged me to continue.
I have a disability but I don't call myself disabled. I'm not broken. I can do anything that anyone else can, just in a different way. In life, I might take certain roads at a different pace but I'm still able to take that road.
Steve Alexy is a bodybuilder who lives in Suffolk, Virginia. You can follow him on Instagram @steve_alexy_bb. You can follow is trainer Chris Lovelette @fitnessrebelva.
All views expressed in this article are the author's own.
As told to Jenny Haward.