'I'm a COVID Nurse. I've Seen So Much Death. Please Don't Gather This Thanksgiving'
I've always wanted to be a nurse, I really like caring for people and the emotional connection you get with patients. It's such a rewarding profession and I find it extremely gratifying to do what I do each day.
I've been a charge nurse on a general medicine unit in St. Louis for a little over half of my three years working as a nurse, and since March I have been working directly with patients who have COVID-19. The pandemic has been a whirlwind so far, it's been emotionally draining for nurses and anybody else working on the frontlines.
It's also been a huge adjustment for nurses on the floor, we've just been thrown into this. COVID-19 patients are very unique and we're having to make adjustments and learn each day—they require a lot of work and close monitoring because their conditions can change rapidly. It's not as simple as walking by an open door and seeing if your patient is OK. They are in a closed, isolated space and to see them we have to put on a gown, gloves and mask just to go in the room with them. That's a challenge in itself, because sometimes we need to get in there right away.
We are working 12 to 13 hour shifts, three days a week, and all day during a shift we will be working with COVID-positive patients.
So, while many of the public may feel they are done with COVID-19 and want to escape it—we can't, we're living it. This is our reality every day.
Unfortunately, the second wave we're seeing here in St. Louis is a lot larger than the first one earlier this year. The number of cases are growing exponentially from what I'm seeing. So everyone here is a little on edge and scared, not only by what's currently hitting us but also what is coming.
We saw a big surge of cases here in St. Louis after Halloween and now we have another family holiday, Thanksgiving, where people are likely to get together because they want to see their loved ones. But I really want people to consider whether that is really the smartest thing to be doing right now. As a nurse, I can't emphasize enough that we want people to be smart this holiday season. Really think, do you want to put your loved ones at risk? If you're not afraid for yourself, at least be afraid for your grandma or uncle, or other people in the "at risk" population. This virus is scary and it's very real.
Right now we're seeing an influx of COVID patients and, I'm sure after Thanksgiving gatherings there will be more. You may think you're healthy and fine, but you have no idea what the impact will be on others from the decisions you're making right now. This is pivotal. So I want to tell people to wear their mask, wash their hands, practice social distancing and don't get together if you don't have to this Thanksgiving.
My family normally has a big family gathering at my uncle's house with more than 30 people, but we're not doing that this year. I'm not even getting together with my immediate family. I'm either going to pick up a shift at the hospital or celebrate with my fiancé, who I live with. I haven't had a meal at a dining table with my family since the pandemic began, it's just not safe and it's not smart. Most people I talk to at the hospital are spending Thanksgiving with their immediate household. Because of what we're seeing and going through here in the hospital, I think everybody knows not to get together right now.
We have to sacrifice right now so that we don't have to sacrifice later. But it's been hard, I'm very close with my family and since the pandemic began I haven't been able to be close to them. I feel it's my responsibility as a nurse working on a COVID unit to take those extra precautions. Because at the end of each shift you don't know if you're carrying the virus home with you.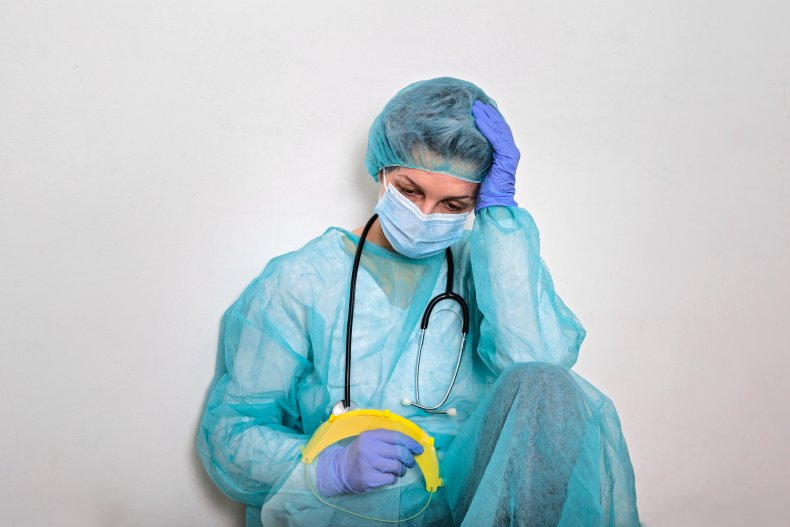 When I do see my parents it's at a social distance and we wear face masks. It's difficult, because you want a hug from your mom and I haven't been able to do that since the pandemic began, but I don't want to give her any more anxiety than she already has. The pandemic is definitely taking a toll on her, she's cried to me multiple times about it because she's scared for me. It's enough knowing her daughter is in the trenches every day with these COVID-19 patients.
Many of those patients are here for weeks or months. We're their primary source of communication and care, day in day out, so we build an emotional bond with them. Sometimes we'll ask how a patient is doing and they will have taken a turn for the worse. They may have been doing well and then you find out they have passed—it takes a toll on you emotionally. It guts you when it happens.
We're dealing with a lot of death unfortunately. I've seen more death in this past year than I've ever seen or thought I would ever see during my entire nursing career. It's really emotionally draining because we're committed to these patients and doing our best, and it's not always possible to see them recover.
I know we're close to a vaccine and we've seen positive results but I just want people to know that it's not over when the vaccine arrives. We still need to take precautions and be smart. I hope there is light at the end of the tunnel but we have a long road ahead of us—it will take time.
I don't want to say the pandemic has hardened me, but before it hit I was a new, bright-eyed nurse and I do feel as though I have had reality slapped in my face. On the other hand, I'm more composed in certain situations and I have grown tremendously in an incredibly short amount of time. In the end, like many others, I'm just taking it day by day.
Rachel Bruning is a charge nurse at Missouri Baptist Medical Center in St. Louis, Missouri. She lives in St. Louis with her fiancé.
All views expressed in this article are the author's own.
As told to Jenny Haward.