'I'm Donating My Breast Milk To Moms Running Out of Baby Formula'
I began donating breast milk after I had my first daughter three and a half years ago. I breastfed her exclusively until she was 18 months old but we spent some of that time in Hawaii, and ended up with a freezer full of breastmilk that we weren't going to pack and bring it back to Duluth, Minnesota, where we live. So, I was able to donate to some moms in Hawaii. I was able to recognize that there was a need and it was a need I could fill in a specific way.
Feeding my second daughter has been a more nuanced journey. My husband is a stay at home dad while I run a company, so the demands on my schedule are different. Since she was born six months ago, I have breastfed almost exclusively but we have had to supplement with formula.
My husband and I went on a trip in April, and my parents were babysitting, so my mom was mixing my fresh breast milk with formula to make it last. This was because we had discovered that my breast milk has a high level of the enzyme lipase. This enzyme can make frozen breast milk, when thawed out, taste and smell metallic or soapy. We had been struggling to get my younger daughter to take a bottle, and when she had a sour face we realized maybe it was something to do with the frozen and thawed breast milk, so now I have to pump fresh milk for her or scald my milk before freezing to help deactivate the enzyme.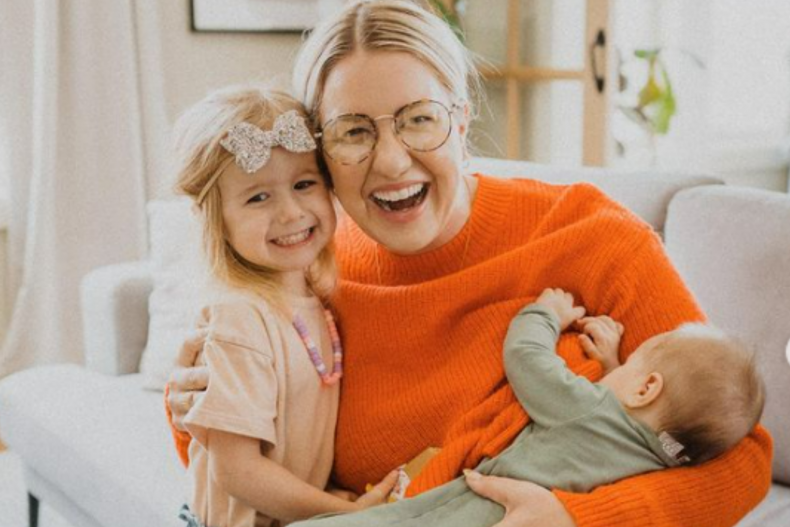 As a result, I really look at formula as this beautiful tool available to parents. Using it sheds a different light on the way parents have to feed their babies and the decisions that working moms in particular have to make in terms of what that will look like. We have one can of formula that we've used throughout my younger daughter's life, but now, we look at it differently. It's a tool that isn't renewable at this time so we need to be really careful about how we're using it. The current baby formula shortage makes us more aware that it's a resource for us, but for a lot of people it's the only option; it's what they have chosen or has been chosen for them, and they are unable to get it right now.
At the beginning of the formula shortage, I was trying to figure out how we could get formula to moms who needed it. I'm a part of different Facebook groups for local moms and I could see the formula shortage impacting so many of them.
Then, I saw another mom saying something about donating her own breast milk. We have a chest freezer in our garage full of all the milk I had pumped and stored early on, but I hadn't been sure whether other moms would be open to using it. I'm open to it, so I put it out on my personal Facebook page and within a day I had 1,000 likes and people asking if it was OK to share my post.
I started getting DMs from local moms asking if they could come and try it and see if their child would take my milk, because of the excess of lipase in it. The moms that have been reaching out have all said that if there is someone who needs my breast milk more than them, I should give it to that person, but that they would be interested if there is some available. I think that's a beautiful mentality. It's this whole village of women who are making sure we support one another.
I have helped two moms so far. My husband brought multiple bags of milk to the school drop off for a local mom and the other mom has a baby that is just being released from the NICU. It's a family friend and she was so concerned about being let out of the hospital and losing that source of supply and safety. It's such a beautiful thing because I'm in a position to pump more and I don't know if we would be able to use my frozen milk ourselves.
I eat a gluten free diet, I take supplements and I was vaccinated against COVID-19. I share things like that with people because it is such a crazy and personal transaction. But I think that shows the level of desperation some moms are experiencing. This may not be "Option A," but it's a really viable option.
There are so many things that people don't recognize when it comes to breastfeeding. I remember blindly saying, before I had my first daughter, that I wanted to breastfeed for a year. I never realized that means that I'm committing to doing something every three hours, every day, for an entire year. How many humans have the ability and privilege to commit to something like that? It's a pretty extraordinary feat when you think about it.
But however you see someone feeding their child is the very best decision that they have made for themselves and their child. We live in such a polarizing world and motherhood is hard enough as it is. Sometimes people don't even have the option to choose between breast milk and formula and I recognize that there are so many stigmas that make women feel guilty over the decisions they are making. That is a sad part of motherhood.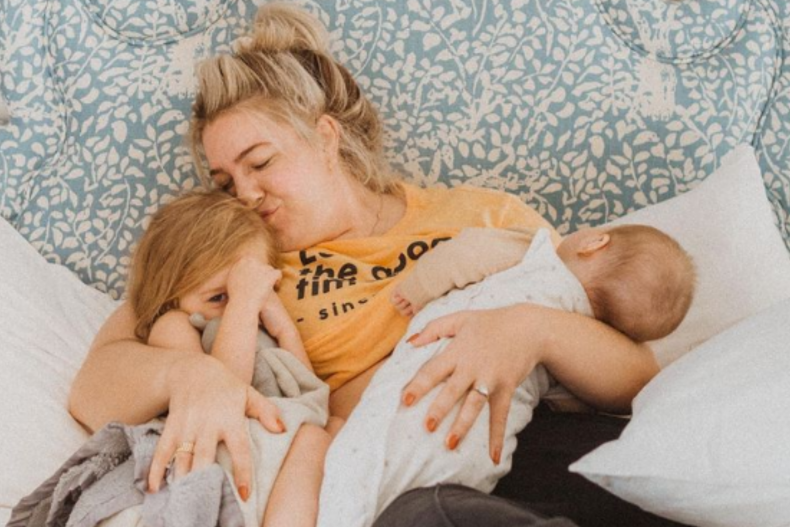 A lot of us who have had children during the pandemic haven't had the opportunity to have that village; to have caregivers and play dates. So the rebirth of that village mentality, in certain ways, is really exciting.
Now, I'm just committing every day to boosting my milk supply as much as I can, so that I can feed my child and hopefully distribute the milk that we have, which is hundreds of ounces at this point. I'm hopeful that in that process, this issue will resolve itself. Maybe that's too hopeful, but I'm committed to doing whatever I can. I'm working full time, I have a book coming out and two children to raise, but to me, I'm part of a village. For the foreseeable future, this is life.
Jenna Kutcher is a podcaster, educator and author. Her new book How Are You, Really? is released June 28, 2022. You can follow her on Instagram @jennakutcher or find out more at jennakutcher.com.
All views expressed in this article are the author's own.
As told to Jenny Haward.