'I Helped Dying COVID Patients Say Goodbye. I Can't Forget'
Almost one year ago, I stood outside of my patient Daniel's room and rested my phone on a nearby cart so that I could put on my personal protection equipment (PPE). Through the clear square window in his hospital door, I watched Daniel's chest moving rapidly like storm waves crashing one after another.
The sound of pressurized oxygen flowing from his mask was so loud it echoed into the hall. This particular group of rooms that I stood among had become our COVID end-of-life care unit, which my team named the "Palliative Care Compassion Unit" (PCCU). As a palliative care physician fellow in Boston during the COVID-19 spring surge, the endless hours I spent caring for those dying meant that this hallway often felt like a shadowy home away from home.
"One minute, don't hang up," I said to Daniel's cousin, Ann, who looked at me wide-eyed over Zoom. "It looks like she's getting ready for war," Ann's husband whispered. Ann and Daniel were extremely close. Daniel had lived in a long-term care facility after suffering from multiple strokes years before. He wasn't in touch with many family members, but Ann visited him unfailingly and loved him unconditionally. Now, I was putting on my gown, gloves, mask and face shield to help them say goodbye.
As a palliative care physician, sitting at the bedside of dying patients was a natural part of my work, but under normal circumstances loved ones were also present, sitting vigil. In contrast, aiding these final goodbyes over Zoom was agonizing. COVID had stripped us of the physical touch and human presence people crave, especially at the end of life.
Daniel was the very first patient I had to help say goodbye through a flat, electronic screen, which felt horrible and surreal. Like I was living in a post-apocalyptic, dehumanized world. I didn't know how Daniel and his family were going to face this detached interaction or how they were going to hold this memory down the road. I didn't know how I was going to deal with any of this either.
I tried to distract myself from what I was about to do by focusing on the details: the fit of my face shield, the tie of my gown. When I finally had every item secured, I felt claustrophobic and overheated. Usually, I would welcome any feeling of warmth after a long winter, but being covered in so much fabric now felt suffocating. I took one large breath in and forcefully exhaled, checking for leaks in the seal of my mask before walking into Daniel's room.
"Look who I have with me?" I said to Daniel, holding my phone right in front of him. He opened his eyes and recognized Ann right away. "Hi Daniel," Ann and her husband cooed through the screen. They held up a glossy, framed family photo of the last time they were all together. "Remember this day?" Ann asked. Daniel smiled. "We love you so much, thank you for everything you have given to us," Ann said.
"Thank you, thank you, thank you," Daniel replied.
We strained to hear Daniel's faint voice over the oxygen's incessant drone which constantly pushed air into his lungs through a tight, plastic face mask. I moved closer, ignoring the fact that the air leaking around his mask and my face were so close I could feel it's humidity on my skin. Ann and Daniel went back and forth like this in bursts.
"I love you."
"Thank you."
"I love you."
"Thank you."
My mask fogged and I tasted my tears as they reached the corner of my upper lip.
A few days before this goodbye, when Daniel was more awake and able to hold short conversations, he told me that he, like me, loved chocolate ice cream. After this call was over, I asked his nurse if it was possible to get him some from the unit's small refrigerator. I then watched as she peeled back the cardboard lid, melted chocolate dripping over the side.
For a brief second, I was not witnessing Daniel's last taste of food, his last pleasure. Instead, I felt transported back to childhood summers; the crisp sound of paper tearing as I unwrapped a Drumstick ice cream cone. These frozen treats were reserved for the dog days of summer; a sacred time after surviving months of grey sky and frigid air.
I looked at Daniel as his nurse fed him small spoonfuls of ice cream, the creases near his eyes showing delight, and for a moment I knew we had done something true and good.
The next day Daniel became much sleepier and unable to interact, and a few days later he died. We were able to grasp this chance to facilitate a goodbye at the right time, and yet nothing about it was enough.
What makes our lives meaningful is our relationships. Technology is no substitute for presence and affection in a time this vulnerable and final. Since then, I've sat at the bedside of so many more patients facing death during this pandemic, and even though visitors are allowed now, a distinct sterility lingers. Neither my patient or their loved ones have ever seen me without a mask and goggles on. That innate human connection that we achieve from face-to-face contact has been lost.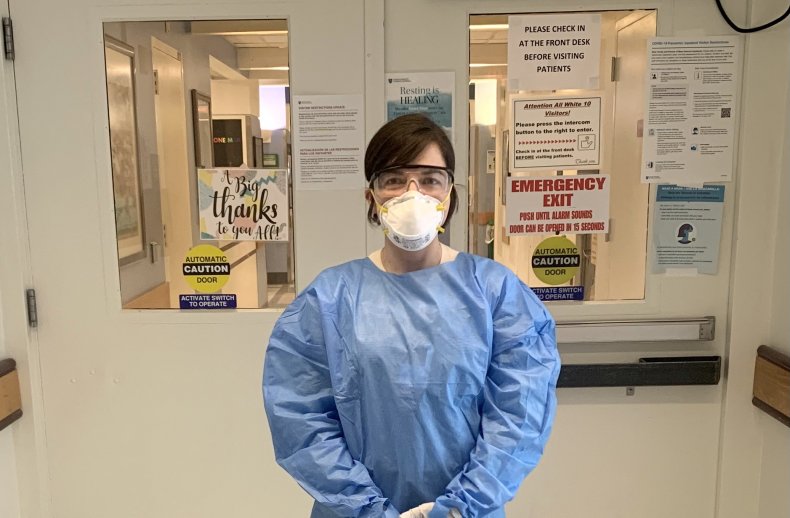 Grief and trauma within medicine are peculiar in this way. We're taught as medical students and residents to keep an emotional distance in order to maintain objectivity and composure in times of stress. And yet, it is this distance that can also create detached physicians. This juxtaposition of values can create tension in our professional values and ability to cope. In my experience, a balance is what's necessary not only to be an empathic, but to create healing spaces and find meaning in my work. This space allows us to openly reflect, mourn, and acknowledge the trauma that comes with the losses.
Trauma is a term borrowed from the Ancient Greek word meaning, "wound." Now, it serves to define emotional or psychological damage too. With the death toll from COVID-19 climbing above 3.3 million globally, and with a new study estimating the actual number of mortalities linked to COVID-19 is likely much higher, this pandemic is creating the experience of trauma on a massive scale. This is further magnified within health care where too often all we could do was be with our patients as they died, unable to provide concrete treatments or even the hand of a loved one. If this isn't a seismic moral disruption of the familiar ideas we carry about our roles and duties then I'm not sure what is.
This helplessness, stacked on top of isolation from my family who I feared I could pass the virus to, only further diminished my ability to process the death of patients like Daniel in real time. The proverbial "wound" has been left wide open. While my experience is only one of thousands of health care providers who've cared for patients with COVID-19, I am sure we're all going to share commonalities in this experience of trauma as we look ahead. Beyond discussions of burnout and resilience, we are each going to have to face this shoebox of difficult memories. There is no easy roadmap to grieve this scale of loss while at the same time continuing to provide empathic care to patients and families.
Recently I've heard people say, "COVID? I'm over it." And the truth is, I'm also over it. I'm over the loneliness and the fear of exposing others to this virus that prevents me from seeing my family too. Yet I cannot walk away. I can't just forget. My office at the hospital is less than twenty feet away from the unit where Daniel died. The other day I went to see a new patient in a room in the exact same hallway where I helped Ann and Daniel say goodbye.
As soon as I realized this I froze in place. I looked around as if in a déjà vu moment, as if absolutely no time had passed. Except it had been a full year. What day is it? I wondered, and what year? I was right back there in the sounds of his oxygen mask and sadness on Ann's face. I was right back in the fear and grief; theirs and mine.
These experiences still feel so close at hand that, in certain moments, I wonder what was then and what is now. The names and faces of my patients who died this past year have stayed with me more than usual because I was often alone with them in their darkest hours; I was their doctor and their surrogate family. Their memory and the deep work we had to do to give them the dignity they deserved will never fade away.
As the world gets vaccinated and tries to inch closer to what life used to be, I worry that we will become numb, and then forget. But I don't want to forget, and also, I can't.
Alexis Drutchas, MDis an attending physician at Massachusetts General Hospital in the Division of Palliative Care, and a Public Voices Fellow of The OpEd Project. Dr. Drutchas' work has been featured in the Boston Globe and the Medium. You can follow her on twitter @AlexisDrutchas.
All views expressed in this article are the author's own.
Newsweek, in partnership with NewsGuard, is dedicated to providing accurate and verifiable vaccine and health information. With NewsGuard's HealthGuard browser extension, users can verify if a website is a trustworthy source of health information. Visit the Newsweek VaxFacts website to learn more and to download the HealthGuard browser extension.