'I'm An Erotic Photographer'
I first tried taking sensual pictures in my late teens, and during college and afterwards I moved into erotic imagery, but I didn't put that label on my photography for a while. I'd often have fun with friends taking sensual pictures but a week later they'd then say that they didn't want those pictures on the internet—which was tricky because it was a job for me.
Then at the end of 2005, I met Justine Joli who is "the lesbian queen of porn." She wanted to meet up with a photographer to get some content for her site. That was the first time that I had seen somebody be so uninhibited around me. She just didn't care. I found out years later, because we became good friends, that she was trying to test me to see if I would react. It takes a lot to shock me, and that's not that I've seen it all but because I'm also keen to see how far people will go. I'm so intrigued and never grossed out.
She told me that I was a great photographer and that I should meet some of her friends. It kind of snowballed from there as I didn't realize how big of a porn star she was at the time. When other models and porn stars found out I had photographed Justine Joli, they wanted to work with me too.
I felt like I really found myself with Justine and women in the adult industry because they wanted the pictures out there, rather than it being a fun, cute thing to do in private. This was 15 years ago, so it wasn't as easy to just find a model, say on Instagram or other social media.
Now, when I first contact a model to do work, if it's for ourselves and our sites I will ask them if they want to be nude and how far they would like to take it. It's totally up to them. Some models might share that their OnlyFans audience want to see them be more adventurous, and others might just want to do some pretty glamor modelling. So some might want to be nude, and others want to feature sex toys—it's up to them really. But it's so important to me, especially being a woman, that each model feels extremely comfortable, consensual and confident.
If I'm working for a specific magazine, I'll have a set of poses that I know the magazine likes and I'll ask the model to do those poses. In the beginning I was more experimental, but now when I take pictures for magazines there's a certain way I have to do those shoots.
When I am on shoots that are for myself and the model, I try to remind myself to keep that experimental edge. But I differentiate my work as erotica rather than porn. I think porn is made to titillate an audience but my erotic photography is for myself and the model. I feel like if it titillates a third party that's on them. I'm not trying to do it to sell to a third party, I'm doing it to express myself.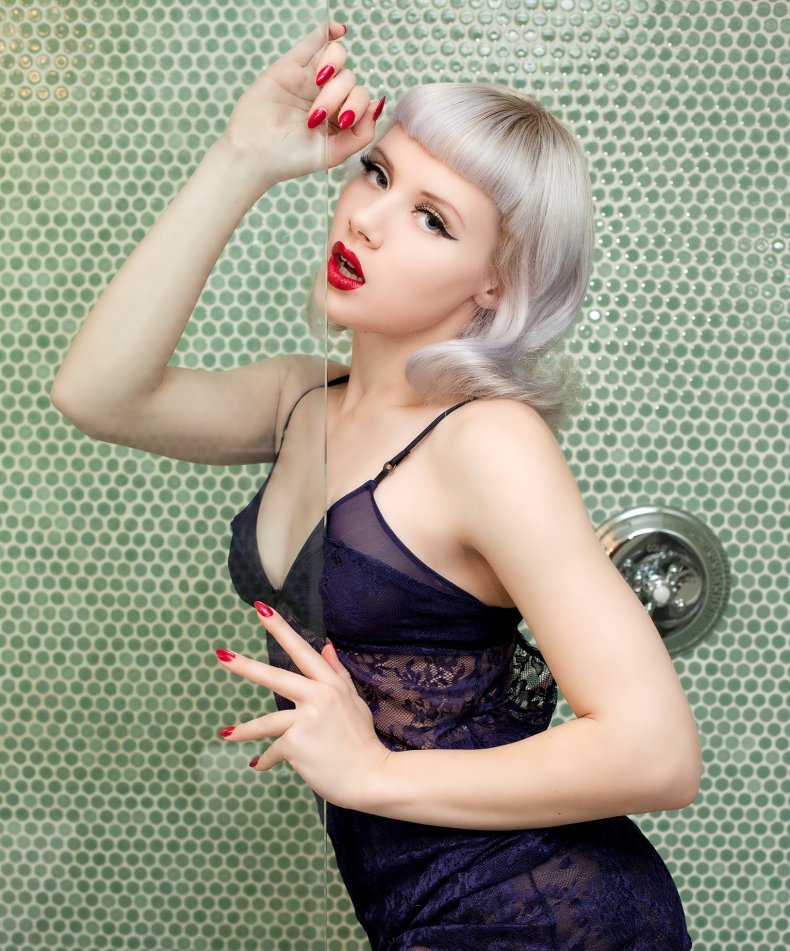 I also do boudoir photography for women, I'll sign a release and the pictures are never seen anywhere else. These women often give it to their partner as a gift, and sometimes they just want a hot picture of themselves because they feel good.
A lot of the time, these are people who don't often take pictures in lingerie, so they're very shy, their shoulders are up and they're uncomfortable. People might suggest having a cocktail, and I recommend that they don't. You may think it would make you more comfortable but it can result in looking unfocused. I always tell subjects to start the shoot by imagining a place that makes them happy. Because if you're content and happy, even if that's thinking about a cookie, a pet or your lover, that's going to come across.
Happiness is so much more sexy than trying really hard to look like an adult model.
I do think photography is objectifying a human being because you're turning them into a two-dimensional object, lighting and retouching, they're not a person anymore. But I do that because that's what the people I photograph want. The fact is, the work I do is consensual. If a model doesn't want to get naked, they don't get naked
I honestly think feminism is a choice. Feminists choosing what we want to do with our bodies is so punk rock to me. I had a model once ask me how she should dye her hair. I'm never going to tell a woman what color she should dye her hair, that's her choice. If a friend of mine wants to get breast implants, I tell her to do what she wants to do, that's her choice. Most of my models—because they photograph nude or are burlesque performers—want to get breast implants because they think it will fill out their costume better. I always tell them to do whatever makes them feel best. As long as they are doing it for themselves and not someone else. There's no exploitation when you are comfortable with it, confident and happy in your own skin. Anybody who looks down it is likely to be someone who is uncomfortable or needs to control.
One of my best experiences as an erotic photographer was contacting a model called Ana Foxxx about three years ago. She is a pretty famous porn star, and when I saw her on social media I thought she was gorgeous.
She got back to me, was so excited about me being a female photographer and wanted to shoot with me. We had one of those amazing days shooting where we were just both elated. We were shooting outside by a pool and the sun was shining, then raindrops began to fall which made the pictures really magical and gorgeous. I didn't actually know how famous she was until my boyfriend was like: "You shot with Ana Foxxx, oh my god!"
I've shot with her about five times since then and she's become a good friend—I'm mailing out my holiday cards and she's on the list. I have many stories like that with incredible women who I'm still friends with. I was even a bridesmaid at one adult star's wedding.
But not every shoot is great. One of my least favorite experiences was with a model for Playboy.com. I was excited as there was a whole team; a makeup artist, hair stylist and location and everything. All of a sudden the model disappeared and when she came back she was in a bad mood for the entire shoot. There was a videographer on set who was asking me questions, and I think she may have been irritated that the attention was on me at times and not her.
But generally, I try to make sure my shoots are positive and collaborative. When I was shooting with Ana Foxxx, neither of us got paid but we were both excited and happy to be there together and make these incredible pictures. It really shows you who are positive people and who are not so positive people.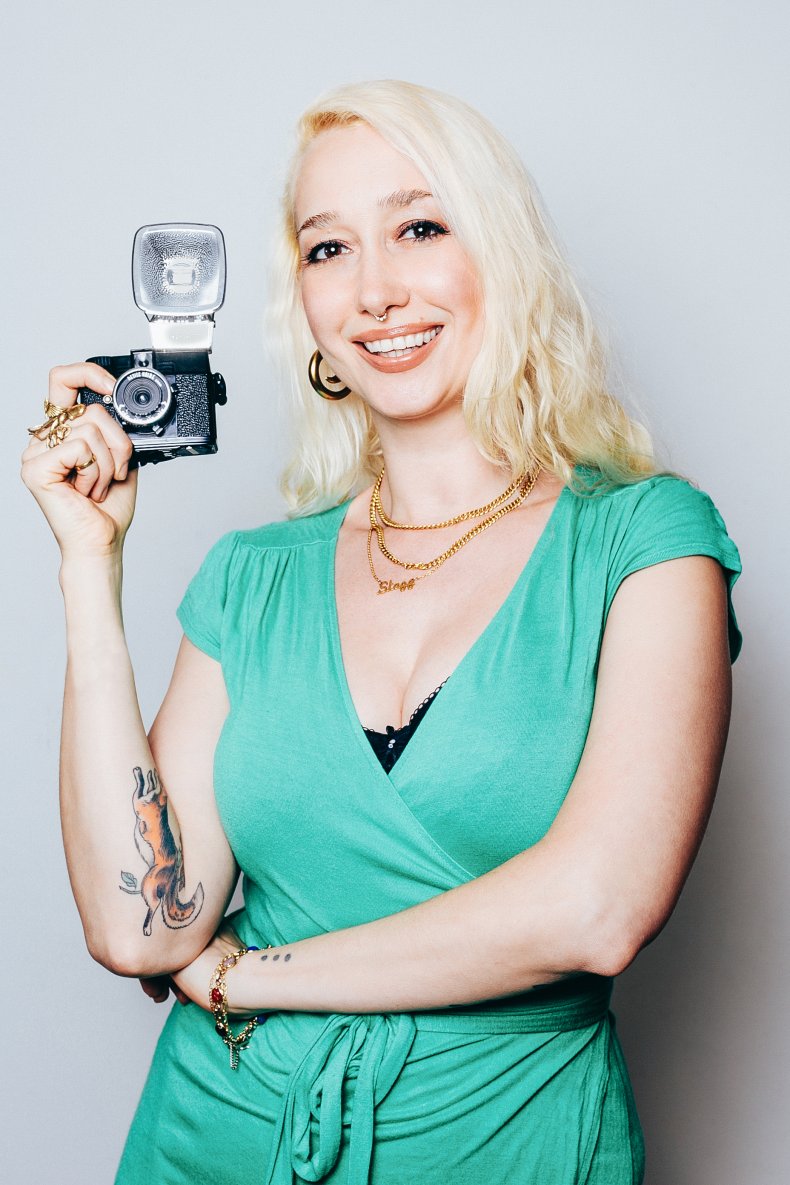 I most definitely am a feminist and I believe feminism is about freedom to choose and equality. It has nothing to do with "women against men", it's about all women—cisgender and non-binary—being treated equally, no matter our race or how much money we make. In photographing more erotic models I have also met more sex workers. I do think sex work is real work and I think it's a real feminist, punk rock choice.
The funny thing is that back in the 90s I loved Riot Grrrl and bands like them, and I remember telling a friend I didn't feel like I was a feminist. She told me that I most definitely was! I think we can be falsely educated to think feminism is about man-hating, when it has nothing to do with that—it's about equality.
I have gained a lot of self confidence from just being a photographer. In college I realized that no one is perfect in these magazines—it's lighting and retouching and a great photographer. There are so many elements to it.
And when I started working with women in the adult industry, from burlesque dancers to strippers, porn stars and sex workers I made some of the best friends of my entire life—really quality human beings, men and women. These people are all in the umbrella of the sex industry. I don't know why they're such good people—and I'm not saying all of them—but I have met people who have confidence in their own skin and are very healthy mentally because of it.
In my 20s I made friendships with women that were negative. Working within the sex industry, I have learned that women can be allies and lift each other up. I honestly think doing my erotic photography has been the best therapy for me.
Ellen Stagg's photography began in high school and graduated with a BFA 2000 from SVA. In 1999, Ellen Stagg signed with her first agent and began shooting commercially and showing at galleries around the world, winning awards for her books and photography. Her work is at staggstreet.com and ellenstagg.com.
All views expressed in this article are the author's own.
As told to Jenny Haward.