'I Play the First Black Woman in Kevin Smith's Masters of The Universe: Revelation'
When I was younger, my sister auditioned for commercials, but thought that every time a commercial aired she had to be somewhere different. I am lucky to have a super close family, so she freaked out and didn't want to do it and be away from us so much. So, my parents decided that maybe it was best to just press pause on the entertainment industry auditions for us both. But of course, all I wanted to do was be in front of a camera.
I also wanted to be Wonder Woman. I grew up reading comic books and my mom, who was a teacher, actually dressed up as Wonder Woman for Halloween one year. Another character I really connected with was Storm in X-Men. I think for so many people, myself included, feeling connected to comics is because a superhero being different is usually what makes them special. It was a space I felt connected to because I was very aware that I came from a mixed family. I'm multi-racial and at the time you couldn't really buy a Barbie that looked like me.
I've always loved entertainment, comics and "geeky" stuff, and after college I began to get gigs hosting TV shows within that world. I actually hosted a show called Geeking Out with Kevin Smith and Greg Grunberg and when I booked it, I got a call from a producer who told me Kevin was the one who had recommended me as a female host who really knew her stuff. That was awesome.
Eventually, I started taking more acting classes in LA and booking shows here and there, including Jane The Virgin in 2017 and in Supernatural in 2018, and I also started to hearing more and more: "You know who you kind of look like? Meghan Markle."
A couple of my girlfriends in New York City told me that they actually watched Suits because it made them feel like they were hanging out with me, even though I lived in LA. Then, the audition for a Lifetime movie about Meghan and Harry came up. I joke that the movie was like grad school for acting because the film just covered so much, from the wedding with a custom dress, to wearing a baby bump, emotional crying scenes, fights, sexy scenes, stunt coordination and even a dog. It was an incredible experience as an actress and doing the research to get to know more about Meghan and she and Harry as a couple opened up so many wonderful conversations between my parents and I. My parents went through so much to get married and raise a family, so the movie gave us this other connection. It felt like a real gift to step into even a tiny piece of Meghan and Harry's lives to play that role.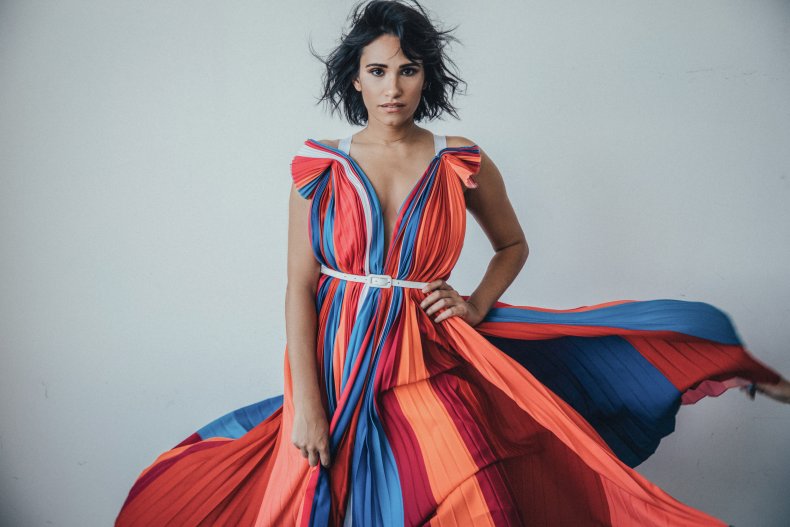 I was definitely inspired to do more volunteer work and speak up on issues that affect me. Seeing Meghan continue to do that, no matter how hard it may be, is something I have so much respect for. There was a lot of focus on me, just playing her in a film, so I can't even imagine the level of attention she experiences.
Not long after, an audition for Masters Of The Universe: Revelation came up. I did the audition, but I didn't want to reach out to Kevin or anything, I really wanted my work to speak for itself. I remember, at the end of the audition I had to say the iconic, "I have the power" line, so I pulled my lightsaber off the wall—because, yes, I have two—and raised it up over my head as I said the line. I realized they'd think it was super cool or go: "Eesh!" Thankfully, a couple of weeks later I got a call saying I had booked the role of Andra.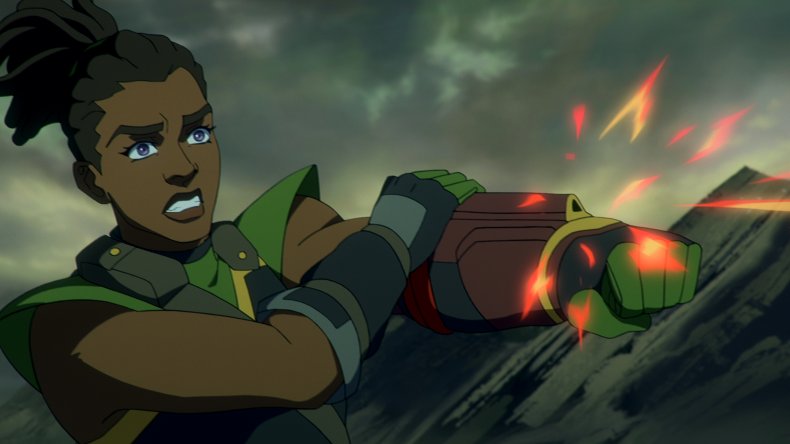 A few of the old Masters of The Universe comics featured Andra in just a few frames. She was a white, red-haired girl. For Masters of The Universe: Revelation, the creators wanted to bring in a new character, and honor the Masters of the Universe lore, so they took the name Andra as an homage and created this new character. I realized she was going to be the first new character of color or diverse character in Kevin Smith's Eternian universe; that's very cool. I love that she's not a side character. She has her own story and drives story too. When I watched cartoons growing up, there wasn't a lot of diversity, so I didn't see myself in those shows. To have a character like Andra, who looked like me, would have been incredible. The writers on the show are also a diverse bunch, so I love that it's not discussed in the show in a "here is the diverse character" way. She's just Andra and part of the story. That is really beautiful.
When I saw the full cast list I was completely blown away. It includes actors like Mark Hamill, Lena Headey, Sarah Michelle Gellar and Chris Wood. But we all recorded at different times and in different places, which happens a lot in the voiceover world, and we also worked on the show during the COVID-19 pandemic. So, I was in the booth by myself, with Kevin and our voice director, Collette Sunderman, on Zoom.
The first time I actually met Sarah Michelle Gellar—who plays a character named Teela who is close with Andra—was on Zoom during our press day, and then more recently we had a wrap party. But by that point we'd spent a couple of hours sitting online and bantering together. A lot of the people who are part of this show are people I admire and look up to. Look at Sarah's career: I love that she is always playing such strong, incredible women.
So, I really appreciate having my name on this list and being a new character who is diversifying this universe even more. The idea that kids like me might watch the show and see Andra, see my name on the cast list and hopefully see a bit of themselves or think, "I could do that one day!" is so awesome! Something I loved about going to Comic Cons in the past, when we could do so in person, was parents bringing their daughters over, or when a young girl would come up to me. They would share that seeing me hosting shows or in a show made them more comfortable to say that they loved this "geeky" stuff, or that they could even see themselves doing something similar. That is just so special.
Tiffany Smith plays Andra in Masters of The Universe: Revelation, streaming now on Netflix. You can follow her on Instagram @tiffany_smith.
All views expressed in this article are the author's own.
As told to Jenny Haward.