I'm a Fisherman and Natural Gas Exports Are Killing My Way of Life | Opinion
I was raised on Louisiana's waters. My grandfather taught me to fish, shrimp, and oyster here. He made a living out on the water, and now, as a husband and father myself, I provide for my wife, Nicole, and our two kids, Justin and Macie, the same way—as a commercial fisherman and oysterman.
To me, my family, and my community, fishing isn't a job; it's our heritage and our vocation. During oyster season, we're on the water seven days a week for months on end. In leaner times, we may spend hours on the boat, passing the time by talking with friends or looking out over the water, patiently waiting for the next catch.
I am a fisherman, born of fishermen, and these Southwest Louisiana waters are my home.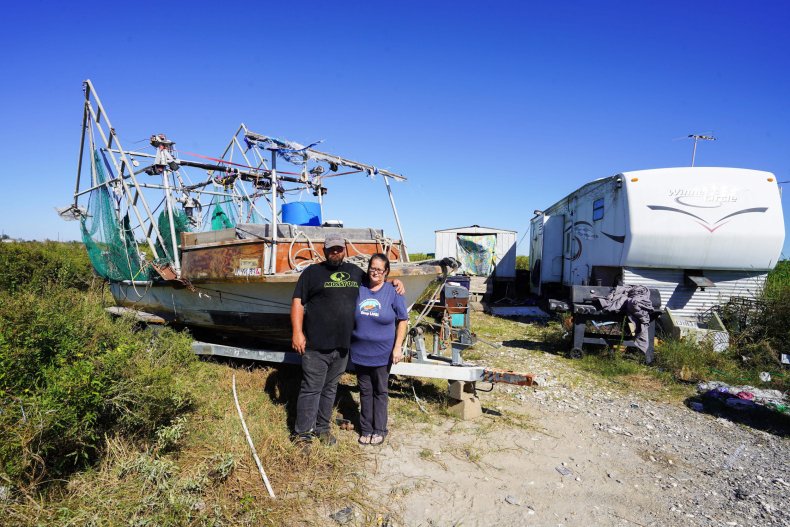 Yet these fisheries—and the communities that make a living on them—are disappearing fast. My family and I relocated once already from the Isle de Jean Charles. After my grandfather's passing, we had to make peace with the fact that he was gone, and with rising sea levels, our island would soon be, too. So, we moved to higher ground.
The silver lining was I already had worked in our adopted community, Cameron, for years. I knew the dock workers and the other fisherman, and I knew the waters.
Then came the gas export boom. First was Venture Global. The company built its first gas export terminal, Calcasieu Pass, right near my home and where we fish. It's a man-made monster that swallowed up 1,000 acres of wilderness when it was built. Where there used to be wetlands, fisheries, and forests, now there are pipes, tanks, and concrete platforms larger than an entire football stadium. More of these behemoths followed.
These imposing complexes completely erase whatever used to be where they now stand — and for all the destruction they bring, they offer no benefit to local communities or American consumers. All a gas export terminal does is prepare American gas for sale overseas. It connects to pipelines stretched out over dozens or even hundreds of miles that suck gas out of the ground. Then it refrigerates the gas, loads it onto the world's largest tankers, and ships it around the globe to be burned.
So much for clean, American energy.
Ask anyone who fishes, oysters, or shrimps down here, and they'll tell you they're struggling. While we're on the brink of losing our jobs and our homes, the same gas executives who are driving us to the brink are raking in historic profits.
As if that injury weren't enough, Venture Global now wants to insult us all by building another export terminal a few hundred feet from our front steps. If they're allowed to proceed, I don't know how much longer I'll be able to feed my family and maintain our home.
It's easy to say that things change—that we need to adapt and get with the times. But what the gas exporters are doing here isn't anything new. They're kicking people out of their homes the same way oil and railroad barons did more than a hundred years ago, and they're doing it to sell a fossil fuel that's due to go extinct.
We don't need to destroy local industries or families to generate the energy we need for a 21st-century economy. The resources of our Gulf Coast are almost endless. With sun-beaten coastal plains, windswept wetlands, and the Gulf itself, we can produce as much wind, solar, and geothermal energy as anyone, not to mention the best seafood you've had in your life.
We need President Biden and the Federal Energy Regulatory Commission to end the permitting of gas export terminals and stop sacrificing us to the oil and gas industry. Only then can we protect our natural resources, build a sustainable future, and go back to living.
Travis Dardar is an Indigenous Louisiana fisherman and oysterman. Originally from Isle de Jean Charles, he now lives and works in Cameron Parish, Louisiana, along with his wife, Nicole, and their two children.
The views expressed in this article are the writer's own.