'I'm a Former Figure Skater—The Doping Scandal Hits Olympians Hard'
I've been watching the 2022 Beijing Olympics scandal involving Russian Olympic Committee figure skater Kamila Valieva unfold with a lump in my throat and a heavy heart. I was a competitive figure skater for 11 years, so I'm looking at this through the lens of an athlete.
Like most skaters in the world, I did not make it to the Olympic level. I competed in the U.S. Figure Skating Championships four times in the late '80s and early '90s and I skated alongside Olympians, so I have an idea of what it has taken them to get to this point. We trained several hours per day both on ice and off ice, five or six days per week. Many elite skaters are home schooled. I went to high school for half a day and was dismissed at noon in order to go to the rink. I didn't know very many of my classmates and didn't attend a single high school party.
I've learned first hand that the pursuit of perfection can lead to disappointment and can take years to process. So I'm not just feeling for 15-year-old Valieva, who tested positive for banned substances and ultimately did not place in a medal position, I'm feeling for all the competitors in the Women's event who will have been affected in one way or another by this scandal. That Valieva was allowed to compete is, from my perspective as a former figure skater, extremely discouraging. It certainly creates a situation where up-and-coming athletes may lose trust in the system.
Figure skating is a subjective sport. I always knew that no matter how hard I trained, and no matter how well I performed on competition day, my fate ultimately rested with a panel of judges. Figure skaters know this, we understand it, and we spend our sports psychology sessions delineating between our training and our performances (what we could control) and the judges' marks (what we could not).
The fact that doping by other athletes is one of the items on the "can't control" list is unfortunately not new. But I can almost feel the frustration the other skaters at the event must have. Americans Karen Chen, Mariah Bell, and Alysa Liu, ultimately did not place in medal positions, but saw that a competitor had been allowed to continue despite testing positive for banned substances. Even all the psychological training and mental visualization skaters do—with their coaches and with mental health professionals—can't necessarily prepare you for that.
Skating cost my family tens of thousands of dollars per year, including equipment, coaching, costuming, and travel. This takes a toll on most families who participate and it definitely did on mine. Finally, it takes anywhere from 10-20 years to get to Olympic-level, or indeed to National-level competition.
Imagine putting in all of the energy and time to get to international competition level, only to have your hard work over shadowed by a scandal? The pressure on all of these young women is immense. It's difficult to even comprehend the pressure Valieva felt and it's understandable that she buckled under it.
The sad reality is that, even after all this sacrifice and investment, many skating careers end on a down beat. I know this, because mine did.
I wish this were not the case, but I left skating at age 19 embittered. I'd been injured a lot and didn't feel like it had all been worth it. And, this was probably myopic, but I felt slighted: my goal was to become ranked in the top 10 in the U.S. I didn't make it. In my last year, I was 6th at the Junior level which works out to about 18th in the United States overall. With distance, this sounds accomplished to me, but at the time, I felt like I'd failed.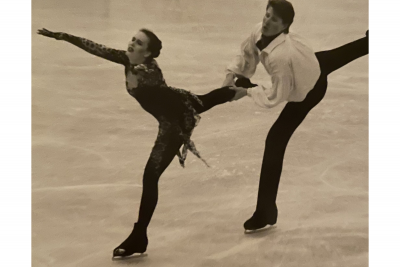 During college, I started coaching figure skating for extra money. I kept coaching after that because I enjoyed working with kids. Meanwhile, I was trying to detach from skating and find a whole new life outside of it. Like many former athletes, I struggled for many years to find a new identity.
When I was dating in my 30's in New York City, lots of the men I met seemed to fixate on my figure skating. Conversations would go the same way: "Yes, of course," I'd say, "I wore the sparkly little dress, " or "Yes..." I would reply with an internal sigh "I was very flexible." This intrigue and objectification is something I think a lot of former figure skaters deal with. We usually shrug it off.
Then, when I was 36, I met Rob, who asked real questions and follow up questions; we fell for each other hard. I even admitted something embarrassing to him: I was kind of a "ham." Much as I had disliked the day-to-day training in skating and getting hurt so much, I loved performing. I'd once performed in front of 14,000 people in Baltimore.
When Rob mentioned a few times that he wanted to see me skate, I wasn't annoyed like I might have been with other guys. And when, at four months, he invited me to The Rink At Rockefeller Center, it made sense that we would go skating together. We were connected on so many other levels at this point that it was almost weird he hadn't seen me skate yet.
As we waited in line, it started to snow, creating a snow globe effect. The tree at Rockefeller Center was glowing and the gold statue of Prometheus presided over the rink. We were both hatless and freezing. Even though we'd only known each other a short time, we'd gone to look at rings a few weeks before. I suspected he might propose, but didn't want to think about it too much.
Though the rink was crowded, I weaved through the other skaters. I did a few seconds on one foot, spun around, and carved out a few curly loops. It was enough to catch the eye of those around me, and of my guy.
As a coach, I spent many hours on the ice every day, but I never showed off. It felt great. Much as I didn't want to accept it, skating was almost easier for me than walking, and pretty much any sheet of ice was home.
Long before competitions, long before judges, and long before all those injuries, my brother and I skated on a little league field that our local fire department in Wisconsin froze over each year. I'd glide around happily in circles, on that bumpy ice, with the cold air on my face, just like this.
I headed back toward Rob and stopped with panache, with one arm north and the other south, palms turned up to the night sky.
Rob was beaming. He took my hand again and we glided together toward the middle of the rink. Then he awkwardly got himself down on one knee and pulled a small gray cube out of his pocket.
"Will you marry me?" he said, smiling with chattering teeth. His cheeks were bright red from the cold. "Yes!" I said.
What happened next was straight out of a movie.
Everyone on the rink stopped skating. The crowd around us began to cheer and above, shoppers and tourists applauded. The joi de vivre rapidly increased in volume until it seemed like the whole city was swirling around us in celebration. I looked at Rob and marveled that he had created such a full-circle moment. If you'd asked me before I met Rob if I'd want to get engaged at an ice rink, there is no doubt I would have said, absolutely not. But he had seen everything I contained, and, resistant as I was, this moment helped me to acknowledge that this most definitely included skating.
As onlookers to these Olympics, we can only imagine what it's like to be in the group of athletes at the center of this debacle. But I believe that each and every clean athlete deserves our respect and perhaps even more adulation this time around.
What we're witnessing is not just a culmination of massive efforts on the part of each Olympian, but the end of a chapter for each of them, too. If not the end of their Olympic careers, at least an end to all the work they put into the 2022 Beijing Olympics. I suspect, like so many of us who didn't make it that far, they'll be processing their skating experiences for years to come, perhaps with lament, perhaps with frustration, and I hope, eventually, also with pride. Let's acknowledge and truly see how incredible these clean athletes are, regardless of placement, and in spite of the chaos around them. I'm hoping the spotlight on this situation will help to enact change, a recommitment to clean sport, and holding all countries to the same standards.
I hope that any skaters feeling frustration or disappointment after the 2022 Beijing Olympics will find something akin to the peace I have. Because, that snowy night at Rockefeller Rink, I learned that loving yourself, loving someone, and feeling loved isn't just about the fanfare and the applause: it's about loving who you have been.
Jocelyn Jane Cox competed in the U.S. Figure Skating Championships four times and has coached the sport for over 20 years. She is currently writing a memoir about losing her mother on her son's first birthday. You can follow her on Instagram and Twitter.
All views expressed in this article are the author's own.