I'm a Former U.S. Double Agent, and Trump Is Recklessly Endangering the Lives of America's Spies | Opinion
The bleak news on Monday that the CIA extracted a top source from Russia, while disturbing, should come as no surprise. Spies keep on top of what is happening in the world—especially as it relates to them—because to spy is to live in a world of constant fear. If one is to be successful in the profession of espionage, knowing when to push and when to fold is key to your survival. And for American undercover agents around the world, especially in Russia, the writing is on the wall: The Age of Donald Trump is a bad time to spy for the U.S.
To be fair, Trump inherited an extremely tense standoff between Russian and American intelligence services that had been escalating for years. Nowhere was this tension clearer than in Moscow, where Russian officials engaged in severely aggressive acts against U.S. diplomats during the Obama administration.
Incidents reportedly included breaking into a diplomat's house and defecating on his carpet, as well as killing a defense attaché's dog. And in perhaps the most shocking case, a diplomat was attacked by a uniformed Russian guard at the U.S. embassy. The campaign of harassment and intimidation was so severe that then–Secretary of State John Kerry stepped up to demand that Russian President Vladimir Putin end it.
Russian intelligence services respond to one thing: strength. They will push until they hit a barrier that threatens to spill into open warfare, and only then will they stop. But anyone hoping for strong U.S. handling of the Russians will be disappointed during the Trump administration.
In May 2017, just months after he took office, Trump showed his inability to keep our nation's secrets secret from Russia. In an Oval Office meeting with Russian officials, Trump disclosed Israeli intelligence relating to an ISIS plot to bomb U.S.-bound airplanes using laptops. The information, shared by Israel under the condition it remain confidential, was likely gathered by a sensitive source. Trump, therefore, placed that source in grave danger of being uncovered by ISIS, and Israel reportedly had him or her quickly removed.
Facing criticism, the president doubled down on his "absolute right" to share Israeli intelligence with Russia, and the administration claimed the leak was for "common action and coordination," since both countries were engaged in battling ISIS in Syria. Of course, this justification ignored the fact that Russia was not part of the international coalition against ISIS and had goals for the Middle East very much at odds with U.S. interests.
Despite Trump's apparent attempt to curry favor with Moscow by sharing highly classified information, the tense situation only worsened as the details of Russia's disinformation campaign continued to emerge. Specific information regarding the Russian troll farm used to disrupt the 2016 election and leading to special counsel Robert Mueller's indictment of more than a dozen Russian intelligence officers, for example, must have come from U.S. spies in Russia—and the Kremlin knew it.
So Russia immediately began to arrest agents in the Russian security service FSB, as well as cyber officers and a Kaspersky Lab employee, and charge them with treason. Russia made clear it was on the hunt for U.S. spies and would spare no effort in rooting them out.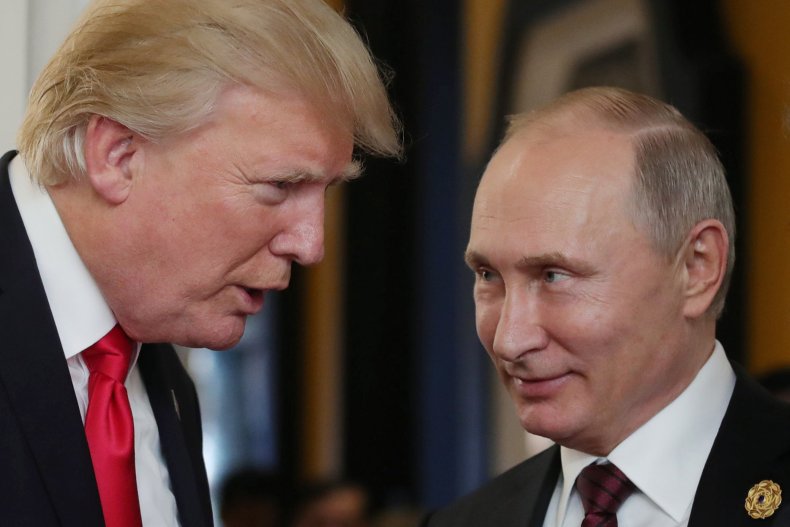 With a president as loose-lipped as Trump and Russia combing through its intelligence services in search of double agents, how can U.S. assets feel secure? Soon after the Oval Office meeting, according to CNN, the decision was made to carry out the extraction, and the ability to protect assets in the event of a presidential leak no doubt became a frequent topic of discussion between American case officers and their charges.
After all, Trump had no hesitation tweeting out classified imagery of Iran's rocket program. Would he go so far as to share the identity of a U.S. spy?
Like I said, all spies run scared. It's the nature of the work. But this source, along with his CIA handlers, must have come to realize that being compromised was only a matter of time. Under the conditions created by Trump, it is hard to imagine that any sane person would want to spy for the United States—and that is a terrifying prospect for the safety of this country.
Naveed Jamali is a columnist for Newsweek who spent three years working undercover for the FBI against Russian military intelligence. He tells the story in his book How to Catch a Russian Spy. He is a member of Left of Bang, a group of military veterans working to prevent gun violence.
The views expressed in this article are the author's own.​​​​​