In a way, I didn't want to start a juice business, I just wanted to have a business of my own. Mommy had an idea to make our own tea and we started making it together. Our tea includes turmeric, ginger, pineapple, different teas, lemon, lime, mint and natural honey and we drink it warm, but you can drink it cold too. It tastes nice. We were drinking it one day and I remember asking mommy: "Why can't I start my own juice business?"
I'm 8 years old and in fourth grade so I wanted to see what it would be like to have your own business. So we started SJ's Every Day Juice a year ago. We had to order the bottles and buy a blender and then we then picked out tasty fruits to put in with vegetables. We get our fruit and vegetables from a local farmer's market and I go with Mommy to pick them out.
I tried different juices along the way, like pineapple juice, which I love but it didn't have any veggies with it so I felt it wasn't a good choice. We picked kale and grapes because I like grapes, but I didn't think it was a proper juice if it was just grape. Kale is a vegetable and vegetables are healthy and that combination isn't something many people eat and I thought it would taste good. We now have three juices we sell: kale and grape, apple, pear and cucumber, and apple and celery—they all have natural honey in them too. Their names are Green Fusion, The Refresher and Apple Blast. Green Fusion is my favorite, along with our Immune Booster Tea.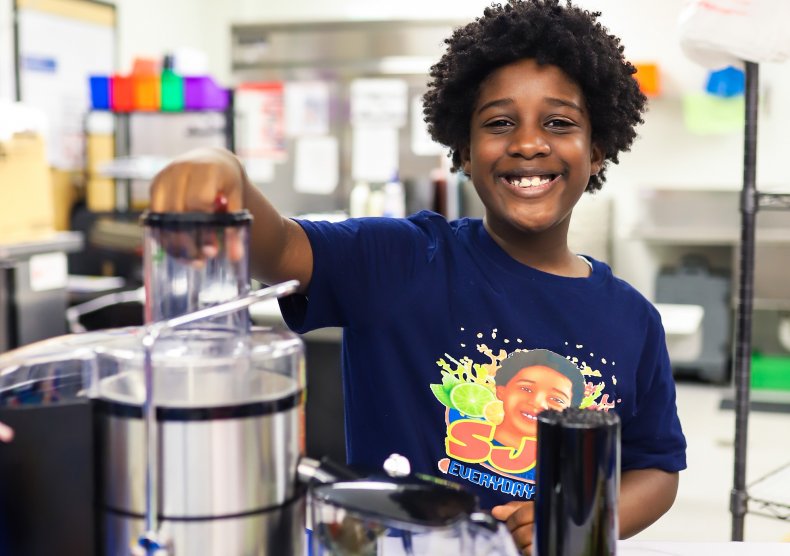 We started selling my juices in September 2020, We actually started making the juices while we were on lockdown from the pandemic, and once the lockdown lifted I made my first sales at my school in Mount Holly, North Carolina. We took a cooler from our house and put ice in it, then we made my juice and tea and put them in the cooler and took them to my school. Many teachers, students and even the principal started buying my juice and tea because everyone wanted to stay healthy and they taste great.
Most people say my juice and tea are good. Sometimes people may not like one flavor of a taster we have given them, but they will like another flavor. The juices are $5 each and the tea is $7. We normally make $200 if we sell at a festival. I like to study math at school and sometimes I am able to do the math in my head to give people their change. Other times it's too much money, and then I have to have a calculator ready.
I have made $1,500 from selling my teas and juices so far and I spent some on a necklace for Mommy for Christmas, but I have saved the rest. In the future, Mommy and I are hoping to sell them in most stores. So far we have sold them at school, festivals, families, friends and now Mic's Mini Market Gastonia, North Carolina but I'd like to have my juices stocked in Lowes Foods, Target, Whole Foods and Walmart, and then open our own store. I would also like the basketball player Kemba Walker to buy all my juices. We only have one tea at the moment, and we have three juices, so I would like to sell more tea. The tea flavor I was thinking of making is red berry and blackberry.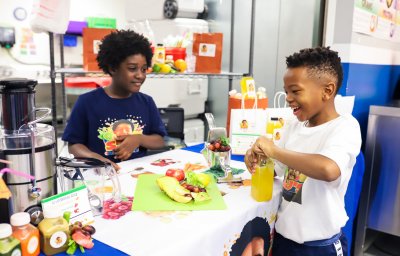 Most of my family think it's nice, but one of my relatives says I should focus more on school. But I'm doing well at school. I liked summer camp this year; it was fun. And my business has helped me learn that if you want to do something you can, if you work for it.
I spend about a day a week altogether making my juices. I think people should drink more juice and fruity tea because not everyone is healthy. Most people eat snacks and chips, and I wanted people to be healthy.
Shawn Smalls lives in Mount Holly, New Jersey. He runs SJ's Every Day Juice with his mom, Laila. You can follow him on Instagram @sjeverydayjuice.
All views expressed in this article are the author's own.
As told to Jenny Haward.