'I'm A Kid's Party Planner—This is What It's Like Behind-The-Scenes'
When I was little, I lived in a one-bedroom apartment in India with my family, and when we had birthday parties we'd invite all our neighbours, friends and school friends. We would host about 50 kids and after the party our family friends would come over for dinner.
My husband and I moved to the U.K. from India in 2009 and I had my kids in 2011 and 2013. I always planned their birthday parties and people raved about how good I was with kids and how great my parties were.
At the time, I was working in London in advertising. It was tough doing that with children and I eventually quit in 2017. I had always wanted to get into wedding planning but all my friends in the U.K. were already married with kids, so I had nowhere to start.
It wasn't until 2018, following a chat with a friend, that I decided to create a simple Facebook page for a kid's party planning business. Coincidentally a good friend of mine, who was a baker, called me about a week later saying she had a client who wanted a party planned for her child and would I do it? Of course I said yes. The party had a rainbow theme and a budget of £250. At the time I thought that was a lot of money. I also had absolutely no clue where to start.
I could see the way I wanted the party to look, so I called a couple of balloon artists and they told me my balloon idea would cost up to £150. When I explained it was the first party I was planning, one balloon artist told me she would supply them for a reduced rate. Of course, the cake was not part of my budget as my friend had been paid for it directly, but I bought cake stands and met someone through Facebook who sold chair covers and gave me a discount. Another woman gave me 12 table covers for free. I also met an upcoming photographer online who said he would shoot the party in exchange for a couple of beers. But even with all that, I paid £500 out of my own pocket in the end.
I actually cried when I set up that first party because I thought it looked amazing. Looking back, it could have been better and might have been more striking in a nicer venue, but the parents and kids loved it.
After that, I began to get bookings from Facebook and through the Indian social media community in my region. I do a lot of my parties in London and just north of there. It's been a lot of word of mouth for me.
But I don't do parties with a $350 (£250) budget any more. My parties start at about $2,500 (£1,800) and I tend to work with parents of children between one to five, but I cater to all ages as well as baby showers and milestone birthday parties. I always tell clients that if they are paying me and worried, the whole point is lost. You can go all out with a huge budget and people can still question what you spent the money on. In the same way that there is this concept of "bridezillas" with wedding planners, parents can get into that mode, wanting to know everything.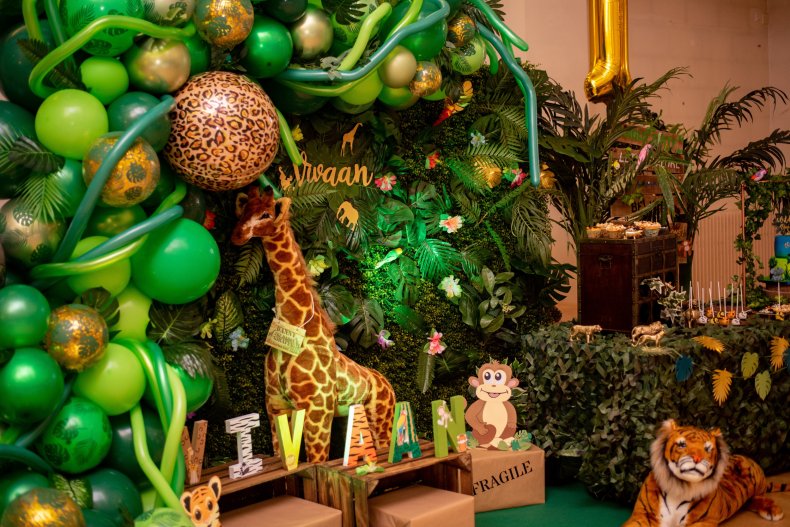 So, I have two ways of working with clients. At the beginning I ask them whether they want to know what I am doing at every step, or not. Most of the time they do not want to know. But there are clients who want to see sketches and plans.
A party that costs $2,500 (£1,800) would cover basic decor. If I am doing a party where there are about 50 adults and 25 kids, I would normally arrange the decor, all the catering, table scapes, the cake and a dessert table, an entertainer, party bags and the clean up afterwards. That's anywhere between $5,000 to $7,0000 (£3,500 to £5,000). My parties are very bespoke and typically Indian families I have planned parties for will want a lunch or dinner of Indian cuisine served at the party.
At the moment, a jungle theme is definitely the most popular with parents, along with princess and superhero themes. Amongst adults, for gender reveal parties for example, there is a preference for a boho chic look.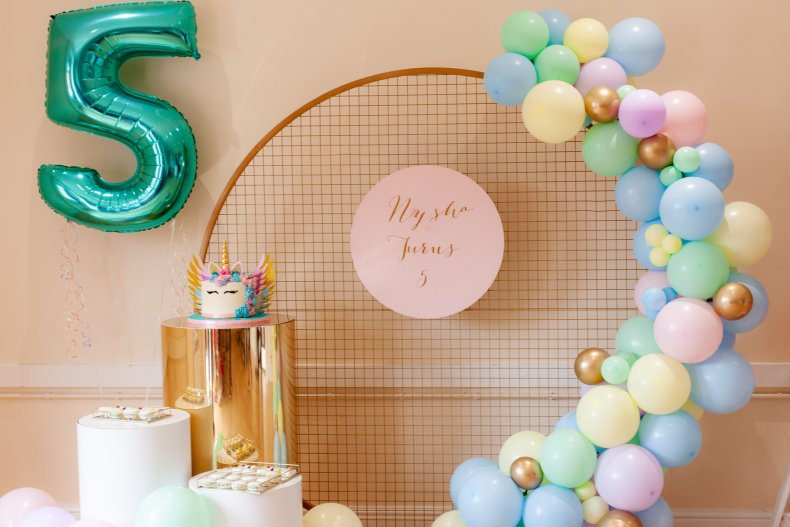 In Focus
Balloons are one of the most expensive aspect of a kid's party, according to party planner Nalini Raman.
Launch Slideshow

3 PHOTOS
A lot of the budget actually goes into balloons. They are one of the biggest costs and people still don't really understand that. A basic balloon arch will cost around $500 (£350). Cakes are also expensive, they can start from around $200 (£150) because the baker is also charging for their time. My friend who is a baker is reasonable, but I have worked with very well known bakers who charge up to $850 (£600) for something like a two-tier jungle themed cake for about 60 people. If you have fondant animals on the side, like a monkey, each of those can cost $50 (£35), which adds to the cost. Then there might be cake pops in animal shapes, which cost $7 (£5) each, so a dessert table can then end up costing around $425 (£300). It also has to be designed, set up and delivered. There are a lot of back end costs that people aren't aware of.
I've honestly never had a client come and tell me that someone else had a party and they want theirs to be better. Most of my clients are working parents and just don't have time to plan. They'd rather pay someone to do it.
But people can make outrageous requests. I am working on a dinosaur themed party right now where the parents want an actual dinosaur. I could hire a performer who wears a really realistic looking dinosaur outfit, but it will cost almost $1,000 (£700) and the parents don't want to pay that. Sometimes I will actually hire more outrageous elements for a party myself. I planned a gender reveal party recently where we had an archer who can do archery with her mouth, her feet, with her eyes shut and even hit the bullseye with her back turned. The client hasn't asked for it but they have a $17,000 (£12,000) budget and are holding the party at a five star venue. I promised them the party would have the "wow" factor.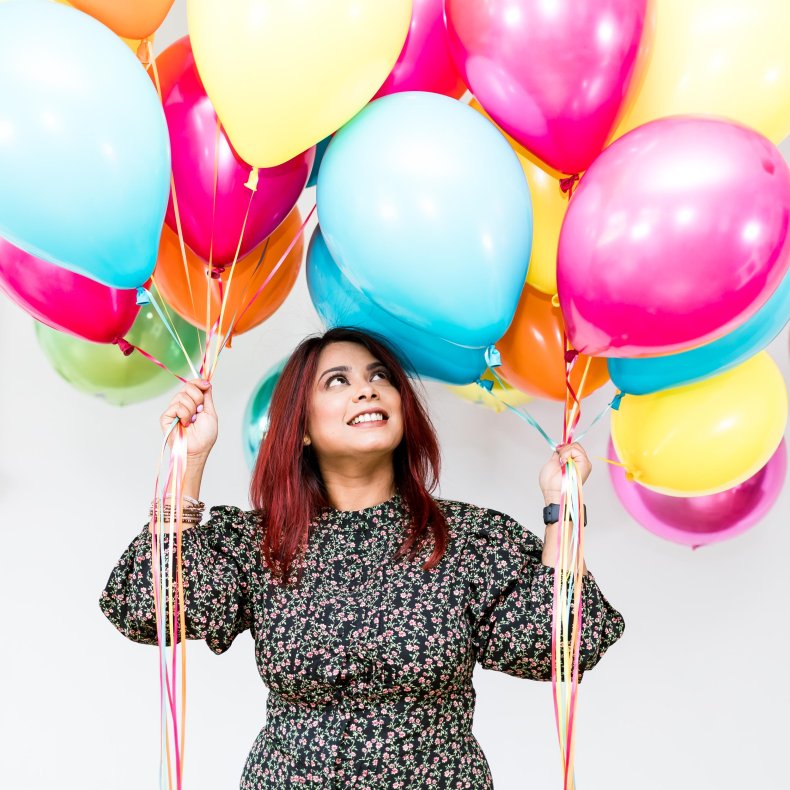 To date, out of 40 parties I've planned, only one situation has really upset me. I stayed at one party where the kids were small and a little unruly. The parents weren't really keeping an eye on them and for some reason thought I was going to. I always take three times as many paper plates as there are guests but the kids were making paper planes out of the plates, so when it came time to eat the cake, there were none left. The email that I had from the mom the next day was not very nice.
That was new for me. But I'm glad it happened because it made me more conscious and aware. Now if I have a client with 50 guests I explain that they have 150 paper plates for the entire party. My relationship with clients is generally fantastic, some of them have even become friends.
I think with parties, it's each to their own. When my parents threw parties for me in our one bedroom apartment, I remember every single one of them. We didn't have party bags, we would give the other children loose pencils and erasers. But I still remember that. So it's about creating memories. And, times have changed and people have a lot more disposable income.
But whether you are a millionaire or living in social housing, a first birthday party is never for the child, it's always for the parents. They enjoy it because they see their child smiling, so it's a lot to do with the parents' emotions.
My advice would be that, irrespective of the budget, you need a really good entertainer who can keep the kids engrossed. The minute a child is bored they will go back to their parents, and if parents have that experience they think their money is lost. The other thing is good food and planning parties around small children's sleep schedule. Parents also spend money on rubbish for party bags. Get a book, a nice money box or a pencil case so you're not wasting money on items people may just throw in the trash.
Kids party planning may sound fun, but it's also stressful, because I am answerable to someone who is paying me. In almost all my parties, the parents walk in and at the end, they walk out. They don't lift a finger. If there are staff, these staff will even put the child's presents in the parent's car. Everything is taken care of. We even slice the cake and hand it to the guests. People say "It's only a kid's party." No, it's not "only" a kid's party. We treat it like any other big party that people might want to throw.
Am I happy? Absolutely. I don't think I could have done anything better than this.
Nalini Raman is a luxury party planner and the founder and creative director of Party Genie. You can follow her on Instagram @partygenieuk.
All views expressed in this article are the author's own.
As told to Jenny Haward.