'I'm a Leonardo DiCaprio Lookalike—I've Been Mobbed By Fans'
As early as 1993, when the movie What's Eating Gilbert Grape came out, people started telling me I looked like this kid, Leonardo DiCaprio. When I saw the movie myself, I could see it. From that point, as Leo became more famous, more and more people mentioned the resemblance between us. Then, Titanic happened. I was in my early 20s living in San Francisco and would notice the occasional group of tourists following me down the street when I was running errands or I'd be out at a bar with my friends and catch folks staring at me strangely across the bar. Everywhere I would go people would tell me I looked like him and that just kept building.
I moved to LA in 2003 and started to audition for work as an actor. As Leo's career continued to ascend, the comments about our similarities began to happen daily. I would get stopped at the supermarket, I couldn't really go anywhere without being mistaken for him.
I was booking roles in movies and TV shows like The Dark Knight Rises and Shameless, and it was always commented upon on set or in a casting office. I never really knew what to make of it. Oftentimes when people would tell me that I looked like Leo I would say thank you and they'd rush to tell me that it was a good thing. They could see I looked a little crestfallen, because you want to be seen as yourself.
Then in 2012, I was approached to audition for a role that impersonated Leo in Scary Movie 5. I got the part and went from never having impersonated Leo to taking a crash course in being him. I had his wardrobe and had hair and makeup, and even got to work with one of his vocal coaches. I had an absolute blast filming that movie.
After that, emails started coming in from people saying they had seen me in the movie and asking me to come to do a trade show in Dublin, Ireland as Leo or drive to Palm Springs to host a Great Gatsby party. I'd never thought of myself as an impersonator but I just decided, why not give it a try?
Working as a Leo lookalike has always been incredibly positive and fun and you never know what type of unique gig you will be asked to do next. For instance, I've done weddings where the best man will say he has a surprise and that a friend from Hollywood is showing up. I walk in and everyone gasps. I go halfway through a toast as Leo and then I tell the guests that I'm not really him but I do wish the couple a wonderful life together. Afterwards, I walk around the wedding and take pictures with everybody.
In 2017, I was asked to be part of a performance art piece called MANICOMIO! by Dora Budor at the Freize New York art festival. I walked around the festival in character as Jordan Belfort from The Wolf of Wall Street. I would be on a call as Belfort and then at random points I would walk out with a microphone and pretend everyone there was traders and do the big speech from the movie. Visitors would be confused at first about what was happening, then a couple of people would start to get it, and eventually a huge crowd would form. By the end of the speech they'd be clapping and cheering as if they were the traders in the film. It was such an amazing and surreal project to be a part of.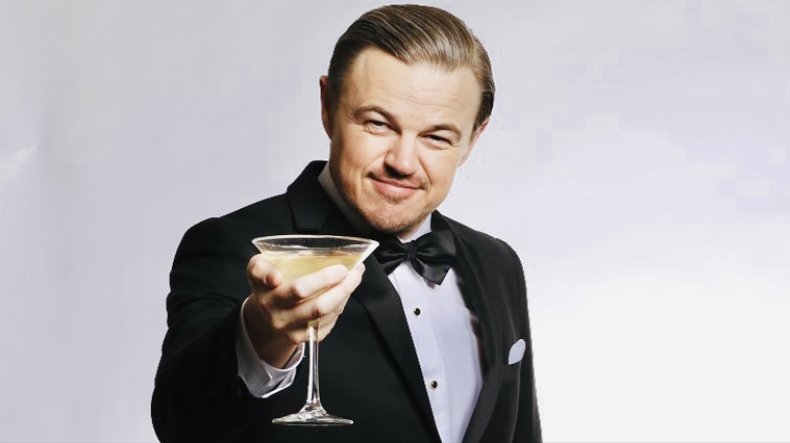 Something I often do is to work at Leo's house in Palm Springs. He owns this unbelievable estate and probably spends a few weeks there a year, so the rest of the time a real estate company rents it out for corporate events or private use. If a company is renting the property for a corporate retreat they are offered the chance to book me as Leo or Jay Gatsby to greet everyone as they come in, give them a tour of Leo's property and take photos. It's a treat for me as it's one of the most beautiful houses I've ever been in.
It is strange to be touring people through Leo's estate though. I've been doing this lookalike work for a number of years and, truthfully, it never gets less weird. But I try to have a sense of humor about it. All I can do is look like him and let people have a really good time with it.
I tell people that it's as if I get to spend two hours looking at life through Leo's eyes. People are so excited and warm, and that's men and women, older and younger folks. I look at my face in the mirror every day and I don't get all that excited, but somehow, when I do these events, something special happens.
To be in the presence of "Leo" is so exciting for people. So, I try to be present and a good listener and conversationalist. There is an overwhelming level of attention, often groups of ladies asking questions and wanting selfies. They'll say how much they love Leo and how he was their first crush, but usually people are very respectful. On that level it doesn't get awkward, and thankfully never gets to the point where I have to say: "Sorry, I'm married!"
Although I never pretend to be Leo in my real life, the resemblance does impact me. There are days in normal life where I'm stopped ten times, and there are places where I don't want to go. I do my best to have a hat on or not slick my hair back or not wear clothes Leo would typically wear.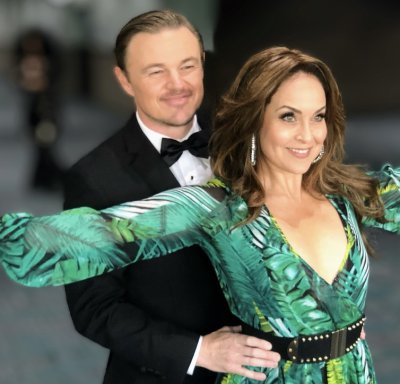 There have been a number of times in LA when I have walked into a restaurant with my wife and the maître d' has gotten a little flustered and said they have a private table for me, and every time I go through airport security, without fail, I get stopped by the officer and told I look like "that guy from that boat movie."
Once, I was on vacation at Istanbul airport and I got surrounded by a Japanese tour group. There were dozens of girls asking me to sign their autograph books. I kept saying I was sorry and that I had played him in films but wasn't actually Leo. But I don't think they understood what I was saying because of the language barrier between us and they persisted. Finally, I thought if I signed my own name it would be OK. So I went around and signed their books as Ben Cornish and said goodbye. Another time, I was walking through the streets of Hong Kong after an event and a woman burst into tears and hugged me. I tried to tell her I'm not Leo but she was absolutely convinced. So I agreed to take a photo with her and I think it made her day.
I've never met Leo but I have met many people who have worked directly with him or work for him. I met a guy who has worked as his stand in for more than 10 years. They are friends and he told me Leo is the nicest, funniest, most down to earth guy. You hear that from everyone, which is cool. I think he's been told about me, for example, when I've worked at his house or at the Frieze event.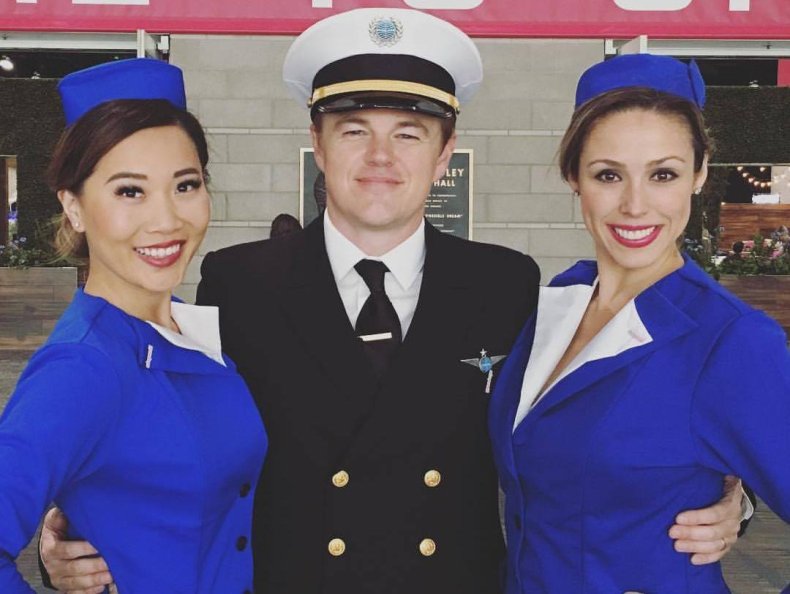 I was asked to be his photo double in the movie The Revenant. A photo double is typically used in wide shots when the actor is far off in the distance or perhaps when just the back or side of the actor's head is visible in a given shot but the actual actor can't be there, so you need to look very similar.
It was filmed in Canada over several months during the winter. There would have been hours of hair and make up and crawling around in the snow. I'd just gotten engaged and I had a pretty good life in LA, so while I would have loved to work with Leo and that fantastic team, at that juncture I decided to stay in LA.
I really try to only take bookings that show Leo in a really positive light and are in no way exploitative. Sometimes lookalikes can try to pull one over on people and never reveal that they aren't the celebrity, or accept money for something that makes fun of the actual celebrity themselves.
I see it that I'm very lucky to be able to do these events, have these adventures and get paid for them, so I try to respect the fact that it's a result of Leo's great work and talent. I turn a lot of requests down; anything I think Leo wouldn't be too psyched for me to do.
When I was younger I think I had a harder time with looking like Leo. Sometimes I'd meet people and I didn't think they were seeing me, they were just seeing the resemblance to Leo. There were times I'd have conversations with people and feel like they were talking at me or looking through me, and I think every person wants to be seen and known for who they really are. But what's been fun is playing him in films and doing all of these crazy events and I feel I've been able to flip that sense of not being seen on its head, in a way.
I have realized that when I go to an event, most people there want to feel seen. I get to have all these people approach me with big grins, blushing and sometimes even with tears in their eyes and I am able to see how Leo has affected people's lives in such a deep way through cinema. For those people to get the sense they are being seen by Leo, someone they admire so much, is very satisfying to me.
So in those scenarios I don't really care that they don't see Ben, because I'm giving them something. And, in my normal life, I'm very lucky to have a big loving family and close friends who have known me for years and never see me as Leo.
When I filmed Scary Movie 5, the producer David Zucker, who is a terrific guy, became a friend. At the end of the shoot he said, "you know Ben, when we first met, all I could see was Leo. It kind of bowled me over how much you looked like him. But after three weeks of getting to know you, all I can see is Ben." That was wonderful.
So, I think I've made peace with where looking like Leo fits into my life. I get to do so many unbelievably crazy, fun trips. It's a unique blessing that you just have to see as a gift.
Ben Cornish is an actor who lives and works in LA. To follow and for details on how to contact Ben, you can find him on Instagram @leolookalike.
All views expressed in this article are the author's own.
As told to Jenny Haward.