I'm quarantined with my husband and three cats in a 500-square-foot apartment in Soriano nel Cimino, in the mountains north of Rome. We moved here four months ago and we are not yet fluent with the language. We have no family here; the first time we set foot in this town was February 2019, almost exactly a year before the recent quarantine began. Both our businesses—music performance and travel consulting—have been devastated by the national quarantine, and we have no income. Every time we leave the apartment (and only one can leave at a time, every few days), we must fill out a form explaining why we are outside. The penalty for violating the rules is approximately $3,300, or prison.
But I'm not afraid for us—if you are reading this in the United States, I'm afraid for you.
For the last 20 years, my husband Matt and I were working in a symphony orchestra together. In 2002, I founded ALIAS Chamber Ensemble; for the next 16 years I functioned as its artistic director, overseeing dozens of commissions of new music by American composers and four CD recordings, the first of which garnered a Grammy nomination. When we weren't performing, we were traveling. In 2014 we founded a travel consulting business and published four guidebooks, helping travelers create immersive and authentic itineraries in Italy and Ireland.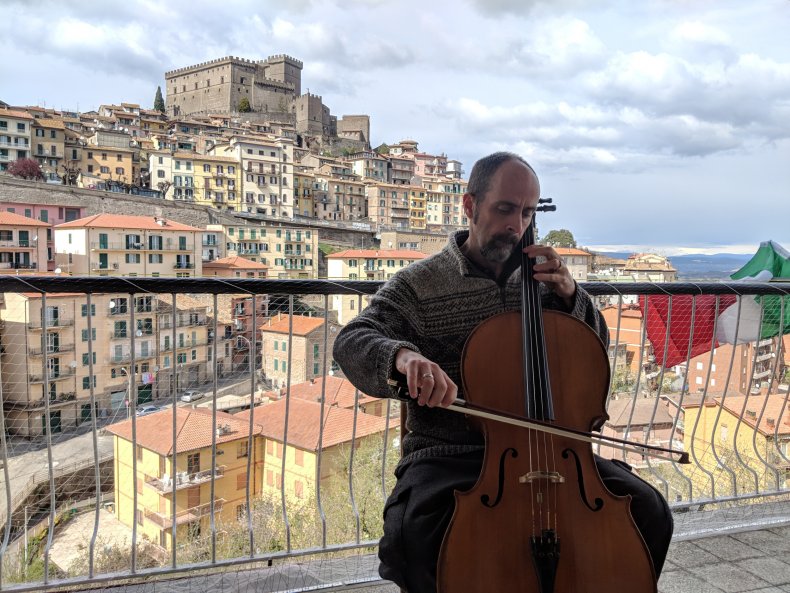 After dozens of trips here, we knew we wanted to live here, but had no idea how that could work financially or logistically. Then last year, a bunch of pieces fell into place. We found an apartment we loved with a stunning view that cost less than $30,000. We consulted an immigration lawyer who advised us to apply for visas to work as freelancers based on our extensive experience as concert presenters and artists. These visas are incredibly difficult to obtain, but in October our visas were granted. We took a leap of faith and sold our home and nearly everything in it, quit our stable orchestra jobs with good benefits and moved to Italy with our herd of cats and a few boxes of personal items to chart a new life here. Our plan was to make a living performing and organizing concerts, and also continuing our travel consulting and writing. Since we arrived in November, that plan was working out wonderfully.
That is, until this COVID-19 pandemic shuttered nearly everything countrywide.
Soriano is a small, but bustling, town of around 9,000 people sitting on the shoulders of Monte Cimino, picturesque and full of history but with few tourists. People gather daily and nightly in the town square to chat, to shop, to get their coffee in the morning or their apertivi in the afternoons. Everyone knows everyone. Evening walks are the norm, greeting people on their balconies or passing in the streets.
In August, we were here for two weeks, getting our apartment put in order. (We hadn't yet applied for the visas.) We didn't know if we would be living here permanently, ever, or just visiting whenever possible. We knew only a few people in town, and not very well at all—we had only been here a couple of times. But something about this little town just made us feel like it was all going to be OK, like even as stranieri (foreigners), we would be accepted.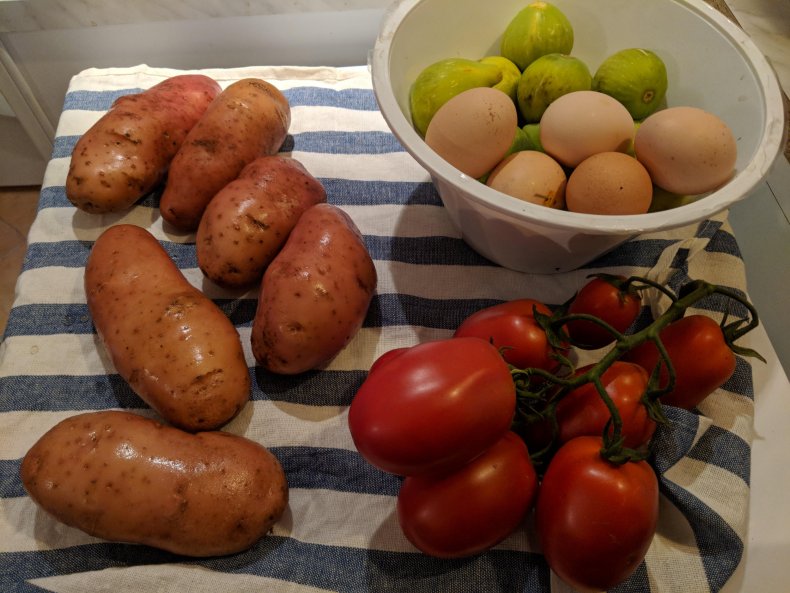 Perhaps it was our next-door octogenarian neighbor, who greeted us right away with the most incredible demonstrations of generosity, even when I knew he didn't know my (very unusual) name. Nearly every day in those two weeks, he would stop by with treats from his farm in the countryside. "Matteo," he would softly call through our window. He never used the buzzer, he always just stood outside the window until Matt opened the door. Then he would give us a bag of figs or a dozen eggs, a bunch of tomatoes or a sack of potatoes. Whatever it was that we took, he always wanted us to take more. At one point we joked that we may never have to go vegetable shopping again.
In this small town, we have found that this type of generosity and community was not limited to our neighbor. Even though we have no family here and our primitive Italian with American accents sometimes make it hard for our neighbors to understand us, we have been embraced and welcomed.
Perhaps this is why, when faced with a national quarantine, we decided immediately to start a concert series on our balcony. It is the only way we can really give back to our community right now, when we are so rarely permitted to leave our home. But knowing how important community and important music are here, we thought we might be able to help lift spirits and bring people together—something to break the monotony and the stress of being cooped up with no firm end in sight.
We realized that not everyone would be able to hear us, so we decided to broadcast it on Facebook Live so our neighbors could listen on their phones and look out their windows and see us up on our terrace at the same time.
After the first night we got a call from the city: Could we postpone the start of our concert until 6:10 p.m.? So the cathedral bells could be heard, and also, so the town could play the national anthem in the town piazza? Would we be willing to be broadcast into the piazza too, after the anthem?
So every night, since the lockdown began, we play a different piece from our balcony. Beethoven, the Beatles, one of Matt's singer/songwriter tunes or early Italian baroque. We try to play as much Italian music as we can, to buoy our Italian neighbors by showcasing their rich history of music. Morale is key in this quarantine; national pride and sacrifice is helping people maintain the quarantine. We hope to play a small part in that.
About a week into the concerts it occurred to us that it might be a boon to our neighbors to also hear a famous Italian artist, so we reached out to concert pianist Cristiana Pegoraro, who runs a music festival in a nearby town. She enthusiastically joined in, and now her music is piped into the town piazza after our broadcast. We can hear it from here, echoing off the stone buildings across the valley. Ironically enough, this type of collaboration was exactly why we were granted our visas; we just never anticipated this particular manifestation.
We worry about our future here, and about when we might next be able to visit our family and friends in the U.S. We worry about frittering away our savings since we can't work without tourism and without concerts. We worry about the Italian government allowing us to stay here as immigrants if we can't work for months on end. But worrying doesn't change anything, so we turn that energy around into something we know: concert planning and preparation, and we focus every day on at least accomplishing performing just one more tune.
I get several messages a day from Americans I know—and some I don't—who read my page, asking me about COVID-19: Should they really be concerned? Is it really this serious?
Yes, it is. While I appreciate deeply the notes we receive asking about our welfare or expressing sympathy for our situation, I'm not afraid for us.
I'm afraid for you.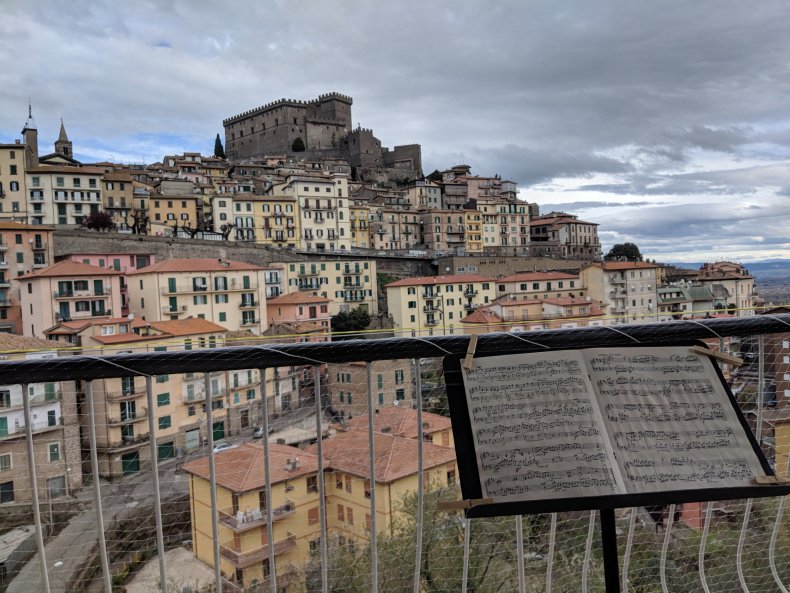 The Italian government believes in science; it has imposed this very tough quarantine on us, but it was necessary to save the most lives. The numbers are just starting to turn around. Even though the losses are devastating, as we see that the numbers are shifting we start to have some hope. I believe that the Italian government has the welfare of its citizens at the top of their priority list.
I can't say the same for the federal government in the U.S. I understand why you have questions, I would too if I was getting the mixed messages you get from national and local leaders, and seeing friends and colleagues still getting haircuts and going out to eat and playing football in the park. Far worse are the folks who say we should sacrifice a portion of our community so we can get the stock market back up.
The truth is, the U.S. needs a federal quarantine immediately. No one will be checking the Dow Jones when they are gasping for air in the intensive care unit. Money and stock options will not save our lives. What will save us is community: helping our neighbor, taking their welfare as our own, making sacrifices for the greater good. We must demand that our government, which ultimately is just an expression of community, acts for the greater good by imposing a federal quarantine, and then uses its vast resources to help our community recover and thrive.
We are learning this spirit of community here, in real-time, in our little Italian town. No one likes the quarantine, but everyone understands that we are all in this together and the sacrifice of everyone is required to get us through this, as a community. Once this is over, it will take the goodwill of many to rebuild and restore, but I am confident that we will do it together.
And, until then, we won't stop playing our music.
--
You can listen to Zeneba Bowers and Matt Walker's quarantine concerts on their Facebook page Little Roads Europe.
In the fall of 2019, musicians and travelers Zeneba Bowers and Matt Walker recently traded their careers as professional musicians for a simpler life living in Italy. They now live in a small town north of Rome, where they organize concerts, perform, and help travelers experience off-the-beaten-path European driving adventures. Zeneba and Matt have published four award-winning guidebooks with LittleRoadsEurope.com.