'I'm More Than My Accomplishments and Gymnastics,' Simone Biles Tells the World
Late Wednesday night in the United States, and just a few hours before the women's all-around gymnastics finals began at the Tokyo Olympics on Thursday night, American gymnast Simone Biles told the world she was more than just a gymnast with routines never seen before.
Biles said she was more than a decorated gymnast who captured the world in 2016 with her gold medals in Rio de Janeiro, and more than just the most-decorated world champion of all time.
She let the world know she has real-world issues beyond her athletic prowess, which is packed like dynamite inside her 4-foot-8 frame. It took a worldwide stage for her emotions to explode, which was the only thing that could really upstage her athletic ability in the gymnastics arena.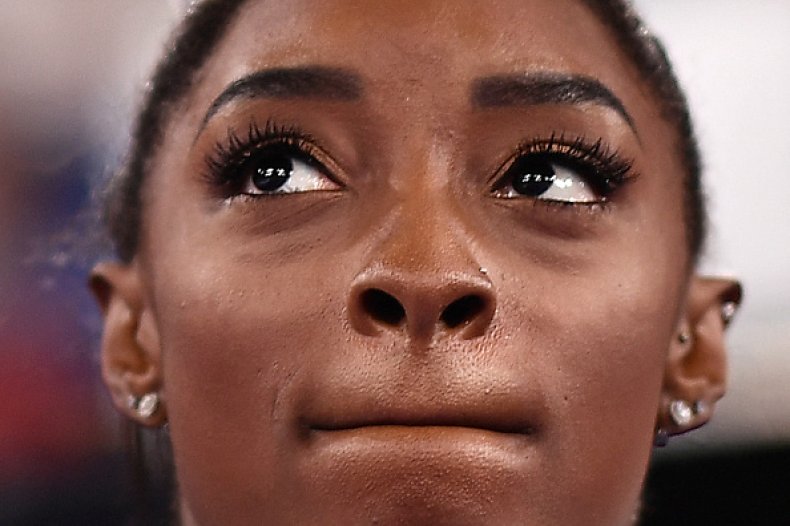 Biles tweeted, Facebooked and, well, told the world, she was more than just her accomplishments after pulling out of both the team and individual finals at this week's Olympic Games in Tokyo.
'[T]he outpouring love & support I've received has made me realize I'm more than my accomplishments and gymnastics which I never truly believed before," Biles wrote on Facebook and Twitter.
Biles, at just 4-foot-8, is viewed as a giant among most who follow her on social media. The small, but mighty, Houstonian said she pulled out of the Olympic team finals because of mental health issues, and didn't declare whether she'd be back for the individual events. Then, on early Wednesday morning, she pulled herself from those as well.
Biles won a silver medal at these Tokyo Games, which gives her six medals in her career—she won four gold medals and a bronze at the 2016 Rio Games.
Biles, 24, said she abruptly withdrew from the finals to protect her mental health, this while riding a wave of momentum to Tokyo proclaiming that she was the "Greatest of All Time" or, the G.O.A.T.
Just before the Tokyo Olympics began, Twitter unveiled an emoji to honor Biles. It was a goat flying through the air with a gold medal wrapped around its neck.
Biles touted herself as the GOAT heading into the Tokyo Games, and she said she was ready to deliver her best, despite the pressure she has faced with everyone aiming for her.
The pressure began mounting more than five years ago, though. Biles didn't say what "mental health" issues she has faced after her Tokyo withdrawal, but the signs were there over the years.
Shortly after the USA gymnasts returned from their triumphs in Rio, it was revealed that former team doctor Larry Nassar had sexually assaulted multiple girls and young women in the program. It was learned of the stringent training at the Texas compound of the Karolyis, who were famed coaches of Nadia Comaneci and eventually the Americans.
Biles talked about being hungry at the Texas camp, even breaking into the camp cafeteria and sneaking food into her hoodie back to carry back to her room. She didn't enjoy being hungry like she was as a poor kid who had to pour water over her cereal because the family couldn't afford milk.
Biles has detailed these conversations over the years.
When asked during a 60 Minutes interview about the time with Nassar in charge of the USA team's doctor duties, Biles said it was something she couldn't even tell her parents.
"It was so hard for me to even say it out loud, that I knew how hard, like, it crushed me. It would crush my parents. And I didn't want them to feel the same pain that I felt. Because it was very dark times," Biles said on 60 Minutes.
Biles said USA Gymnastics hasn't done enough to address sexual assault issues and other problems within the team program.
"One hundred percent. We bring them medals. We do our part. You can't do your part in return? It's just, like, it's sickening," Biles said.
Biles said that if she had a daughter, she would not put her in the USA Gymnastics program until lots of things get resolved.
"I don't feel comfortable enough, because they haven't taken accountability for their actions and what they've done. And they haven't ensured us that it's never going to happen again," Biles said.
Then there have been Biles' bout with going to therapy over the last two years.
"I'm on anxiety medicine now because I had a lot of ups and downs throughout the year, trying to figure out what was wrong," Biles told NBC in late 2018. "So I go to therapy pretty regularly. It's not easy, but the people surrounding me are some of the best."
During the team qualifying in Tokyo, it was Biles that tripped off the mat during a floor routine and had a bad landing on the vault, which resulted in the Americans getting the No. 2 qualifying spot behind the ROC.
Correction 7/30/21, 4:35 a.m. ET: This article was updated to correct the spelling of Larry Nassar.