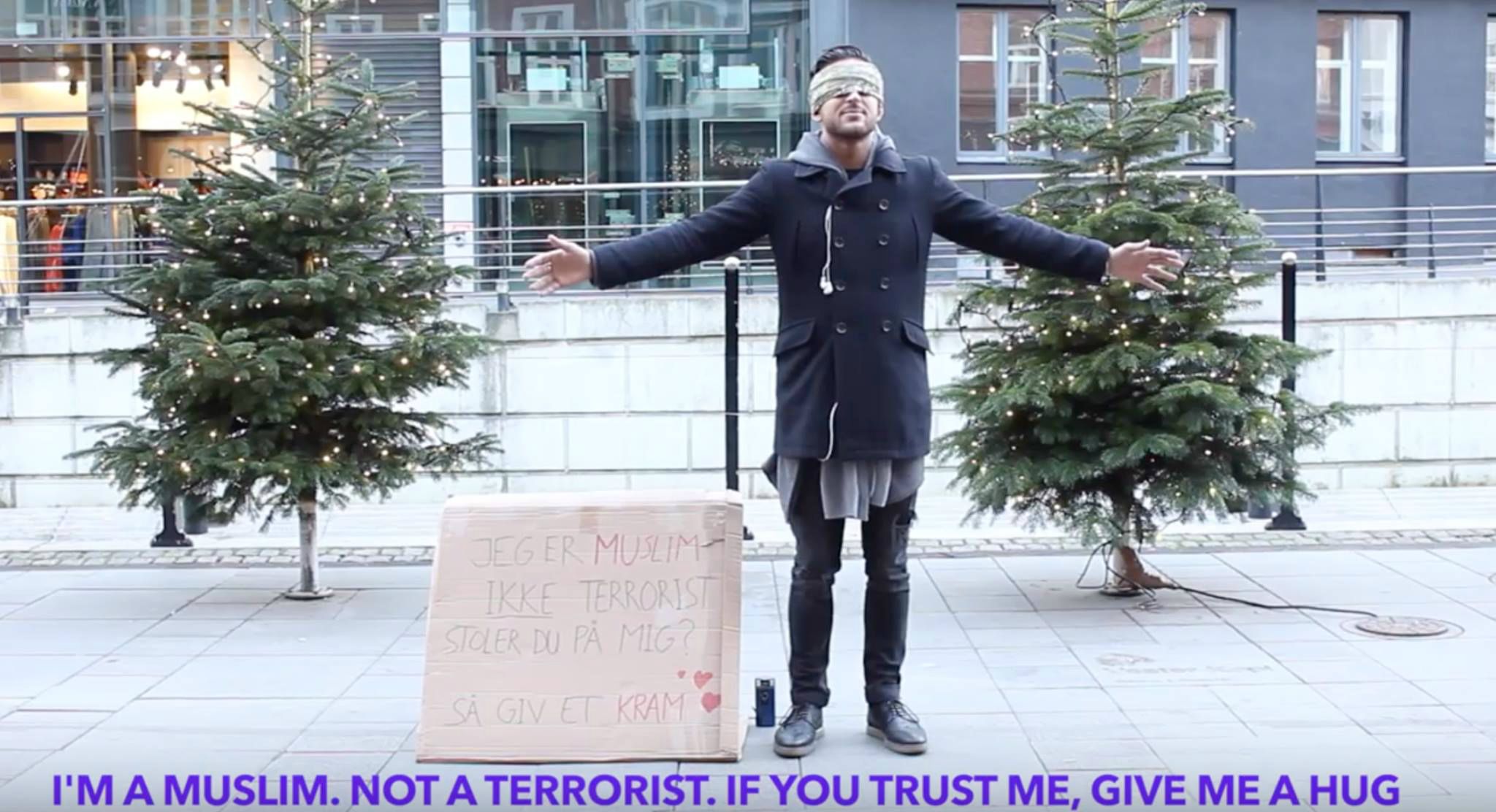 Last November, in the wake of the attacks in Paris that left 130 dead and reignited further anti-Muslim sentiment around Europe, Danish YouTuber Arian Kashef was galvanized to take action.
He posted a video on YouTube entitled "Blind Muslim Trust Experiment." In it, Kashef is seen standing at locations with heavy footfall around the city of Aarhus. He is blindfolded, his arms outstretched, and next to him is a sign that read: "I'm Muslim and people call me terrorist. Do you trust me? If yes, hug me."
The response Kashef received is heartwarming. In the video, he is seen being embraced by men, women, young children and, in the closing moments, another oft-maligned minority: a disabled man in a wheelchair.
It's almost a year to the day since he first posted the clip on November 22, 2015. In the time since, it has gained more than 400,000 views on YouTube. But then, in the last week, something incredible happened.
The video gained a second life on social media, seemingly in response to the controversial result of the U.S. presidential election—the lead-up to which saw Donald Trump offend an array of minorities, including Muslims. Four days after the election on November 8, Kashef's experiment was reposted by a Twitter user. That tweet was retweeted by the Spider-Man: Homecoming actor Zendaya to her 6.9 million followers. The posting has been retweeted and liked more than half a million times.
Then, a day later, on November 13, the clip was reshared again, this time on Facebook, on a public page belonging to DJ Samy Irssak. In just a week, Irssak's post had amassed 58 million views, been liked 940,000 times and been shared 919,000 times.
The sentiment shared in the comments beneath the video is, for the most part, one of hope and tolerance—exactly what Kashef set out to achieve one year ago. "If you are Muslim, gay, color, whatever you are, don't you ever feel ashamed or scared of who you are in America. You belong here and I stand with you," wrote one person. Another said: "Very sweet video. I'd surely hug him."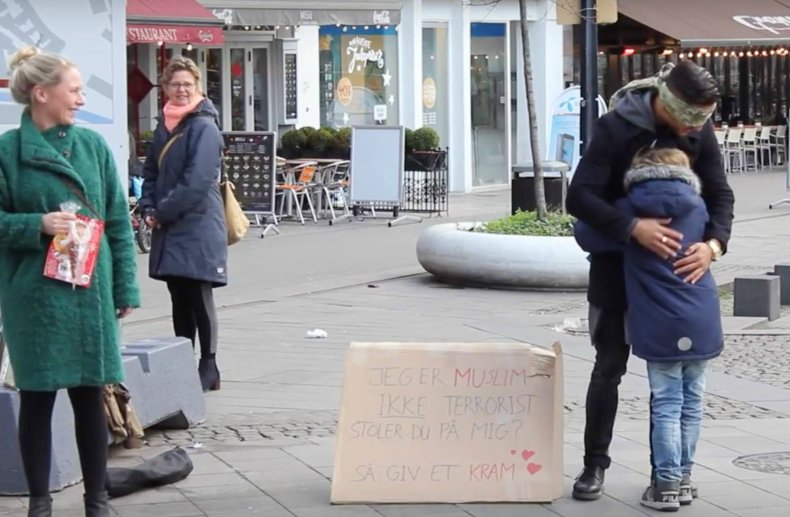 Speaking on the phone to Newsweek on Monday, Kashef says he was overwhelmed by the reaction that his video has had in the last week. "I didn't know what was going on. It just got bigger and bigger. It's been crazy. I'm getting messages from all over the world from people that they got inspired by the video and were touched."
Although he isn't certain that the sudden popularity of his experiment is in response to some of the anti-minority rhetoric stemming from the U.S. election, he "would like to believe it is in [relation] to that."
"Trump has some [feelings] about different minorities and religions, and what he stands for is not what I think the world should look like," says Kashef. "I think the message is much stronger now when that man is now the president of one of the most powerful countries in the world."
When Kashef first created his video, it was never intended to be a commentary on the upheaval in the United States; his ambitions were to make a difference closer to home in Denmark. He says that because the suspected terrorists identified themselves as Muslims, there was a new wave of Islamophobia within Denmark and around Europe.
"After the Paris attack, I felt that people were getting very negative, there was a lot of hate towards each other," Kashef says. "In Denmark, people were cursing each other out on the internet and they were more afraid of each other. I wanted to show them that I'm Muslim but [the attack] has nothing to do with me, that's not what my religion teaches me. I wanted to spread love."
If you have a Facebook profile, the chances are someone in your network of friends or colleagues has reshared the video on your timeline. Kashef has a message for those who have viewed it or just come across it.
"We all live in one world, we are all human beings… the attack in Paris was an attack against everybody," he says. "Attacks against humans is an attack against us all. We're all in this together."
Kashef hopes that others will be inspired to make similarly humanitarian pledges and even create their own experimental videos for causes close to them. He was particularly moved by one man with HIV who made a video asking for hugs.
While controversial politicians may have the benefit of a television news presence to sell their rhetoric, the YouTuber says social media is providing a platform for him and others to spread their own words of love.
So would he hug Donald Trump? Kashef responds emphatically: "Of course, yes."
"I would love to hug him… [he has a lot] of hatred and I wish he would love everybody, no matter what race or religion."