'I'm Not a Looter': Chicago Man Apologizes for Live Streaming Himself Breaking Into an ATM
A Chicago man recently apologized after he live streamed himself breaking into an ATM during a string of protests and looting incidents in the city and stated that he is "not a looter."
Aaron Neal, 20, from Englewood, recently spoke to NBC 5 in Chicago about how he feels "very remorseful" for his alleged actions.
According to the Chicago Police Department, Neal was accused of live streaming himself on Facebook while he broke into an ATM with a hammer on August 10. NBC 5 reported that police said Neal filmed the alleged incident from his cellphone and smiled into the camera before hitting the ATM machine.
While speaking to NBC 5, Neal was asked about his response to people who saw the video of him allegedly breaking the ATM and were not happy about it.
"I'm not a looter," Neal said in response. "I normally don't loot. That's not what I do. I'm a working man."
During the interview, Neal also apologized for his alleged actions and how he understood the pain business owners felt as a result of the widespread looting in the city.
"I'm sorry," Neal said. "I'm very remorseful, because if I was a business owner myself, I would understand where they are coming from, and their pain. Because one day I might be able to be a business owner and I wouldn't want it to happen to my business."
According to NBC 5, Neal spent several nights in jail following his arrest.
"It makes you lose your mind, and in a way, it makes you go crazy," Neal recalled. "You can't talk to the people you normally talk to, hear voices you normally hear, or do things you normally do."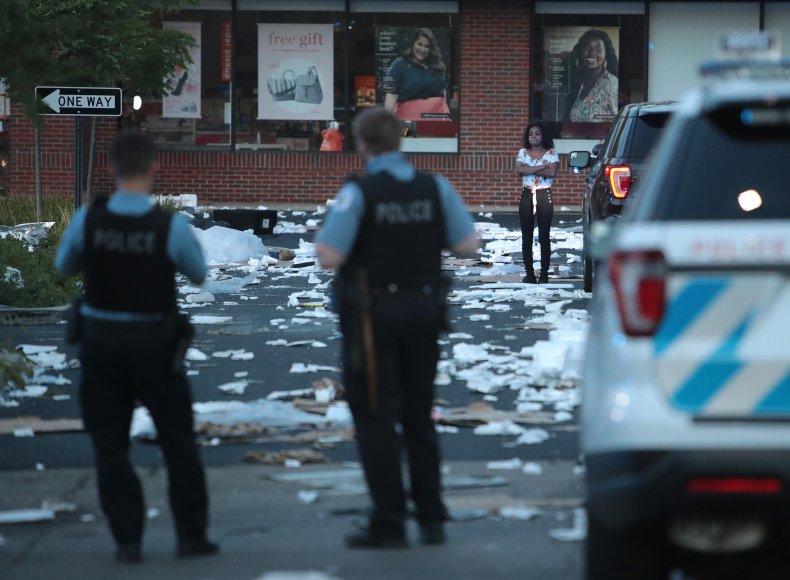 Prior to his arrest, authorities released footage of the alleged incident. While speaking at a press conference, Chicago Police Deputy Chief of Detectives Brendan Deenihan said that within an hour-and-a-half after releasing the video, authorities began to receive tips from people across the community.
"This is how it's supposed to work," Deenihan said during the press conference. "On Wednesday, I stood in front of you and showed a video, then less than 90 minutes later we started receiving tips on who this offender was."
Chicago Police Superintendent David Brown also thanked those that helped provide tips after the alleged incident.
"I want to thank the community for standing up and speaking out against this shameful destruction," Brown said.
Newsweek was directed to contact the Cook County State Attorney's Office for comment after reaching out to the Chicago Police Department. The office told Newsweek via email that they were unable to comment on a pending litigation.