Flint City Council member Maurice Davis, a Democrat, on Thursday endorsed President Donald Trump, saying, "I'm not an Uncle Tom."
Davis spoke before Vice President Mike Pence at Michigan's Flint Bishop Airport and explained about why, as a lifelong Democrat, he decided to endorse the Republican president.
"Right now, the narrative [has] been spent—President Trump is full of hate. Let me tell you something, the Democrats are full of hate. I'm tired, I've been a Democrat, I am a Democrat all my life, 64 years," Davis said. "Last four years I voted for Hillary Clinton. This year I decided to go with President Trump. I'm not a bootlicker, I'm not an Uncle Tom."
He continued, "I'm none of those things. I'm somebody that's in a poor, impoverished community."
Davis added, "People are losing everything, and when Mr. Trump says 'What the hell do you got to lose?' he was talking to me. But this is what I got to gain: Instead of being a divided state of America, it's time to be the United States of America."
In response to Davis' endorsement, Pence thanked him and said, "Vice president of the City Council in Flint. Where are you, Maurice? Let's hear it for Maurice. I'm partial to vice presidents. Thank you, Maurice."
Pence added, "And thank you all for being here today. And it really is amazing. It really is amazing to think about all that we've accomplished."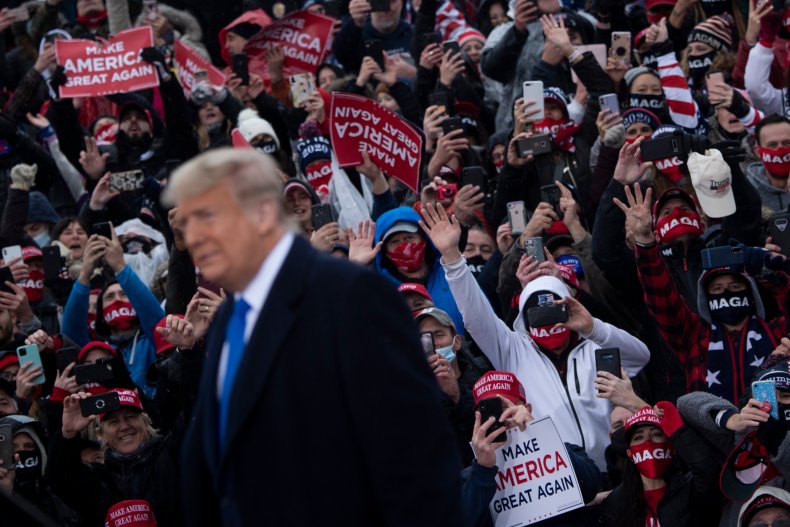 Davis' announcement that he is voting for Trump comes less than a week until Election Day. During the rally, Pence noted that "we are just six days away from a great victory all across Michigan and all across America."
"The road to victory goes right through Michigan. On November 3, I have a favor to ask: We need you to show them Michigan is Trump country," the vice president said.
Biden has consistently led Trump in several polls conducted in Michigan. One survey, conducted by Mitchell Research & Communications, found Biden leading by 10 points with 52 percent, compared with 42 percent for Trump. The poll surveyed 759 likely voters in Michigan from October 25 to 27 and reported a margin of error of plus or minus 3.56 percentage points.
Davis is not the first notable Black Democrat to come out for Trump. The president has been endorsed by Georgia state Representative Vernon Jones, and other Democrats, such as former Illinois Governor Rod Blagojevich and six mayors in Minnesota, are supporting his re-election.
Newsweek reached out to Davis' and Trump's campaigns for comment but did not receive a response in time for publication.