I've never been as nervous in my life as the day in 2019 I competed to qualify for the Tokyo Olympic Games. Somehow I managed to keep my cool and when it was officially announced that I would be representing Jamaica in gymnastics, it was the best feeling. I was able to finally see my name on that list of qualifiers after years of hard work.
The general public mainly sees gymnastics every four years, and you see the best of the best in their sparkly leotards. It looks very easy at that point. But getting to that place has taken a lot of strength and determination, mentally as well as physically. When I got to Tokyo I was training with girls from all different countries and the main feeling was one of gratitude to be there. Everyone was so supportive of each other.
Simone Biles and the U.S. team were in my subdivision so we were training with them every day. Her training was incredible leading up to qualification. She's unbelievable. That's the closest I've been to her gymnastics and your jaw is on the floor when you watch her. However, you can see during her vault in the team final that she got lost and she's so lucky that she's so innately spatially aware and strong that she didn't hurt herself.
I left after competing in the uneven bars on July 25 because I tore my ACL, but I can't imagine how much that shook her up in that moment, being unsure if that was going to happen again and potentially get a low score and take the team out of medals. Also there's the risk of injury. There are some people out there calling her a quitter and saying that it's a team competition and why did she "quit". That is not what she did. She made the best decision for the team and then she came back out and was cheering them all on and getting them chalk.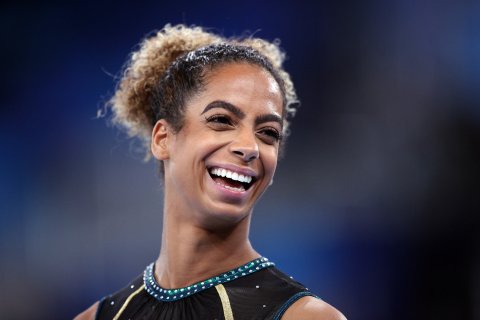 She has since revealed she had "the twisties," which is when you are getting lost in your twist, you don't know how many times you're going to go round, you lose where the ceiling and floor are and you don't know where you are going to land. It's so scary. When you're lost in the air, sheer panic goes through your whole body. I've definitely had it. Sometimes you get them so badly they stick with you, and if it's happening during actual routine skills on competition surfaces it becomes seriously dangerous.
I know that everyone is rooting for Simone to compete again in these Olympics. But if she doesn't it's just as big a statement. She's putting her mental health and her safety first. To sacrifice those medals and put her mental health first is a huge statement. Hopefully, governing bodies, with Simone's voice, can take mental health in gymnastics a lot more seriously now.
We also have issues with body image in gymnastics too. I first saw the German women's gymnastics team wearing full-body suits before the Olympics, in the 2021 European Artistic Gymnastics Championships in April. Although my immediate reaction was that it was very cool, I then wondered if they had been deducted points for wearing them. When it was revealed that wearing full-body suits is in the rule book and completely allowed, my reaction was, "wow, why didn't I know about this?"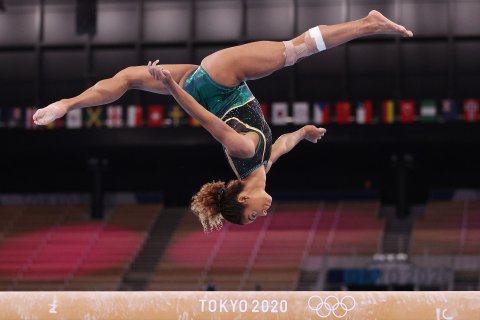 When it comes to sexism and what gymnasts are allowed to wear, the men can wear their longs and shorts and cover up a bit more. But it was like this unwritten rule that we had to wear leotards. And obviously we know now we are allowed to cover up as well because the German women's team brought that to people's attention, but I didn't know that was in the rule book and I have been a gymnast for years.
Even though I am personally quite happy in a leotard, for me it's amazing for the German gymnasts to keep showing that there is a choice. They're showing the world, the gymnastics world and young gymnasts that you can choose what you want to wear.
I also hate to be on my period during a competition, because there is that fear of your tampon string hanging out of that thin bit of material. So I would use, and do use, my birth control pills during a competition to control that, and make sure I'm not on my period. Maybe, given the opportunity to wear a full body suit before, I would have just accepted my period and worn something different. I doubt men in gymnastics are aware of this. I would hate to pre judge them, but it would be good for men to have a bit more education around the subject. If you do have a male coach, they need to broach these topics, so they know the right language and be sensitive.
Women in gymnastics face more pressure in terms of body image and the perception you have to wear a leotard 100 percent contributes to that. You're training every day and you're in a leotard a lot of the time. I remember when I went to UCLA and we had training tops instead, they are a little looser and so on those days where you feel a bit bloated or aren't feeling yourself you're more covered up. I've never trained in a leotard since, apart from when I go to big events. When you're going to compete and you know you're in a leotard, you know someone is going to say something. Not necessarily to you, but their eyes aren't just on your gymnastics, they're also on what you look like. With women, everyone has such different body shapes, and someone out there in the public will say you don't look good. Even though you're probably ten percent body fat and in the shape of your life.
Women are conscious of that and for some that don't have such thick skin, that can lead to eating disorders. I know it happens in gymnastics. Some friends of mine have left the sport and been able to admit that they have had an eating disorder. That's something that needs to be addressed along with psychological health. If there were more psychologists involved from a governing body level that were able to help at a club level then I think we'd be able to see more healthy gymnasts.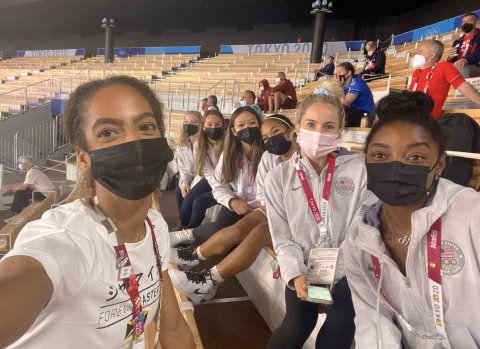 Of course, it was devastating to hear the news that I had torn my ACL while in Tokyo, but I wanted to have my Olympic moment and I was able to. I remember after my warm up for the uneven bars I was still feeling a little sorry for myself, so I was talking to some of the girls who were getting ready for the next round. I spoke with Simone and was sharing my disappointment. She told me that whatever I did up there, I would still be an Olympian. Hearing that from her and Canadian gymnast Ellie Black, who gave me very similar words of encouragement, really touched me.
I had some nerves, but I was able to smile all the way through my 11 seconds. There was a delay in our group so I was the last one up and I heard all the gymnasts from around the arena cheering for me. It honestly meant the world to me.
The Commonwealth Games are coming up in 2022 and hopefully I can have my friends and family supporting me there. To be able to finish up in gymnastics in front of everyone I love, in the Jamaican colours at a big event would be such a fairytale ending to my career.
Danusia Francis is a British-Jamaican Olympic gymnast, stuntwoman, gymnastics coach and choreographer. You can follow her on Instagram @danusiafrancis.
All views expressed in this article are the author's own.
As told to Jenny Haward.